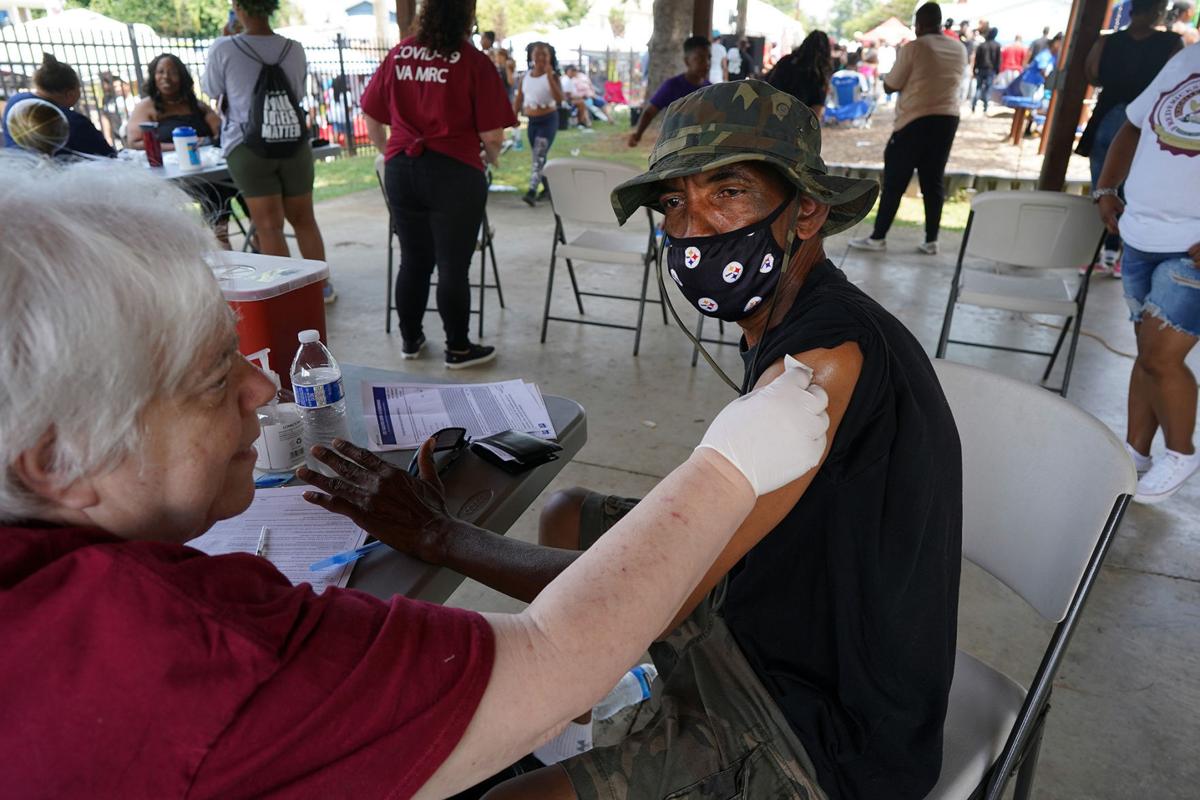 Nearly one of every 5 Fredericksburg-area residents who have tested positive for COVID-19 since July 1 have been fully vaccinated, according to the Rappahannock Area Health District.
On Tuesday, the health district's data team reported that 17 percent of the 939 new cases since July 1 were "breakthrough cases," people who became infected with the virus after being fully vaccinated and waiting two weeks for full immunity. That's 160 people in Fredericksburg and the counties of Caroline, King George, Spotsylvania and Stafford.
While she acknowledged that "it's scary" seeing that many breakthrough cases, Mary Chamberlin, the public information officer for the health district, said she's "clinging to" the fact that most of those infected haven't been sick enough to require hospital care.
"On a positive note, we are still seeing that those considered breakthrough cases are mostly asymptomatic or experiencing mild symptoms," she said.
The RAHD team didn't know how many local people with breakthrough cases were sick enough to be hospitalized—or had died. However, the Fredericksburg's area first new death since July 8 was reported on Tuesday: a Caroline County woman, white and in her 60s.
Unvaccinated people still account for the overwhelming majority of cases in the state, according to the Virginia Department of Health. As of Friday, when the state dashboard on vaccination status was updated, 99.24 percent of cases, 98.03 percent of hospitalizations and 98.33 percent of deaths between Jan. 20 and July 30 were among the unvaccinated, according to VDH.
In Virginia, 4.6 million people have been fully vaccinated since late December. Of that number, 1,566 people in the state have tested positive for the virus, 145 have been hospitalized and 42 have died, according to VDH data.
However, the number of breakthrough cases posted on the state dashboard is significantly lower than what the RAHD and other health districts are showing. Officials with the Rappahannock–Rapidan Health District, which includes Culpeper, Fauquier and Orange counties, say almost 20 percent of their new cases in July were among vaccinated people.
That's the same rate being reported by two health districts in the Roanoke area, for new cases last week, while Prince William County Health District noted that about 25 percent to 30 percent of its new cases in the first three weeks of July involved fully vaccinated people.
The state dashboard shows only 2.3 percent of total cases in July involved vaccinated people. Local health officials said there's a lag in reporting time between when they investigate a case and determine it involves a vaccinated person—and when that information gets posted on the state website.
That's because the state has a "subject matter expert" review each case and officials check the data, such as making sure the person infected has a vaccine record with Virginia.
"This takes extra time and may delay reporting of cases on this dashboard," according to the state website.
Health officials also say the delta variant, a highly contagious mutation of COVID-19 that originated in India and has spread throughout the world, is to blame for more infections among vaccinated people.
It's more than twice as contagious as the original strain of COVID-19, according to the Centers for Disease Control and Prevention. An illustration on its website shows one person transmitting the original virus to two people. A person with the delta variant can infect five people, according to the CDC.
"It is specifically causing more hospitalizations and untoward health outcomes among unvaccinated people, including those who are younger," Lisa Laurier, the population health manager with the Three Rivers Health District, which includes Westmoreland County, said in her weekly report. "We are in a race to vaccinate people as fast as we can to keep case levels as low as possible and limit variant evolution."
In wake of the fast-spreading delta variant, the CDC issued new guidelines last week calling for everyone—vaccinated or not—to wear masks inside public spaces if they're in an area with dangerous transmission rates. The CDC looks at the rate of cases per 100,000 people and the positivity rate, the number of positive tests among all those taken, to determine transmission levels. It then rates them on four levels: low, moderate, substantial and high.
When rates are substantial or high in a given area, people should mask up indoors, the CDC stated.
In addition, all the virus-related metrics are going in the wrong director for the local health district. New cases tripled between the second and fourth week of July—then doubled again by the first Monday in August. They're averaging 63 a day over a seven-day period.
Hospitalizations have doubled in less than a week. On Thursday, there were 11 people being treated for virus symptoms in the area's three facilities. On Tuesday, there were 22 patients.
Nationwide, deaths are down more than 70 percent since vaccines became available, according to the CDC, and local virus fatalities have been following the same pattern. The Caroline woman whose death was reported on Tuesday was the 294th person in the local health district to die from the virus since March 2020, according to state data.
The health district's positivity rate is above 8 percent. When a locality's rate tops 5 percent, long-term care facilities are mandated by the Centers for Medicare & Medicaid Services to test unvaccinated staff once a week. When it tops 10 percent, tests must be done twice a week, according to CMS regulations.
Meanwhile, the number of Virginians who've tested positive for COVID-19 since the pandemic began probably will top 700,000 in Wednesday's report. Likewise, the Rappahannock Area Health District could reach a cumulative total of 30,000 cases by mid-August if current trends continue.
Cathy Dyson: 540/374-5425