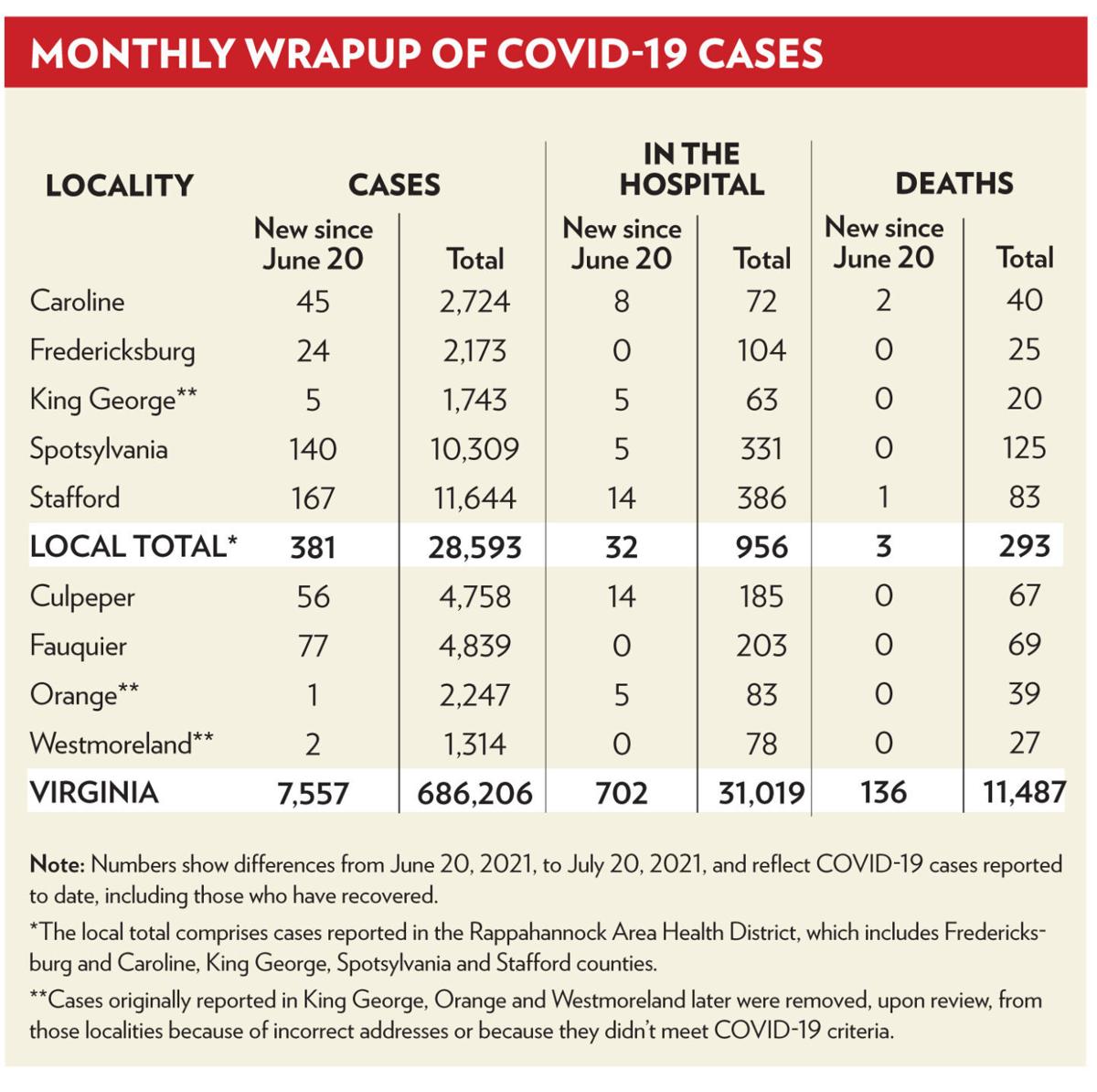 New COVID-19 cases are climbing again in the Fredericksburg area, just as they've done across the state and nation.
The seven-day average of new cases stood at 21 per day on Tuesday, more than twice the rate of a week ago, according to Virginia Department of Health data. The increase is even more jarring compared with a month ago, when on June 20, new cases averaged 4.4 a day over a seven-day period.
The June average was the lowest in the Rappahannock Area Health District since the first two weeks of the pandemic, which began in March 2020.
Cases have gone up across Virginia in similar fashion. The seven-day average statewide climbed from 268 per day on July 13 to 429 per day on July 20. A month earlier, on June 20, the seven-day average was 129 per day, according to state data.
"It's definitely not the trajectory we want to see," said Mary Chamberlin, public information officer for the local health district, which includes Fredericksburg and the counties of Caroline, King George, Spotsylvania and Stafford.
She noted there are "no invisible force fields" between health districts or counties and cities. Because many residents routinely travel outside the area to work, play, shop and eat, "what's happening in our commonwealth, overall, matters here."
Vaccination rates matter also to a retired educator who called The Free Lance–Star this week, concerned about how many health care workers may not be vaccinated. She didn't want to be named, but was appalled to learn that her doctor hasn't been vaccinated.
The caller said that in the future, she and her friends will ask the doctors' offices they call if staff members are vaccinated—and go elsewhere if they're not.
There's been a lot of discussion over vaccine mandates and if it's even legal to ask someone—be it a colleague, service provider or hospital worker—if they're vaccinated. While it's against regulations with the Health Insurance Portability and Accountability Act for doctors and insurance companies to disclose any kind of personal information like that about their patients, "It's perfectly acceptable in today's COVID-19 climate to ask those around you if they are vaccinated," Chamberlin said.
The Virginia Hospital & Healthcare Association stated Monday that it's in favor of hospitals and health care systems mandating that their workers get the COVID-19 vaccine. From the time vaccines became available, the association "strongly encouraged" all residents to get inoculated, according to a VHHA press release.
As the vaccines have proven to be "extraordinarily safe and effective," the association changed its stance to support facilities that require the COVID shot of their workers, just as vaccines are mandated against "a variety of other diseases and viruses," according to the VHHA.
Across the nation, one of every four hospital workers who have direct contact with patients had not received a single dose of a COVID-19 vaccine by the end of May, according to a WebMD and Medscape Medical News analysis. The agencies looked at data collected by the U.S. Department of Health and Human Services from 2,500 hospitals in the United States.
Spotsylvania Regional Medical Center is part of the HCA Virginia Health System, which does not require COVID-19 vaccines, said Jael Cooper, marketing director at Spotsylvania. She said she wouldn't know how many staff members might have been vaccinated off site because they're not required to report that information to the hospital.
Mary Washington Healthcare, which offered a $500 bonus in March to workers who met several parameters, including getting vaccinated, wouldn't say if it's changing its policy to mandate the vaccine in wake of the VHHA statement. Dr. Michael McDermott, CEO of Mary Washington Healthcare, is a past chairman of the association's board of directors.
"I want to be sure if we make any decisions that impact our associates, they are the first to hear," said Lisa Henry, MWHC's marketing director. "If we decide to make the vaccine mandatory, we will send out a press release after informing our associates."
MWHC's main facility, Mary Washington Hospital, has treated the majority of virus patients in the area. MWHC also owns Stafford Hospital, an emergency room at Lee's Hill, 40-plus outpatient facilities and more than 500 providers in its Mary Washington Alliance.
While cases have climbed, the number of people hospitalized locally has remained between zero and 10 on any given day, Henry said.
"We are not seeing a spike of any kind," she said. "While the numbers are not alarming, we are cautiously watching the rest of the country and state, since urban areas are seeing spikes."
Deaths have not climbed locally, either. To date, the only COVID-19 fatality reported in July was a startling one: a Stafford County child, age 9 or under.
Complicating the matter is how numbers currently are being reported. Some states have shifted from making daily reports to weekly ones to the Centers for Disease Control and Prevention, according to the Johns Hopkins Bloomberg School of Public Health.
"This shift in reporting could complicate efforts to maintain an accurate understanding of the [national] epidemic in real time, particularly at a time when the country is facing the early stages of another surge," according to Johns Hopkins officials. "The most recent several days' worth of COVID-19 data may no longer be a reliable representation of the current state of the U.S. epidemic."
Virginia no longer reports new cases, hospitalizations and deaths on its website on the weekends. Reporting delays may be why Virginia showed such a dramatic jump on Tuesday of new 721 cases—a level not seen since early May. Daily fluctuations also are why health officials use seven-day averages as more reliable measures.
Virginia also started reporting a new measurement this month: cases by vaccination status. Since the pandemic began, people who are unvaccinated have accounted for 99.4 percent of infections, 98.6 percent of hospitalizations and 99 percent of deaths.
There have been "breakthrough" cases in which fully vaccinated people still contracted COVID-19, got sick and died from it. Out of 4.5 million fully vaccinated people in Virginia, 1,157 have tested positive for the virus, 81 have been hospitalized and 18 have died, according to the state health department's dashboard.
Cathy Dyson: 540/374-5425