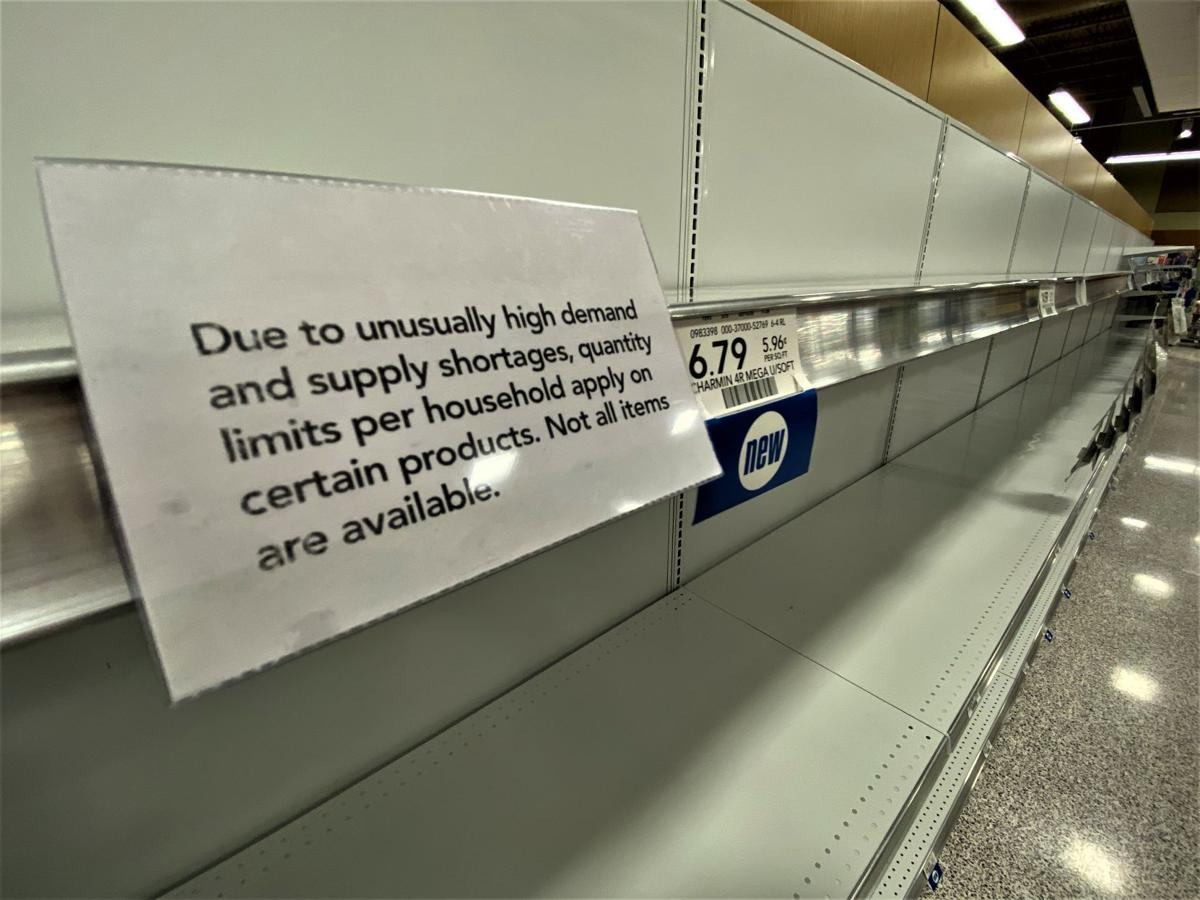 SUPPOSE I told you there would soon be a shortage of food.
You'd probably say that society could make it somehow, that we could all go out and hunt wild meat or grub for roots.
What if I told you there would be a shortage of water?
Well, eventually there will be a shower and we can catch the rainfall in a bucket and store it.
But suppose I spread the rumor that there would be a toilet paper shortage? Panic city!
"Oh, my goodness! What will we do? Get in the car, Henry! Let's go to the store and buy every roll on the shelves!"
Before the COVID pandemic, it was all a joke. What do people buy when a blizzard is coming? Milk, bread and toilet paper.
Some 40 years ago Johnny Carson all but started a panic when he joked on "The Tonight Show" that a toilet paper shortage was imminent. Some people were at the all-night supermarkets before the show ended.
Two weeks ago, when that ship got stuck in the Suez Canal, there were hundreds of other freighters unable to get their loads to port and temporary shortages of some products were thought possible.
The only product that stirred panic in the minds of Americans was toilet paper. There was speculation the wedged ship would prevent cargo liners loaded with toilet paper from getting to port and to consumers and we were on the verge of sheer panic.
Yep! With memories of the toilet paper shortage during the COVID-19 pandemic fresh in their minds, people ran out and bought toilet paper just in case the Suez Canal was blocked for weeks or months.
COVID! When this pandemic is over will it be the months of quarantine or the toilet paper shortage that is most remembered? Talk about panic.
A year ago at this time, people were hoarding toilet paper, buying every roll they could find. There were even reports of people selling individual rolls out of the trunks of their cars in the Walmart parking lot.
Profiteering with toilet paper! A toilet paper black market! America in panic. Capitalism gone bad.
Why does a shortage of toilet paper strike fear in the hearts of Americans? We have made it through wars and depressions and all manner of trial and tribulation and walked away a stronger nation.
But take away our toilet paper and we lose all hope. We cannot live without toilet paper. If our enemies want to bring us to our knees all they have to do is take away our Charmin. Without toilet paper we could be wiped (pardon the pun) off the map.
Why are we so dependent on toilet paper? I suppose we can blame Thomas Crapper for our insecurity.
While we in America were fighting the Civil War, Crapper was perfecting the modern toilet over in England. No, he didn't invent the toilet, but he did patent that little float that makes the indoor convenience work. Before Crapper the old toilet was a piece of …. unperfected plumbing.
The problem with a toilet is that it will not flush corncobs or pages from the Sears & Roebuck catalog, which people usedr before modern toilet paper came along.
Back when there were outdoor toilets, used corncobs and slick paper pages were disposed with no problem. With a modern toiler, however, they clog up the drain and everything just backs up into the bathroom. That is not good.
Besides, Sears catalogs are a thing of the past, and when farmers shell corn these days they break up the cobs. Further, there are few "Johnny houses" left in our great country.
Now most of us live in close proximity to one another, so even going out behind a bush and using leaves for toilet paper is not an option.
What this all boils down to is that we are prisoners of toilet paper manufacturers. We worry about the government controlling us but it is really Proctor & Gamble that has us under their thumb.
Not having toilet paper and not being able to flush are two of America's worst fears. That's who we are.
Oh, and yes, Thomas crapper's last name has come to be used as slang for feces.
And this Englishman's toilet float invention is so significant that Thomas Crapper has his own day, Jan. 27.
Next year we should all go out on that day and buy toilet paper just to celebrate—if there is no shortage.