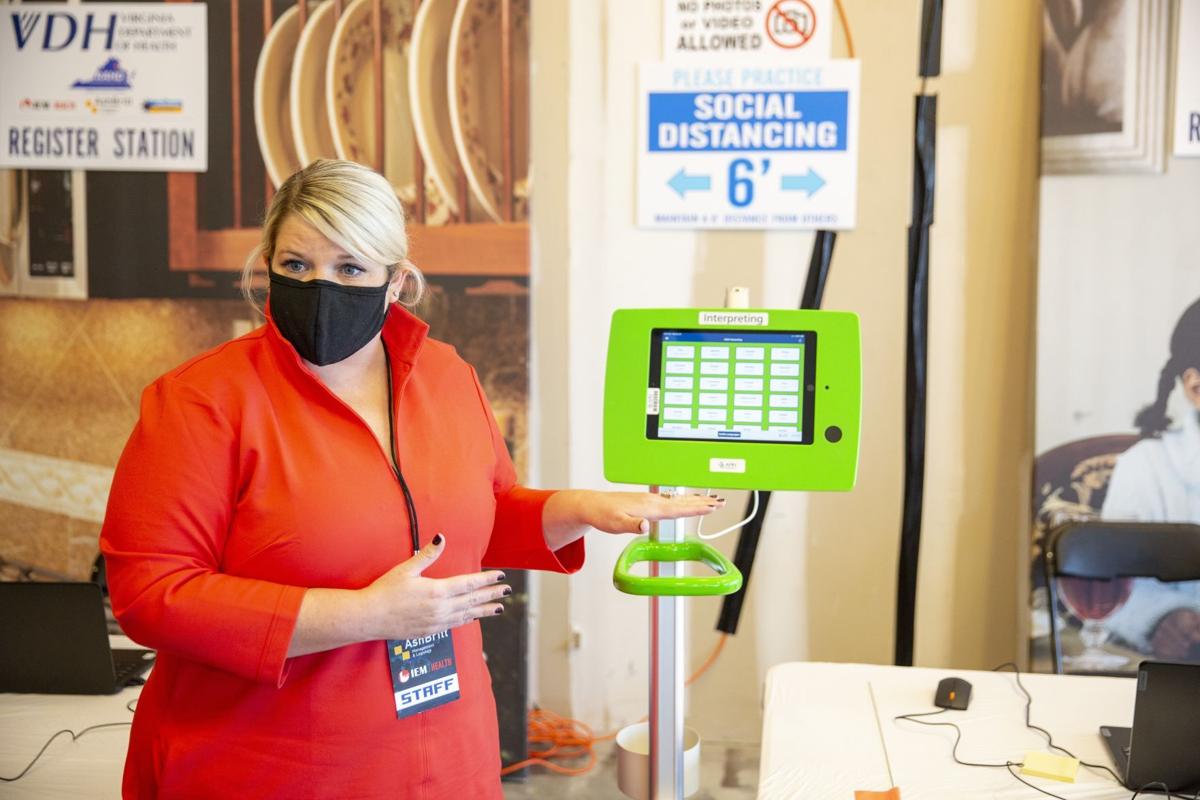 Almost three of every four shots given in the last month at the Community Vaccination Center in Central Park went to fully vaccinated people looking to boost their immunity against COVID-19, according to local health officials.
The clinic opened more than four weeks ago and is one of 10 state-run centers operated by the Virginia Department of Health. As of Sunday, it had administered 9,306 boosters and third shots, said Mary Chamberlin, public information officer with the Rappahannock Area Health District, which includes Fredericksburg and the counties of Caroline, King George, Spotsylvania and Stafford.
The boosters and third doses represented 74 percent of the 12,642 doses given at the center since it opened Oct. 21. Another 21 percent went to children ages 5-11 and the remaining 5 percent were first and second doses for people ages 12 and over—those who have been eligible for vaccines the longest.
The number of booster shots going into arms may continue to represent the biggest portion of vaccine doses after federal approval on Friday made all adults eligible for them. Boosters initially were recommended for those age 65 and older or people who were at higher risk because of their health or where they lived or worked.
Dr. Danny Avula, Virginia's vaccine coordinator, welcomed Friday's decision, which made 2.2 million Virginians eligible for boosters. Adults who received Pfizer or Moderna shots at least six months ago are eligible for boosters while those who got the Johnson & Johnson single-dose vaccine can get boosted two months after being vaccinated, according to the Centers for Disease Control and Prevention recommendation.
"No vaccine prevents 100 percent of illness," Avula said. "All vaccines' effectiveness wanes over time, and the data show a tangible benefit to people when they receive a vaccine booster."
As the nation enters its second winter with COVID-19, health officials stress that while boosters are important, reaching the unvaccinated remains an even higher priority.
"We continue to hope that folks who are unvaccinated eventually seek vaccination," said Dr. Rich Williams, director of the Three Rivers Health District which includes Westmoreland County. "We have not halted our efforts to make sure information and vaccines are available to them."
Vaccination rates have climbed slowly in recent months. Just over 57 percent of the entire population of the Rappahannock Area Health District has gotten at least one dose of COVID-19 vaccine, according to state data.
The lowest and highest vaccine rates fall at opposite ends of the age spectrum. In the 5-11 age group, only 12 percent have gotten their first dose in the local health district. National polls have suggested that only a third of parents were interested in getting their young children vaccinated right away. Another third said they'd wait and the remaining third said they wouldn't get their young children vaccinated at all, according to the Kaiser Family Foundation.
On the other end, 89 percent of those 65 and over have received at least one dose of vaccine, according to the VDH. Older adults are more likely to get severe illnesses from the virus and more than 81 percent of deaths occurred in people over age 65, according to the CDC.
Groceries, pharmacies and medical providers continue to offer the COVID-19 vaccine free to patients. The clinic in Central Park can provide up to 1,000 doses a day, Chamberlin said. Appointments are suggested for children, but walk-ins also are accepted.
People can select time slots for which vaccine they want at vase.vdh.virginia.gov or call 877/829-4682. Those who have trouble registering can contact the Rappahannock Area Health District's call center weekdays from 8 a.m. to 4:30 p.m. at 540/899-4797.
Cathy Dyson: 540/374-5425