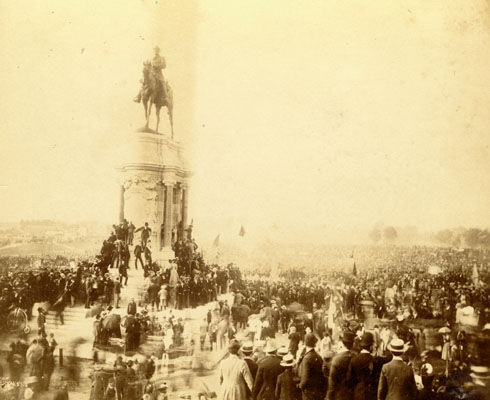 WHY DID we build memorials to the veterans who fought in Vietnam? After all, it was an unpopular war and we lost.
I'll tell you why. We built them out of respect for the men who fought for a cause.
Why did we wait 50 years to build a memorial to the soldiers who fought in World War II? Because the veterans of that conflict were getting old and we felt they should be honored for their service before they died.
That is why Virginians and other Southern states waited 30 years to build the monuments to Confederate veterans that misplaced political correctness is trying to destroy today.
You don't just rush right home from a war and start building memorials to yourself. Wars are traumatic events and it takes time to get over them and put life back into perspective. Wounds need to heal.
I have heard some claim that the reason our Southern ancestors waited until around 1900 to start putting up these statues was because they wanted to make statements amid the Jim Crow era.
Southerners waited until the late 1890s to put up statues primarily for two reasons. First and foremost, the veterans of the Civil War were getting old and their families—like the families of World War II veterans today—wanted to honor them.
Look at the old photos of Confederate veterans gathering at monument dedications around 1900 to 1910. They are old, gray-bearded men, some with arms and legs shot off. Like the World War II veterans today, they were dying off. This was one last tribute to their dedication and bravery.
The second reason for delaying memorial construction was the fact that the South was destitute for 35 years. First there was Reconstruction and then came the Panic of 1893, the country's greatest depression to that time.
No one had any money to build statues. They were too busy trying to feed and clothe their families.
Some also believe that it was the Ku Klux Klan or some other Jim Crow-era group that funded the construction of those statues. In truth, they were funded by ordinary citizens who donated their money in much the same was as the recent World War II statue in Culpeper was funded.
Go back and check the newspaper accounts of the day. It was old ladies and schoolgirls, the wives, widows, daughters and granddaughters of Confederate veterans who conducted bake sales and solicited donations to build the vast majority of local statues. Tearing them down is a slap in the face to these women.
Given the recent events, one must wonder how long it will be before we tear down the World War II statues because the use of the atomic bomb was politically incorrect or those memorials might offend Japanese– and German–Americans.
And when do we tear down the Vietnam War memorials because that was an unpopular war in which napalm—which was bad for the environment—was used.
I'm sure we'll wait until all those we proclaim as "heroes" of today are dead and gone. Then their legacies will be fair game.
What has happened to respect in this country?
It has probably been moved to a museum, where it is hidden away behind statues of politically correct revisionist history.