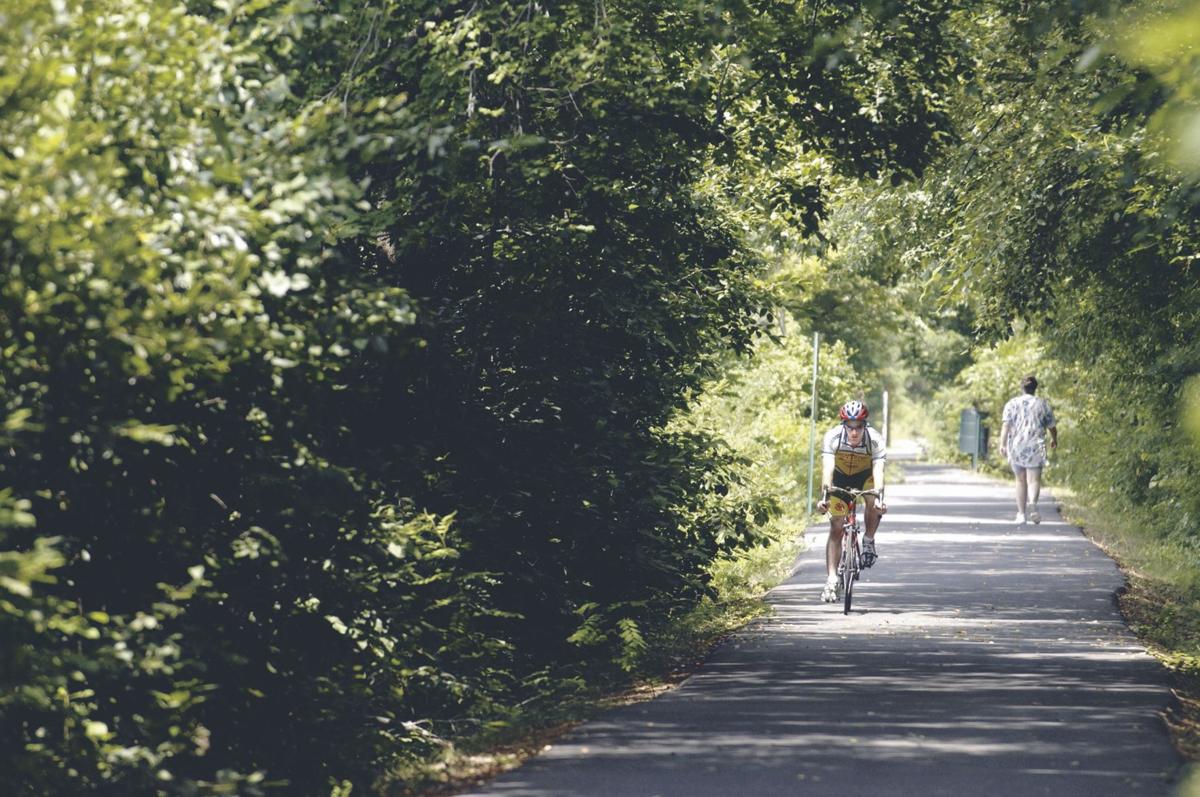 On a recent Sunday morning—when it wasn't as brutally hot as it is today—I spent some time cruising the city's Canal Path and Heritage Trail on my bike.
To say I was one of hundreds of people on the pathway during that time isn't an exaggeration. Throngs of walkers, runners and cyclists were out enjoying the beautiful day.
The construction over the years of the two asphalt pathways—together making a loop of about 3.2 miles—is one of the best things Fredericksburg has done. Seeing all those happy folks on the lightly rolling trail, it made me wonder why local governments don't do more of these.
I know they don't come cheap, with costs in the millions before all the engineering, construction and accompanying signals and signage is finished.
But I truly can't think of one other thing that the city—or any other local government—has added that has been as popular as this trail that takes advantage of amazing views of the adjacent Rappahannock River.
The city's Virginia Central Railway Trail, which runs from Cobblestone Square downtown to just below the Idlewild neighborhood east of I–95, isn't quite as popular. But in nice weather, it's also busy most days of the week, allowing city residents and visitors to get away from city streets and out into the woods.
Stafford County has been active in adding trails in spots. The one linking the YMCA and St. Clair Brooks Park on Butler Road with Falmouth and beyond is a welcome addition used by many folks on that side of the river. Plans for it to eventually extend along River Road and out to Ferry Farm are in the works.
My point in noting these very popular trails in and around Fredericksburg is this: People love them and would love to see more.
It's great when communities add big things like parks, athletic complexes and community pools. But the successes of the Heritage Trail and others like it show that for the money, you can't do much better than simply giving residents a way to get out, stretch their legs and enjoy being outdoors.
Spotsylvania County, where elected officials like to take credit for limiting government, lags well behind its neighbors in providing its residents with trails to enjoy. Something tells me residents there wouldn't object to seeing more trails and pathways to use.
None of us want to pay more in local taxes and fees, but somehow, Fredericksburg, Stafford and other jurisdictions in our area have found ways to build some nice trails and pathways without breaking the bank. And they're being used like few other government-provided amenities.
On my bike ride the other day—I like the trail because it's not too hilly—I saw all sorts of folks out and about. There were families with strollers, joggers running solo, youngsters on roller skates and a host of cyclists happily pedaling around the loop again and again.
Some using the trail stopped to look at wildlife, including a couple that marveled at an interesting spider on a web between trees.
There were even a dozen or so folks out walking their dogs.
They all had one thing in common: They loved the chance to simply get outside and move on a trail separated from cars.
We'd all love more chances to do just that, especially trails that would link up and provide a longer walk, ride or hike to better health.
Be the first to know
Get local news delivered to your inbox!