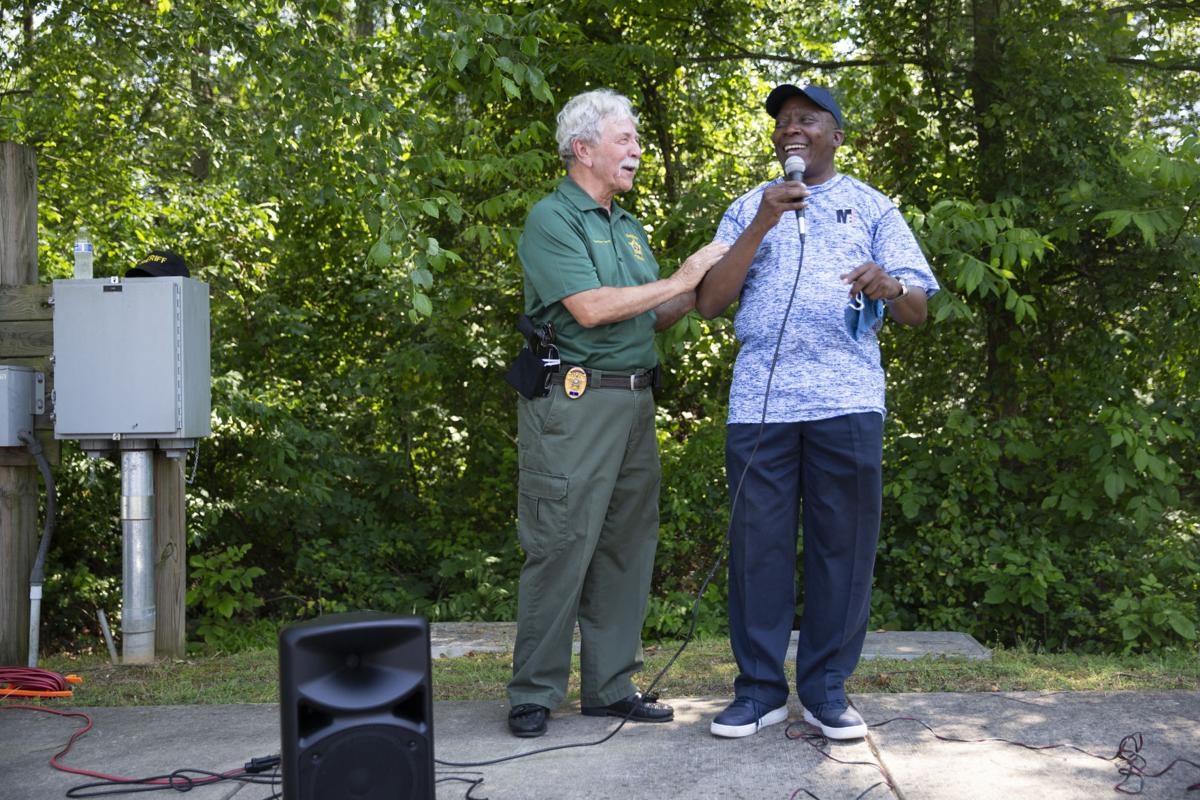 Spotsylvania County joined the growing chorus of communities talking about and condemning systemic racism and deadly police force used against African Americans.
About two dozen people spoke during Thursday's community meeting hosted by the Board of Supervisors. Speakers quoted Biblical passages and the U.S. Constitution, as well as the Rev. Martin Luther King Jr. Some spoke through tears of personal experiences and their frustration.
County pastors and reverends spoke, as did business owners, educators, mothers, fathers, sons and daughters. Some were white, most were black. Aside from an online comment, all speakers pointed to systemic racism as a problem they said needs to change and they wanted to know where the county leaders stood.
Some speakers were angry the board had not approached the subject earlier. Still, they were thankful for the meeting. But they want more open dialogue so people can relate to their experience personally. They want some results.
Many speakers praised Sheriff Roger Harris as a man of character who cares about the community, but said he won't always be around, which led to calls for the county to establish guidelines on police conduct.
A local clergy coalition provided supervisors with a list stipulating protocols regarding how laws are enforced. Speakers asked that the public be involved so there can be open communication.
Supervisor Deborah Frazier, the first African American on the board in the county's 299-year existence, opened the meeting by addressing the crowd, which sat spread out with some standing. Most wore masks.
She said Floyd's death, "a horrific act of injustice," has raised the issue to the forefront. She said the community needs to face racism and act on it, that way positive change can be reached.
Frazier, 58-year-old South Carolina native, recalled the mass killing by a racist white man five years ago at Mother Emmanuel AME Church in Charleston. She spent her youth at the African Methodist Episcopalian church.
"Senseless acts of radical thinking will always be etched in my mind from that day," she said. "We cannot continue to let poison and hatred and bigotry destroy the nation that we built together."
She quoted King: "I have a dream that one day this nation will rise up and live out the true meaning of its creed: 'We hold these truths to be self evident, that all men are created equal.' "
She repeated names of African Americans killed by police, and spoke of God-given rights. She noted her confidence in the sheriff and the community in dealing with what is happening, and closed her remarks by telling the crowd she is a black woman representing the community.
Mozett Petway, president of the Spotsylvania NAACP and a local pastor, summed up much of what others said.
He said he came to the meeting with "a heavy heart" because he is worried about the younger African American generation and how they will be treated by police. Petway said a local clergy coalition has formed to help deal with what is happening.
He talked about how the African American community sees law enforcement, calling it "the tool" used to "limit us ... restrict us." What the community wants is dignity and respect, he said.
Like others, he praised Harris, but said the county needs to work with the community in establishing guidelines.
Those guidelines include establishing a citizen review committee to work with the county and Sheriff's Office. The list calls for a "duty to intervene" if police see a fellow officer acting out to line, such as in the Floyd case. The list also calls for a protocol for use of force, bans on chokeholds and no-knock warrants, and outside investigations for incidents such as shootings.
The Rev. Charles Wormely spoke of "unequal justice." He said he and other pastors aren't against police, but instead are fighting police brutality along with racial and social injustice. He said the clergy coalition stands with the protestors.
Some speakers noted that outrageous cases like Floyd's death haven't happened in the county. But at least one other speaker wondered, "What's to stop it from happening here?"
One speaker, a black man, said he was once violently arrested as a possible burglary suspect when he was legally on property to pick up equipment.
Former School Board member Amanda Blalock pointed to what she called a problem in the school system, the "school-to-prison pipeline." She said too many black students found themselves in disciplinary hearings.
"That wasn't a mistake," she said.
Other speakers pointed to education as a tool to help face the racial issues, telling the supervisors there are resources the county can use, and offering to help.
The supervisors supported the public comments and condemned Floyd's killing and racism.
Supervisor Chris Yakabouski suggested starting a committee of two supervisors to work with the local NAACP and others in the community to see how the county can address the issues. He and board Chairman Gary Skinner will serve on the committee.
Supervisor Kevin Marshall noted there is a difference between good police officers and bad ones, like those in the Floyd case.
Supervisor Barry Jett applauded the speakers for seeking solutions.
"If we don't have solutions, we have problems," he said.
Scott Shenk: 540/374-5436