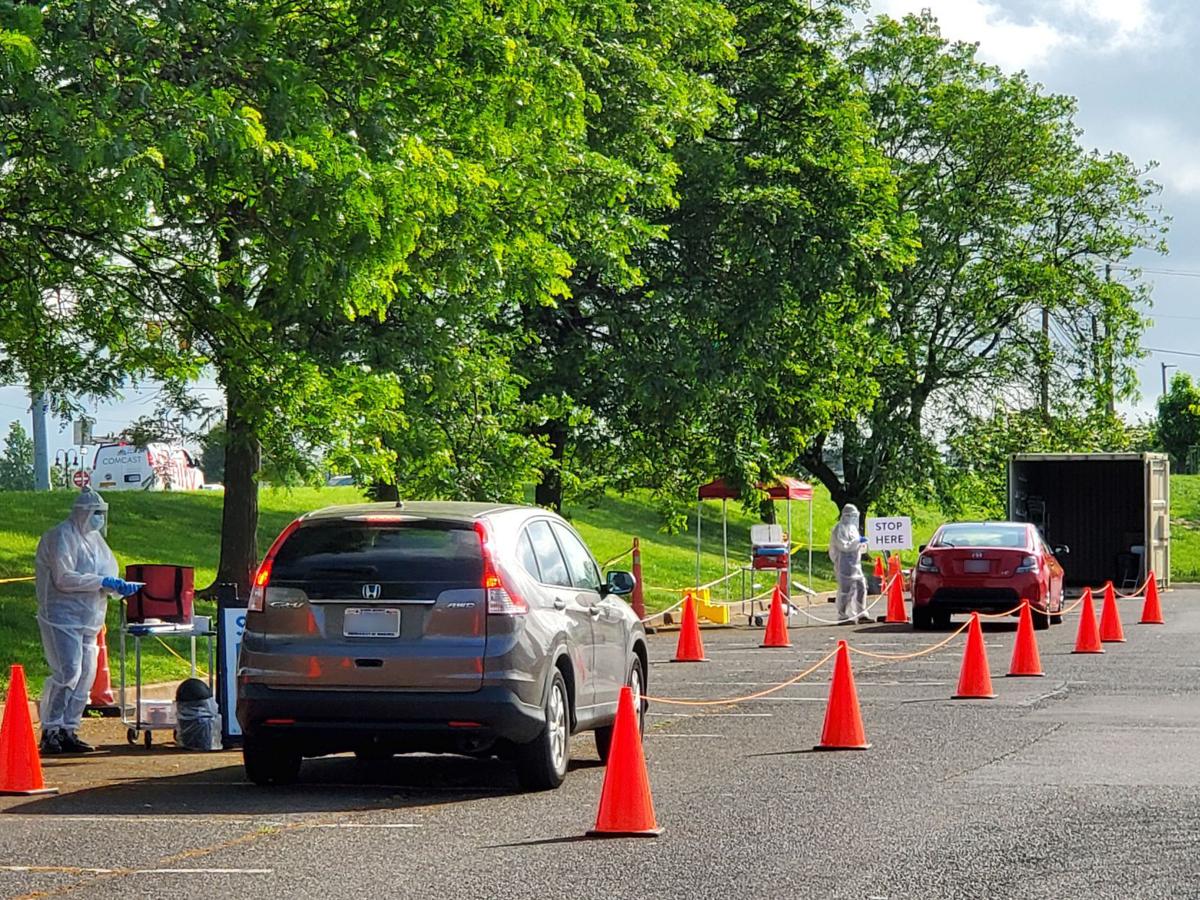 Free, drive-thru COVID-19 self-administered testing is offered in the parking lot of the Culpeper Walmart three days a week, in two-hour blocks. Free testing at this location began May 15 and will continue indefinitely, said health officials Wednesday.
On Mondays, Wednesdays and Fridays from 7 to 9 a.m. several Walmart associates, a medical technician and a pharmacist have processed an estimated 40 test-seekers per day in the drive-thru, according to site director Patel Bhupesh, a regional Walmart employee.
"It has been a great addition to the options for testing in the district, especially in the Culpeper area," said Rappahannock-Rapidan Health District Director Wade Kartchner in an email Wednesday.
Walmart has been operating the site in partnership with medical testing company eTrueNorth and state and local health officials.
Culpeper residents Andrea and her husband Chris, who for privacy reasons requested in an interview Wednesday that the Star-Exponent use only their first names, saw signs about the testing when shopping at Walmart in May.
Andrea works for a government contractor in the Dulles area, handling confidential information that requires her to work on-site, in an office with many other people some of the time, while other work can be done at her home. Chris is an HVAC technician in the region.
"We were experiencing symptoms, shortness of breath and coughing, and I have asthma, so we thought we should get tested," Andrea said. "My office had closed for people who were sick and I didn't want to be that person who would cause everyone to have to quarantine."
She said they were referred to a website, DoINeedaCOVID19test.com, where they answered questions about symptoms, which qualified them both for testing, and they selected an appointment.
"You print out a document that's specific to you, and when you go they check all that and they use your driver's license to make sure all the paperwork is in line," Andrea said.
The Walmart associates in the parking lot communicate with test-takers through a closed window, with written instructions held up for them to read.
"When you get to the pharmacist they have you call a number and she has a blue tooth in her ear and talks through it, giving you instructions, watching you as you do it," Andrea said of the self-administered test, which involves putting a long swab far up one nostril, which she said is "not horrible, but not the most comfortable thing, not very pleasant."
"You swirl it around in your nose for 15 seconds, and she times it, and tells you when to stop."
Andrea said the pharmacist then talked her and Chris through how to package the test and hand it back through the window, dropping it into a box for processing.
After both took the test on Friday, May 15, Chris had his results—negative—on the following Monday, May 18.
But as of Wednesday, June 3, Andrea still had not received her results. She has reached out to Walmart and eTrueNorth, which operates the laboratory for the testing, but they have been unresponsive.
"I finally got an email this morning recommending I take another test," Andrea said.
Marilee McInnis, director of global communication for Walmart, said that normally "eTrueNorth delivers results between three and five days."
Andrea said if she takes another test, she would go to another testing location. "When I was trying to get my results, I was pretty aggravated about it," she said. "I just wouldn't want that to happen again."
She said she is no longer experiencing the same symptoms. "But it's confusing, it's hard to tell when you get sick, is it just a cold, or allergies, or COVID?" she said.
The number of people tested in the Walmart drive-thru since mid-May is unknown, but may be around 360, based on the site manager's estimated daily number of cars processed.
Kartchner said he has asked Walmart for that total, but has been unsuccessful in getting it. He said he thinks about five of those tested at the Walmart site so far were positive cases.
Marilee McInnis, director of global communication for Walmart, said, "Walmart doesn't have any visibility to testing results." She said eTrueNorth reports data to the health department and Walmart doesn't disclose the number tested.
The Virginia Department of Health and Human Services, along with insurance companies, are funding the testing, said McInnis, in an email Wednesday.
"Walmart is proud to support the community by helping expand access to testing and donating our parking lot space, site supplies and materials, and our associates' time," McInnis said.
The testing at Walmart will continue for at least several more weeks. "Health and Human Services and local officials will determine how long the site will be open, based on the needs of the community," she said.
Another location where people can get tested for free is at the Culpeper Free Clinic, for those without insurance, Kartchner said.
Also, "there is a mobile clinic that a number of community partners have started," Kartchner said, "And the Commonwealth Respiratory Clinic, that does a sliding scale based on income."
Kartchner said it's notable that the daily number of new COVID-19 cases in Culpeper has decreased steadily over the past two weeks.
"At the height of the peak, Culpeper had the 11th highest number of cases in the state taking in all jurisdictions, and the 8th highest rate," he said. "Now they rank 14th in total cases and 11th in case rates. The trends are certainly improving."
The local health district Wednesday morning reported on its Facebook page 1,222 cases of COVID-19 in the district, with 727 in Culpeper, 329 in Fauquier, 41 in Madison, 111 in Orange and 14 in Rappahannock.