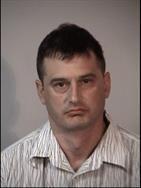 A man who beat, raped and laughed at a woman after giving her a ride to her King George County home in 2019 was ordered Thursday to serve 30 years in prison.
Andrew Hoffman Black, 40, was sentenced in King George Circuit Court to 60 years with half of it suspended. Judge Herbert Hewitt's sentence exceeded the recommended state sentencing guidelines, which called for a maximum active sentence of about 18 years.
Black pleaded guilty in March to rape. In exchange for his guilty plea, prosecutor Charlie Clark dropped six other charges.
According to the evidence, Black was a Navy medical corpsman stationed at Dahlgren when he met the victim on April 30, 2019. Black, the woman, a mutual acquaintance and others drank beer together at a restaurant in the Dahlgren area while the victim waited for her grandmother to pick her up from work.
When the woman's ride didn't show up, the mutual friend asked Black to give the woman a ride home. They stopped to get something to eat in Fairview Beach before the woman was taken home.
The woman insisted there was nothing romantic about their brief time together. She said she talked about her boyfriend while Black showed her pictures of his wife and family.
After getting home, the woman was in her bedroom putting on her pajamas when she heard the door to her trailer opening. She saw Black standing inside her home and asked him if he needed to use the bathroom. Black did not respond and instead attacked the woman.
Clark detailed a horrific attack that included the woman being hit, called names, laughed at, dragged by her hair, raped and sodomized.
She was lying on the floor in pain when Black put on his pants and said "thanks for the [expletive]" before leaving.
After police developed Black as a suspect, he admitted taking the woman home but denied raping her or even being in her bedroom. DNA evidence recovered in the home showed that he had been.
Defense attorneys Austin Timberlake and Patricia Bolen put on evidence showing that Black had no criminal record prior to this incident, and pointed out the dozen or so supporters he had in the courtroom.
They asked Hewitt for a sentence toward the lower end of the recommended guidelines, saying Black is not beyond redemption and rehabilitation.
"As horrible, awful and unnecessary all of this was, this was one night in his life," Bolen said. "This event was an anomaly. It's not who he is."
Clark called the attack "one of the more vile rapes I've seen" and argued that Black deserves a lengthy sentence.
"Anyone who is capable of doing this to another human being is capable of doing it again," Clark said.
Black, who court records state was using LSD and mushrooms while working as a Navy medic, acknowledged that he was a "monster" that night and apologized profusely to the victim. He blamed a relapse into drugs and alcohol for his actions.
"This would not have happened if I was sober," he said.
Hewitt said the guidelines were "nowhere near adequate" in this case and pointed out that the victim was so distraught by what happened that she carved the word "whore" on her own arm.
"I don't know what happened to you that night," the judge said. "But this was a violent, brutal offense … you violated her body in a number of ways."