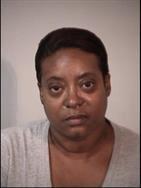 A woman who treated more than 100 patients while pretending to be a psychologist in Stafford County was ordered Friday to serve 11 years in prison.
Sharonda Avery, 44, was sentenced in Stafford Circuit Court to a total of 46 years, with all but 11 years suspended. She was previously convicted of five counts of obtaining money by false pretenses, two counts of passing forged documents, perjury and practicing psychology without a license.
Judge Charles Sharp's sentence was well above the recommended state sentencing guidelines, which called for a maximum active sentence of two years and three months. Avery had no prior criminal record.
Former Stafford Detective Ed McCullough headed an investigation into Avery that began in October 2018, when police began getting complaints about her. McCullough found that Avery was not licensed and had none of the degrees she claimed to have, including two doctorates.
Court records show that she practiced for about three years at the former Pediatric Partners for Attention and Learning at 2128 Jefferson Davis Highway in Stafford. The office was headed by a real doctor, Joni Johnson.
Most of Avery's patients were children. A number of their parents were on hand for Friday's sentencing, and some of them testified about the devastating financial and emotional impact Avery's false diagnoses had had on their families.
Avery's actions included prescribing medication for conditions that didn't exist and not properly diagnosing conditions that did. Several testified that Avery's treatment ended up making their children's problems worse. Avery also testified in court while pretending to be a medical expert.
"Your lies and misrepresentations were truly astounding," Judge Sharp said right before announcing the sentence. "I don't think I've ever seen a case in which non-violent acts caused so much damage."
Defense attorney Charlotte Hodges asked Sharp to sentence Avery within the guidelines. She said Avery is truly remorseful for her actions and had been off medication she needed for her own mental health issues for about 15 years prior to her arrest.
"She cannot erase everything she did, but she is trying to make amends," Hodges said. "Somebody on medication is one person. Somebody off it is somebody else."
The defense also cited Avery's recent work with the Shiloh Temple of Praise, where she has become a licensed minister.
Prosecutor Greg Holt called Avery a "con artist" who took advantage of desperate people for purely financial gain. He said that the guidelines were woefully inadequate for the crimes Avery committed and suggested that she serve at least a decade.
"Real lives were changed and hurt by her," Holt said. "She not only stole money, she stole trust."
In a brief statement made toward the end of the hearing, Avery turned to the victims and asked for forgiveness, "just like I asked God for forgiveness."
She found little mercy from Sharp, who said Avery's actions were "unforgivable. You undercut the whole system."
Sign up for our Crime & Courts newsletter
Get the latest in local public safety news with this weekly email.