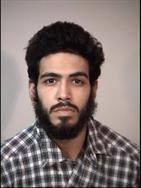 A young Stafford County man who committed a series of burglaries last year—most of which occurred while he was free on bond—was ordered Thursday to serve 14 and a half years in prison.
Hussein Bashar Jarrar, 21, was sentenced in Stafford Circuit Court to a total of 72 years, with all but 14 and a half suspended. He was convicted in July of 23 criminal offenses, including multiple counts of burglary, grand larceny and destruction of property.
Jarrar's spree began on Jan. 23, 2019, at Chicas Deli Market at 432 Garrisonville Road. Deputies responded to an alarm at 3:22 that morning and heard loud banging toward the back of the building.
Deputy Samantha Whitt ordered the burglar to come out with his hands up, but Jarrar instead fled on foot. Another deputy spotted Jarrar a short time later wearing no shoes; he claimed he was coming from work and needed to air out his feet.
Two shoes and a large rock were found between the store and where Jarrar was apprehended.
After being released on bond, Jarrar eventually resumed his burglary spree, breaking into six more businesses and a residence. Most of the break-ins occurred along the State Route 610 (Garrisonville Road) corridor in North Stafford.
The residential burglary took place between June 29 and July 3 of last year on Patriot Way in the Austin Run subdivision. A .38-caliber revolver taken while the residents were on vacation was used in a July 3 in a homicide outside the 5-Twelve convenience store.
Troy Barnett, 20, was killed and his girlfriend, Laura Gomez-De La Cruz, was shot in the head and seriously injured.
The gun was eventually recovered from Abel Lake and the teen who used it, Caine Davis, has been sentenced to life in prison.
The evidence presented by Commonwealth's Attorney Eric Olsen showed that other stores broken into by Jarrar included I Luv Teriyaki, Bulgogi, Winning Image Salon, Edible Arrangements and the former Bath Bed and Beyond in Stafford Marketplace. Surveillance camera footage and blood recovered from two of the crime scenes tied Jarrar to the incidents.
Jarrar's legal problems continue to mount. He was arrested Wednesday after employees at the Rappahannock Regional Jail found three shanks, or makeshift knives, in his cell over the weekend. He was charged with three counts of possessing a deadly weapon as a prisoner, a Class 6 felony that carries a maximum penalty of five years in prison.
Sign up for our Crime & Courts newsletter
Get the latest in local public safety news with this weekly email.