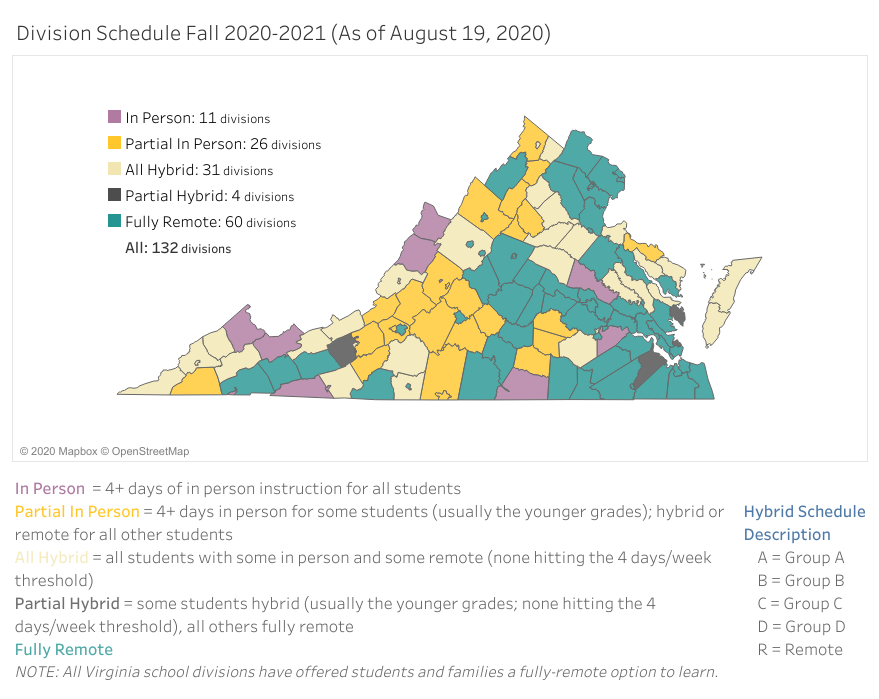 Only a handful of students were at Spotsylvania High School for the first day of the 2020–21 school year Monday.
They sat at desks and tables six feet apart from each other, wearing masks, in the school's common area. They wore headphones and logged into virtual classrooms with their classmates, who logged in from home.
Those who came to Spotsylvania High School on Monday are students who have internet connectivity issues at home, Principal Kelly Gempel said.
All other Spotsylvania County Public School students—as well as students in Fredericksburg City Public Schools—went back to school from home on Monday. Like most public school systems in the area, both divisions have decided to hold school virtually through at least October to prevent the spread of COVID-19.
In Spotsylvania, students are spending this week getting oriented to Canvas—the platform most local divisions are using to deliver distance learning—meeting their teachers and talking about expectations.
"You know, this is new for our teachers and kids, and this gives them the opportunity to work through that without the pressure of getting right into curriculum," Gempel said. "Just to touch base and see what it's like to teach and learn in a virtual environment."
New instruction will begin next week, division spokeswoman Rene Daniels said. In-person learning for identified students with special needs will begin Aug. 31, she said.
Gempel said teachers at Spotsylvania High School are excited about the new academic year.
"I think most of my teachers, after talking to them today—they're ready to rock and roll," he said. "I think with the extra time the teachers have had to think about this and walk through it, they were able to come up with some cool stuff for the kids to do, and it gets them excited as well."
Daniels said the division is passing out devices this week and "will have a better idea of the remaining need next week."
"We have ordered more devices and are waiting for them to arrive," she said.
Fredericksburg City Public Schools is also waiting for devices to arrive. All kindergarten through second grade students will receive iPads and students in third grade and up will receive laptops.
While waiting for devices to arrive, students at Hugh Mercer Elementary and Lafayette Upper Elementary schools will spend the first two weeks of school reading a book, "The World According to Humphrey," and completing related activities.
Walker–Grant Middle School students are doing activities around the theme of "Celebrating our Uniqueness," division Superintendent Marci Catlett said.
James Monroe High School students also have reading assignments to complete in the next few weeks.
The number of students in the city who do not have internet access is "continuing to creep up," technology supervisor Michael George said.
The division's goal is to come up with a sustainable solution to this problem in two to three months, according to interim Deputy Superintendent Matthew Eberhardt.
The division is also working on a plan to deliver in-person instruction to special education students and early English learners, but Lori Bridi, chief academic officer, said there is not yet a timeline for when this will begin.
While administration continues to work out these glitches, Catlett said the overall mood in the school system Monday was positive.
"Just like usual for the last 20 years, the superintendent and deputy visited every classroom," she said. "We literally walked through all five buildings. It was exciting. All staff and teachers were enthusiastic."
She said teachers spent the first day recording lessons and making contact with families.
Catlett said the best part of her day was visiting the children of teachers and staff who are in daycare provided by the school system in the two elementary schools.
"I look forward to getting to see our kids in our buildings every day again," she said. "It's sad because children aren't there, but that is the nature of how we have to operate right now.
"We're taking this route because there is a consensus," she continued. "Once we feel we can check off every box and our schools, staff and family are ready, we'll be ready to bring [the students] back."
Adele Uphaus-Conner:
540/735-1973
@flsadele