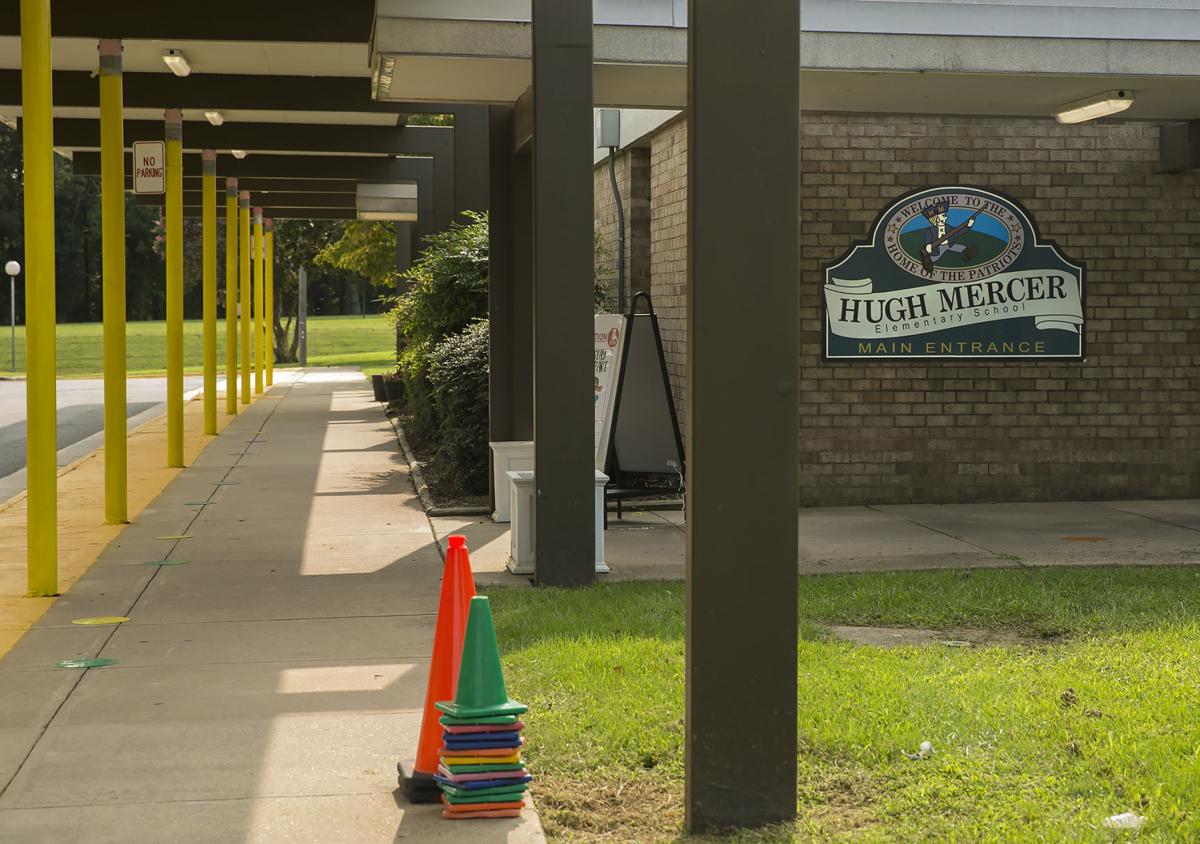 The Fredericksburg City Public Schools Enrollment, Capacity and Expansion Task Force is recommending construction of a new school—to open in August 2026—as a long-term solution to overcrowding in the division.
The recommendation to construct a new school has not been formally presented to the Fredericksburg City Council, which would have to approve funding for a new school. The council next meets in regular session April 13.
ECE task force members present at Monday's meeting included City Manager Tim Baroody, Deputy schools Superintendent Matthew Eberhardt, City Council members Kerry Devine and Jason Graham and School Board members Jennifer Boyd and Katie Pomeroy.
Devine told the task force that staff looked at the city's debt service—which includes payments for James Monroe High School and Lafayette Upper Elementary School—and determined that five years is "a realistic long-term goal" for designing and building a new school.
Devine said "2030 is a more comfortable date, but that's too far."
"It's definitely going to mean foregoing other projects and a tax increase, probably a significant one," she added.
The School Board would determine the grades to be served by the new school and a cost estimate would be part of the design process.
Last week, the task force reviewed both short- and long-term solutions to overcrowding that were proposed by consultant Crabtree and Rohrbaugh.
In addition to constructing a new school, the two other proposed long-term solutions were renovating or expanding an existing city property for use by the school division or renovating or expanding one of the school properties.
Task force members were asked to rank each option according to how well it supports the division's mission and values; how well it supports best practices and "21st-century learning;" how well it provides equity, outdoor space and "flexible learning environments;" and how well it supports "ideal class and building size for housed grades."
According to the ranking results, members displayed a strong preference for building a new school over the other two options.
The consultant also proposed two short-term solutions—eliminating the "single-stream" system and reallocating grades among existing school buildings or implementing hybrid or year-round schedule changes.
The task force ranked the first option—eliminating single-stream—slightly higher than the second.
Capacity has been a pressing issue in city schools for several years. In January 2020, staff reported that enrollment at Hugh Mercer Elementary, which currently serves grades K-2, jumped by 14 percent over the preceding year, necessitating the addition of five "learning cottages," or trailers.
Parents formed a grassroots effort to advocate for options to meet capacity challenges after the School Board in January 2019 approved a 25-year capacity plan that would have expanded Lafayette Upper Elementary School—which currently houses grades 3–5—instead of building a new school.
At parents' urging, City Council in February 2019 voted to delay action on the schools' capacity plan.
City Manager Tim Baroody told The Free Lance–Star earlier in March that there will be a final capacity plan this summer.
As part of his proposed budget for fiscal year that begins July 1, Baroody recommended transferring $1 million from the city's general fund to the school division's capital fund. If that amount is matched by the school division as requested, and combined with money already in the schools' capital fund, there will be $3 million available "as a down payment on a future expansion plan," Baroody said.
The school division held several public forums on capacity issues in 2019. Many parents involved with the grassroots effort were in favor of acquiring an existing building, such as the old Mary Washington Hospital, and using it to expand CTE offerings for high school students, thereby freeing up space in current school buildings to meet capacity needs.
At the task force meeting Monday, Devine said she "does not foresee" being able to repurpose a building for workforce development purposes, suggesting that space could be found elsewhere after the new school is built or included in the design of the new school.
Boyd said Monday that she feels the new school is a better long-term solution to overcrowding for the city as a whole and that the five-year time frame is "sooner than I thought."
She suggested that having a time frame in mind will help the school community accept whatever short-term capacity solution is put in place.
Pomeroy, who voted against the January 2019 capacity plan that included the Lafayette expansion, expressed disappointment with the five-year time frame.
"One of the reasons I was opposed to the Lafayette expansion was I felt like it would be throwing a lot of money at a solution that wouldn't be a solution for very long," she said. "By the time it opened, it was going to be at capacity, and I thought it would delay the time when we would be able to get a new school.
"So we didn't do that, and now there are five more full school years to go before we get the real solution. We're in crisis mode right now at Hugh Mercer. I don't quite know how we're going to do this five more years."
Adele Uphaus–Conner:
540/735-1973
@flsadele