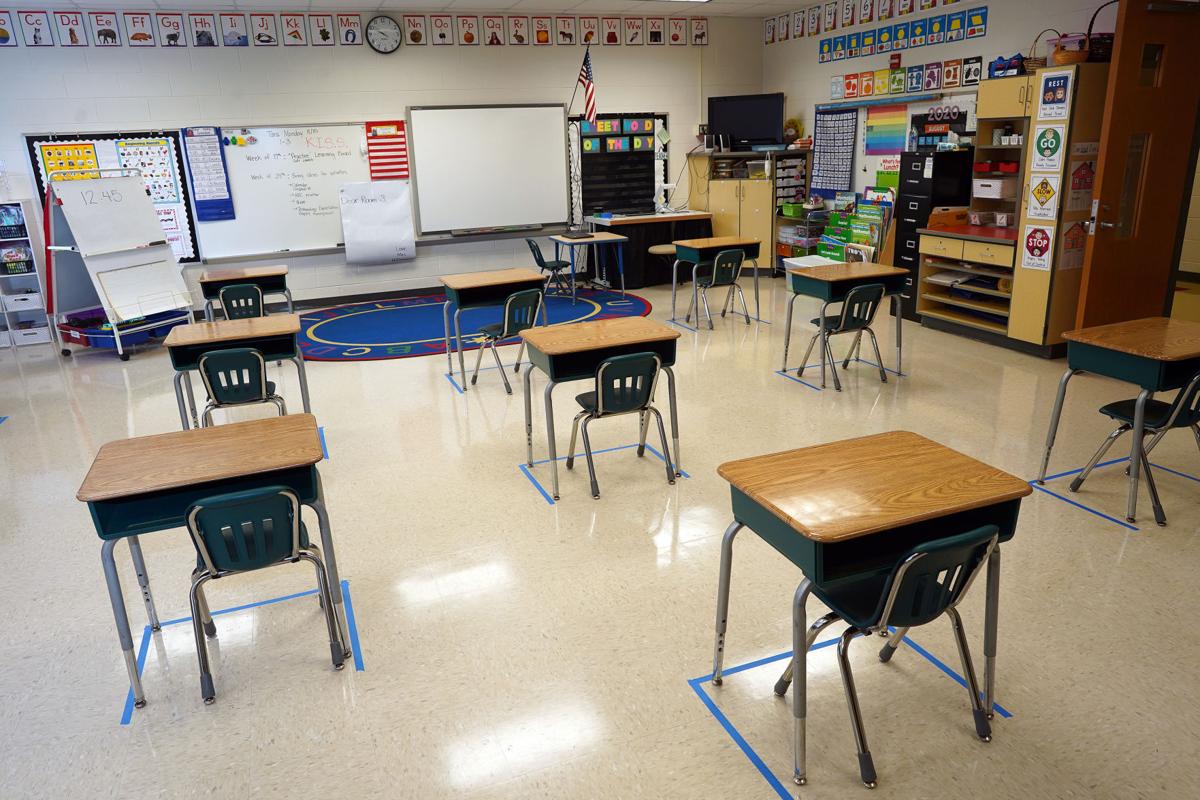 The majority of Spotsylvania public school students will return to school buildings starting on Monday for the first time since March.
The division is the first in the immediate Fredericksburg area to begin a hybrid model, in which students who want to come back to school will receive in-person education two days a week.
The student body has been divided into two groups. One group will attend on Monday and Tuesday and the other on Thursday and Friday. All students will continue with distance learning on the days they are not in school buildings.
Students also have the option of staying with the 100 percent distance- learning model.
Division Superintendent Scott Baker said about 60 percent of the student population as chosen the hybrid model. That's down about 10 percent from the number who indicated over the summer that they would choose a hybrid model.
"There are more parents and families that have wanted to stay virtual that maybe didn't originally sign up for that," Baker said.
While a majority of teachers will be in the schools, some have chosen to continue teaching virtually because of health conditions that put them at higher risk of developing a severe case of COVID-19. Baker said others have been asked to continue teaching virtually "to balance out the needs we have with students."
He said "for the most part" students will have the same teacher they were assigned at the beginning of the year, but some at the elementary level have been have been assigned an additional teacher to help with asynchronous learning days.
"We just don't have enough staff to go, 'OK, everybody gets their own virtual teacher and everybody gets their own in-person teacher,'" Baker said.
Baker said work on preparing physical buildings has been going on for weeks.
"It's been constant ongoing planning, preparation and communication between operations, maintenance, transportation and principals in schools," he said. "We've developed a series of checklists that enable us to go into each school and say 'What do you have of this?' and 'What do you need of this?' "
Transportation is one area where Baker cautioned families not to expect a "smooth and seamless" transition.
He said the division is down about 30 bus drivers and "constant maneuvering" will be required to ensure students get where they need to go on buses that can have only one child per seat.
"It's going to be a challenge," he said.
School during a pandemic will look different than in "normal" years, Baker said.
There will be fewer students in buildings. Desks and lunch tables will be spaced 6 feet apart. New routines for frequent hand-washing and walking in the halls will need to be established.
Signs in school buildings will help remind students, staff and teachers to maintain social distance and teachers will be making use of outdoor spaces for learning where they can.
Everyone must wear face coverings, Baker said, and teachers and building administrators will ensure they are worn consistently and correctly.
"If a student is not able or willing to comply with that, we are going ask that student to go back to distance learning," Baker said. "We're at the point in time where we need to comply with [wearing face coverings], for everyone's safety, not just the individual's. We are going to insist that it be done."
Baker said division leadership will monitor health data daily as it pertains to the school division, the county and the region. The two key metrics will be the percent positivity rate and the number of new COVID-19 cases per 100,000.
"But there's not an automatic trigger [for when to close]," Baker said. "Certainly we want to stay in the moderate ranges and not get into the high or higher risk ranges."
Baker said there also may be situations where an entire class may have to go virtual because there aren't enough adults to work with them in-person because of quarantine.
"That's been an experience I'm hearing from other places that are in hybrid mode," he said.
A dashboard on the school website will be updated weekly to show the number of COVID-19 cases and quarantines in the division, though there is a lag of about a week.
The most recent update shows four cases in the division between Sept. 27 and Oct. 3—one at Riverview Elementary, two at Freedom Middle and one at Post Oak Middle. There are no quarantines shown for that time frame.
The dashboard shows a total of 23 cases in the division since Aug. 17, the first day of school, and 89 quarantines.
Adele Uphaus–Conner:
540/735-1973
@flsadele