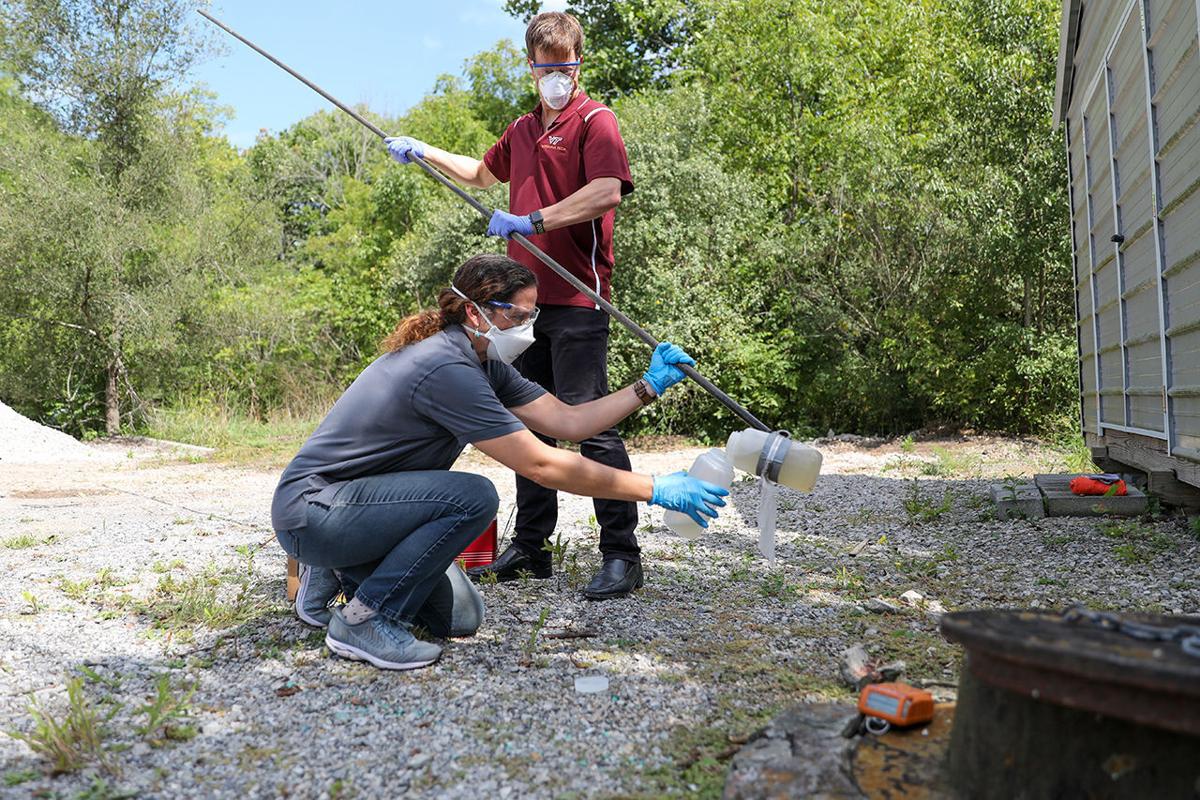 When COVID-19 forced Virginia Tech to evacuate in the spring, university researchers began looking at a novel way to detect potential coronavirus outbreaks on campus.
Peter Vikesland, a professor of civil and environmental engineering, for several years has been studying how sewage treatment plants enable or inhibit antibiotic-resistant bacteria.
"The idea was to look at sewage for antibiotic resistance, and it kind of morphed over the last few months to COVID-19 and the detection of this virus," he said.
Over the summer, he and a team began collecting samples of wastewater to analyze. Particles from sewage water stick to a filter paper, and Vikesland sends the paper to be checked for the virus by a lab run by Carla Finkielstein, an associate professor with the Fralin Biomedical Research Institute in Roanoke.
"You can detect people who are asymptomatic in advance," Finkielstein said. "You do have a load of virus in the body that you kind of secrete. ... What you're doing is detecting that viral load before the actual individuals get sick with anything or manifest any kind of symptoms."
Since classes began Aug. 24, the university has reported 711 positive cases of COVID-19 among students and employees, Virginia Tech's dashboard reported Monday.
While Tech mandated that roughly 8,600 on-campus students get tested for COVID-19 upon their arrival, wastewater testing offers another method to zero in on students who might be infected before they even know it.
Instead of testing every individual across campus for COVID-19, scientists can pinpoint certain residence halls. Then the university can connect with the health department for contact tracing or more targeted testing to determine who has contracted the virus.
"It allows you to rapidly separate what kind of places are experiencing early outbreaks," Finkielstein said.
Dr. Noelle Bissell, director of the New River Health District, has said that roughly 95% of new cases in Montgomery County belong to students. Many of these patients have mild to no symptoms, and they aren't getting severely ill, she said.
Because of the lack of symptoms among young people, researchers believe the wastewater testing method could be particularly useful to gauge a population of people mostly in their late teens and early 20s.
"I think the application in particular in a college town is going to be of remarkable value," Finkielstein said.
One way Vikesland and his team collect samples is by opening up a sewer manhole and dipping in a container to grab wastewater rushing past. Another way is to gather samples from pumps stationed around sewer mains that will collect wastewater every hour, to ensure they're getting a full day's worth of flushes.
"Particularly for this, we want to be finding one or two people in a dorm excreting virus," Vikesland said. "We don't want to miss them because they may go to the bathroom in the morning and we may sample in the afternoon."
Tech's research office and the Department of Civil and Environmental Engineering were so impressed by the project that they released $200,000 to expand sample collection from five to 15 sites across campus.
Vikesland said his team is still waiting on the 10 additional sample collectors, since the company has been flooded with orders after widespread news stories about the University of Arizona doing similar wastewater testing.
Testing sewage for the presence of coronavirus RNA has become more common. The University of Virginia is testing residence hall wastewater for the virus, and a pilot project in Stafford County has revealed that there could be 10 times as many known COVID-19 cases, according to tests done recently at the county's wastewater treatment plants.
Since testing at Tech began in earnest, Finkielstein said she has detected the virus from a couple of samples provided by Vikesland's team, which she thinks were "more or less expected." Finkielstein said that because she deals with blind samples, she doesn't know where the samples originated.
Vikesland said he wasn't aware whether the local health department had done any follow-up because of those tests. Bissell and a health department spokesperson did not immediately reply to an email seeking more information.
While Tech researchers can take some samples at the local wastewater treatment plant to gauge what's happening in Blacksburg, the focus now is on university housing.
Scientists hope they'll be able to continue using these methods after the pandemic has subsided.
"This has been done in the past to look at polio in other parts of the world," said Vikesland, who noted that wastewater tests could pick up signals of influenza and hepatitis.
The job of collecting samples isn't as bad as it sounds, he added.
"It gets a little gross when you start thinking about it," Vikesland said. "If you think about how much water we use for showering, for actually flushing a toilet, there's a lot of water that carries fecal material along. So it's gross. But it's not quite as gross as you would see if you look into a toilet."
He recalled recently collecting a sample from a major passageway on campus.
"It looked a little like cloudy water," Vikesland said, "what you would get from a pond."
Concerned about COVID-19?
Sign up now to get the most recent coronavirus headlines and other important local and national news sent to your email inbox daily.