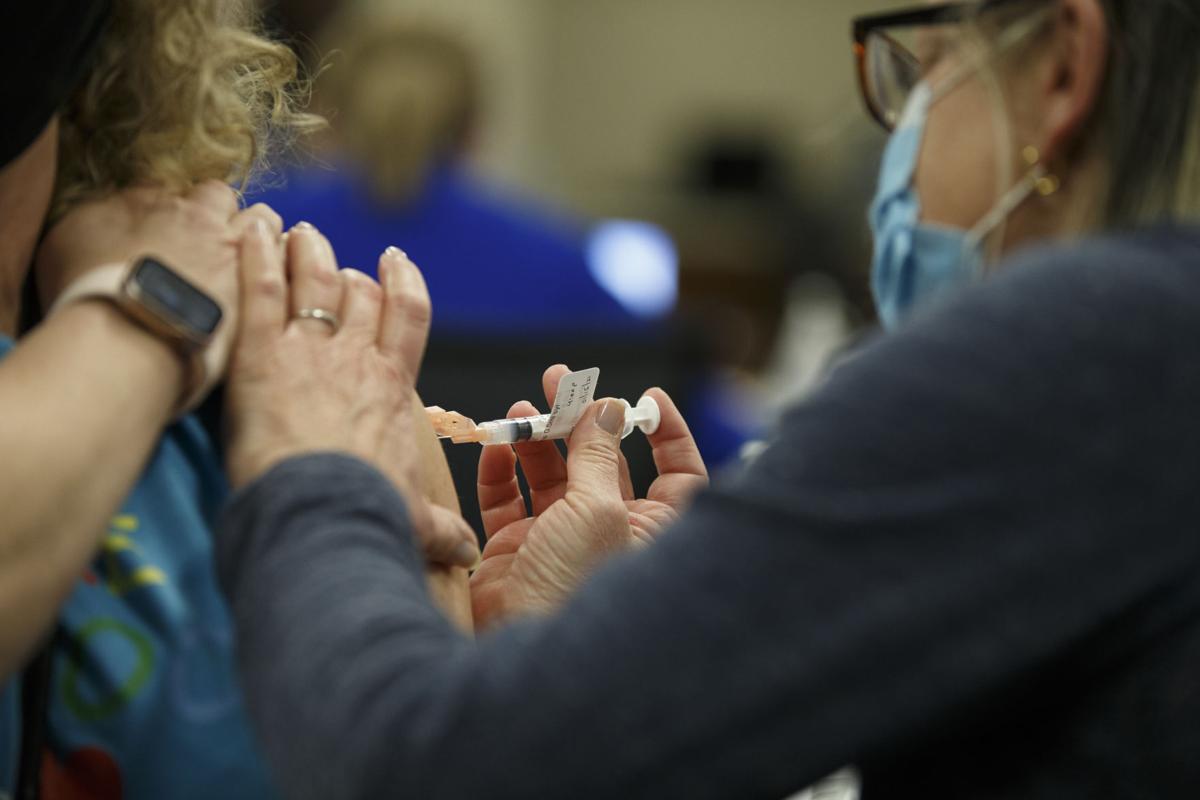 Information about registering for a COVID-19 vaccine in the Rappahannock Area Health District. 
Even with the confusion and frustration of the registration process, things had started to click with the local rollout of the COVID-19 vaccine.
The Rappahannock Area Health District had worked out kinks in its distribution plans, lined up more vaccinators and taken its clinics on the road, both to King George County and the Brisben Center homeless shelter. Mary Washington Healthcare had moved as many as 1,500 people a day through its clinic to the point that people posting on a virtual town hall last week compared its efficiency to a Chick-Fil-A drive-thru. But like many other aspects of life, especially during a pandemic, Murphy's law prevailed.
"Just when we were ready to launch an accelerated vaccination campaign, our supply is reduced," said Joe Saitta, incident commander with the local health district. "It's disappointing, but we will move public vaccinations forward with the supply we're given."
Virginia officials learned Thursday that the state's allotment of the federally supplied vaccines will be about 105,000 doses a week for the next month—about a third of what was requested. The state decided to divvy up the total across the 35 health districts based on population, said Dr. Danny Avula, who's leading Virginia's vaccine rollout.
The Rappahannock Area Health District, which includes more than 375,000 people in Fredericksburg and the counties of Caroline, King George, Spotsylvania and Stafford, will get 4,350 doses a week for the next four weeks.
"It's really important for everybody to understand there is not a lot of new vaccine coming into the state," Avula said during a Friday press briefing. "When you start to drill down to the county and city level, that is a very limited number of vaccines."
That's especially true when compared with the demand, particularly among the older set.
More than 22,000 people, age 65 and up, have filled out surveys expressing interest in getting vaccinated, said Allison Balmes–John, spokesperson for the local health district. It's not clear how many local essential workers in tier 1b want to be vaccinated because the health district has worked with contacts in each business to survey interest and hasn't gotten to the point of counting heads.
But there has been so much interest among those currently eligible for vaccines that when Mary Washington Healthcare opened up its appointment system, slots were booked almost as quickly as tickets purchased to a popular concert, said Dr. Christopher Newman, chief medical officer.
"It's really frustrating," Newman said last week, "and I'm sorry about that."
With all the doses going to health districts, Mary Washington Healthcare and other hospital systems won't be getting their own shipments of vaccines, at least for the near future—and that will greatly reduce the number of local vaccinations.
Since mid-December, MWHC has done the lion's share of vaccinating—administering about 15,000 of more than 18,200 doses given locally. (Official dosage tallies—such as those shown in the accompanying chart—are lower because it takes time for the state to process and report the numbers.)
Health district officials plan to share its limited allotment with MWHC and approved pharmacies as it's become clear that the vaccines themselves—not the number of vaccinators needed or a building big enough to accommodate all the operations—will be the issue.
While health district officials wish the local allotment was higher, they're glad to at least have a steady number to work with, Balmes–John. "Now that we know how much we're getting, it's much easier to plan."
The health district will move its focus from the Fredericksburg Conference and Expo Center to clinics held in each community, probably starting the week of Feb. 1. Officials plan to have one clinic in each locality, on the same day each week, throughout February.
Details are still being ironed out, but should be announced this week.
Clinics already planned Tuesday at the Brisben Center homeless shelter and Wednesday through Friday at Massaponax High School will continue. Spotsylvania officials are working with the district to identify county residents and make appointments for the Massaponax clinic. No walk-ins are accepted at any clinics.
Mary Washington Healthcare officials said their operation is ready, and waiting, for more doses. They will focus on health care workers in tier 1a who didn't initially get vaccinated—Avula referred to them as "wait-and-see'ers"—and the rest of the area's private and public school staff.
Meanwhile, health district officials will work on slicing a small pie into a lot of pieces. Those eligible for vaccine in tier 1b include about half the health district's population, such as people 65 and over, those 16 to 64 with underlying medical issues and certain essential workers.
In the age category, the health district will focus on those 75 and up first, in the order they registered, Balmes–John said. She reminded people that those 65 and up also will get appointments, but they'll come a few weeks after their older counterparts.
Another allotment will go to the first three categories of essential workers: police, fire and hazmat officials; staff and residents of homeless shelters and correctional facilities; and school employees.
Given all the people in these groups and the limited supply of vaccines, it's clear that COVID-19 won't go away any time soon. Balmes–John estimated that it will be at least the end of March before all those in tier 1a and 1b are vaccinated.
"It's going to take a really long time to vaccinate everyone who wants to get vaccinated," she said.
Cathy Dyson: 540/374-5425