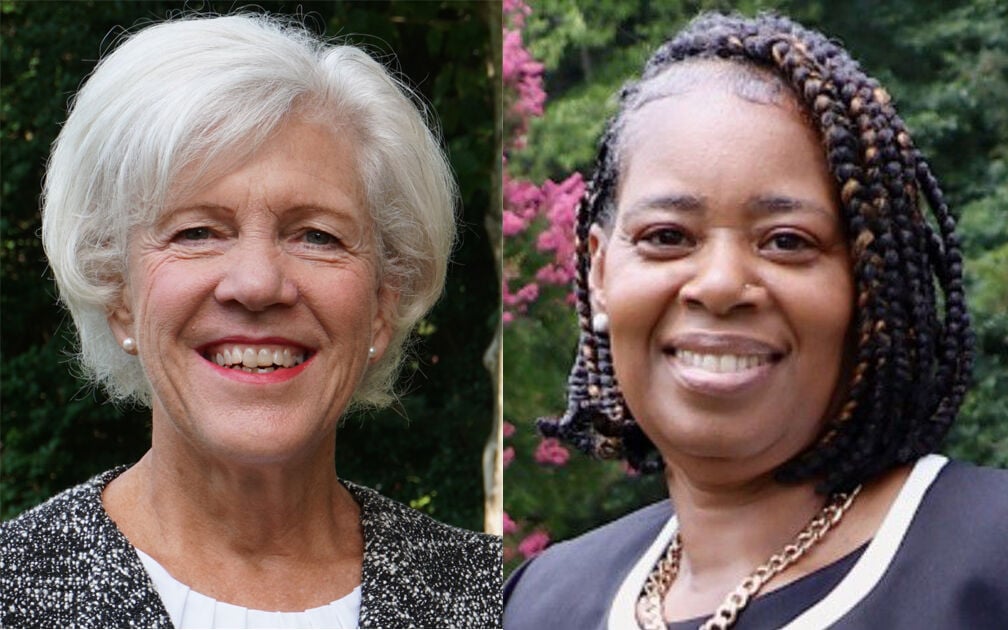 Stafford County Supervisor Meg Bohmke, who has represented the Falmouth District for nearly eight years, faces political newcomer Sandy Cole in the Nov. 2 election.
A look at Sandy Cole, who is running as an independent for the Falmouth District Board of Supervisors seat.
Cole, the mother of Del. Joshua Cole, D–Fredericksburg, said she has lived in Stafford County about half her life. She said Stafford is so diverse today, fresh leadership is necessary at the county supervisor level to help meet the demands of everyone new to the county. Although she thinks the Falmouth District is a great place to live, she believes there's room for improvement.
"Transportation, congestion, education, that's the conversation of the people," said Cole, who works for a transportation contractor for the Washington Metropolitan Area Transit Authority and is running as an independent. "I'm not a politician. I'm doing this for the people."
Incumbent Meg Bohmke is running as a Republican for a third term for the Falmouth District seat on the Stafford Board of Supervisors.
Bohmke, a Republican who previously worked in the financial industry, was first elected as Falmouth supervisor in November 2013. Prior to that, she had served on the county's School Board for four years. Bohmke also serves on several regional boards, commissions and committees.
"I'm running for office to continue the good work in transportation, managing growth and dealing with our schools," Bohmke said.
The Falmouth District mostly covers the area immediately east of Interstate 95 from the village of Falmouth north to Eskimo Hill Road, with a sliver extending west of the interstate along Truslow Road.
Bohmke said one of her most recent challenges was VDOT's proposed shared-use bike and pedestrian path project along Leeland Road, which residents of Leeland Station overwhelmingly opposed. She said when all the details of the project were revealed to her, she quickly became involved with the VDOT and the residents of Leeland Station to find a better solution to retain their walkway and mature trees.
"Now VDOT is redrawing the plans for that," said Bohmke. "I impressed upon VDOT that [the original] plan doesn't work, it doesn't make common sense."
Cole said she learned of the Leeland Road project through campaigning in neighborhoods and speaking directly to the people involved, but she said there are many other transportation issues in Stafford in which she feels builders take advantage of residents and a fragile county infrastructure to benefit themselves with little or no consideration given to taxpayers.
"I feel like the growth needs to pay for itself and I don't see where that's happening," said Cole. "Stafford County has a plan. We need to make sure it's beneficial for everyone, not just the builders."
Bohmke said if reelected, she will continue to work with other supervisors the way she has since she was elected—with an open mind. Bohmke said its important that fellow board members are not "gaveled-down" for the way they feel when tackling important issues.
"It's not about you," said Bohmke. "You facilitate the conversation. If you keep the entire board informed, I think it can be very smooth sailing."
Cole said her position as an independent candidate will allow her to easily cross party lines in every decision she makes.
"I believe there will be independents, Republicans and Democrats, but the harmony comes when we work together," said Cole. "I'm not running for myself. I'm working for the people."
Cole, who said new homes and apartments in Stafford are priced too high, called affordable housing her "passion" and said builders should agree to provide affordable options.
"I feel everyone has a right to a nice, decent home they can take pride in," said Cole. "We need some $200,000 homes. It's possible and it's doable in Stafford County."
Bohmke said she was one of three supervisors who voted against the Downtown Stafford rezoning in June, because she has concerns with the additional homes and businesses being placed on an already-overworked county infrastructure. She does, however, favor examining affordable housing options for county residents.
"A lot of elected officials are trying to figure it out now," said Bohmke. "I am in favor of looking at what are our options."
Bohmke believes she is the most qualified candidate for the role of Falmouth supervisor due to her background in public finance and her years in public office analyzing data and focusing on the needs of her constituents. She said she also closely monitors activities in Richmond that may impact those in Stafford.
"We have a responsibility to our constituents to focus on legislation in the General Assembly," said Bohmke. "I have a lot of concerns about sovereign immunity being removed and unions coming to Stafford."
Cole said if she is elected, she will work not only to improve the district she would serve, but will work for every county resident.
"I want to make sure I'm not focusing on me but focusing on the people," said Cole. "Things should be researched and Stafford County has counsel to advise us. I want to be well advised, not ill devised on things that go on in this county."
James Scott Baron:
540/374-5438