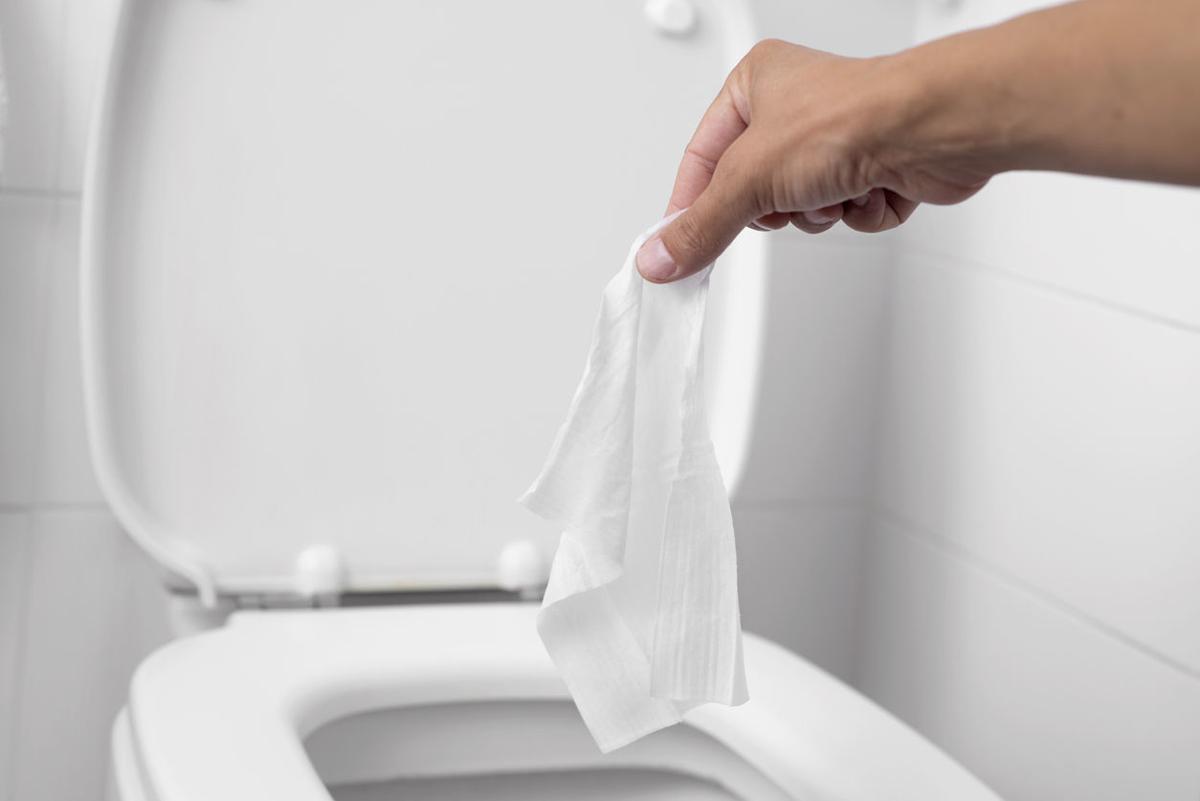 Cleaning surfaces to ward off the COVID-19 virus is having an unintended consequence.
Those "flushable" disinfecting wipes, along with baby wipes and other items that people are sending down toilets, are clogging sewer lines.
Just ask Diane Beyer, Fredericksburg's new public works director.
Her crew pulled a 5-gallon bucketful of wipes out of a clog in a city sewer pipe along Fall Hill Avenue on Friday. And that was from just the latest of six clogs they've had to deal with in the last two weeks.
"We have these clogs every now and then, but not to the degree we are seeing now, and not with the number of wipes we are seeing now," she said in an email. "Last week, one of the blockages was due to grease AND wipes."
Fredericksburg isn't the only locality experiencing this problem lately, as more people are required to stay home to slow the spread of the novel coronavirus. Both Stafford and Spotsylvania counties, for instance, also are warning residents about the problem of wipes in pipes. Unlike toilet paper, those single-use items don't dissolve quickly when wet.
In fact, a recent study from Ryerson University's aptly named Flushability Lab in Toronto tested 23 products labeled "flushable" by their manufacturers. It found that "not a single one was able to fall apart or disperse safely" through its sewer system test.
Even worse, once a wipe is flushed down the toilet, it can combine with fat and grease to form so-called "fatbergs" in sewer lines.
Other products can cause problems, as well. Stafford officials reported finding paper towels and rags in its sanitary sewers at an alarming rate recently, and a post on Spotsylvania's website points out that other harmful items include diapers, dental floss, cotton swabs and contraceptives.
"These materials can cause sanitary sewer stoppages and backups that can affect your home's plumbing, as well as your community's sanitary sewer infrastructure," it stated.
Cleaning out a clog in one of the city's lines is an expensive operation, requiring a vacuum truck and possibly a jet truck and camera crew, according to Beyer. At least four employees need to be there, and it's a "hands-on" operation, even though the vacuum truck can suck out most of the mess.
The crew needs to wear gloves and protective suits because they work close together, and they could be contaminated with whatever they come in contact with. That's particularly worrisome, she added, because medical facilities are probably flushing wipes and other items, as well.
Unclogging a pipe typically takes two to four hours, but can take longer and cost significantly more if the pipe has to be excavated and the road patched and repaved. If a clog gets as far as the wastewater treatment plant, it can cause backups into streets and homes, Beyer wrote.
Her advice for keeping the city's sewer lines clog free?
She had only three words: Toilet paper only.