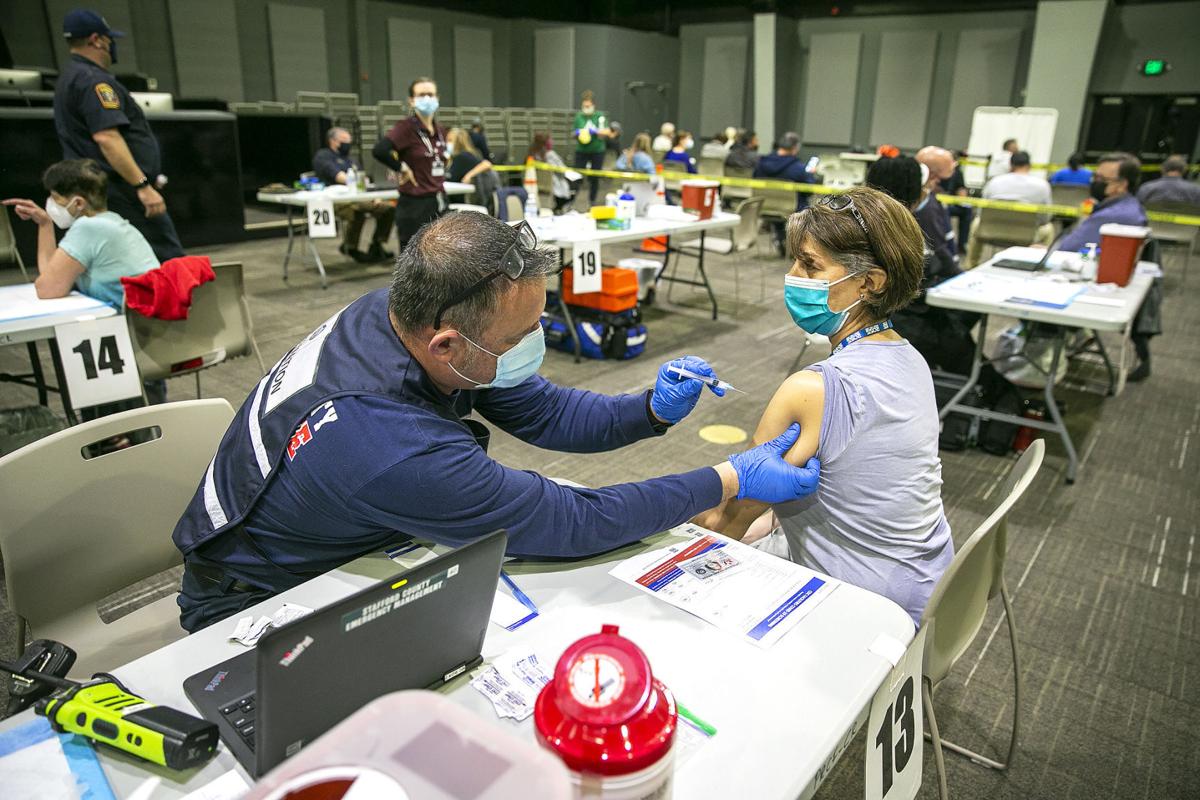 Everyone age 16 and up in the Rappahannock Area Health District will be eligible for the COVID-19 vaccine starting Friday, about 10 days ahead of the national schedule for open eligibility.
"We are excited to expand vaccination opportunities for all community members," said Dr. Denise Bonds, acting director of the local health district that includes Fredericksburg and the counties of Caroline, King George, Spotsylvania and Stafford.
The Rappahannock–Rapidan Health District, which includes Culpeper, Fauquier and Orange counties, moved to phase 2, the general public, on Monday. The Three Rivers Health District, which includes Westmoreland County and other Northern Neck localities, plans to move to the next phase within one to two weeks, according to a Tuesday press release.
Currently, about 16,400 residents of the Rappahannock Area Health District have registered on the state site to get vaccinated, according to health officials. They'll join 62,850 residents who already are fully vaccinated and 101,185 people who've received at least one dose in the RAHD.
While health officials are excited to open the vaccinations to anyone age 16 and over who wants them, they're not forgetting about earlier groups, including those age 65 and over, people age 16 to 64 with qualifying health conditions and essential workers.
"Please understand that we will still book the elderly and most at-risk first," said Dr. Colin Greene, acting director of the Rappahannock–Rapidan Health District.
Those interested in getting vaccinated can register through the state's centralized system at vaccinate.virginia.gov or over the phone at 877/829-4682, daily from 8 a.m. to 8 p.m. Mary Washington Hospital also is scheduling appointments through its website, marywashingtonhealthcare.com. In addition, VaccineFinder.org is an online tool that searches 300 pharmacy locations in Virginia that offer vaccines.
Even though more than 4.3 million vaccine doses have been administered statewide—to more than one of every three Virginians—state and national health officials remind residents to continue wearing masks and practicing social distancing.
"We will reach a point later this year when enough people are vaccinated where these actions are no longer necessary," stated a press release from the Rappahannock–Rapidan Health District, "but we're not there yet, so please continue to watch your 3Ws: Wear your mask, Watch your distance and Wash your hands."
In the Rappahannock Area Health District, cases are creeping toward the 25,000-mark. New cases have averaged 72 a day for the last week, more than double the average of 34 new cases a day on March 19. Cases have climbed steadily since that date.
As of Wednesday, there were 42 patients being treated for COVID-19 symptoms in the area's three local hospitals, and another death was reported: a Black man in his 60s from Stafford County. He was among 255 local residents who have died from the virus since March 2020.
But the most unusual metric is the RAHD's positivity rate, which measures the rate of positive cases among all those taken. Health officials generally agree that a rate under 5 percent indicates low community transmission of the disease.
The RAHD's positivity rate was 9.8 percent on Wednesday, higher than all neighboring districts and the state. Other rates for nearby health districts were:
Rappahannock–Rapidan: 8.4 percent
Three Rivers: 8.6 percent
Prince William: 9.1 percent
Chickahominy (which abuts Caroline): 6.7 percent
Blue Ridge (which abuts Spotsylvania): 3 percent
Virginia: 6.2 percent
"There are so many reasons our district's case counts and percent positivity metrics have been increasing: COVID fatigue, spring break and new variants," said Mary Chamberlin, public relations specialist with the Rappahannock Area Health District. "With so many in our communities already vaccinated and the increased supply of vaccines, we all have a reason to be optimistic. But the pandemic is still very real and we cannot let our guard down now."
Cathy Dyson: 540/374-5425