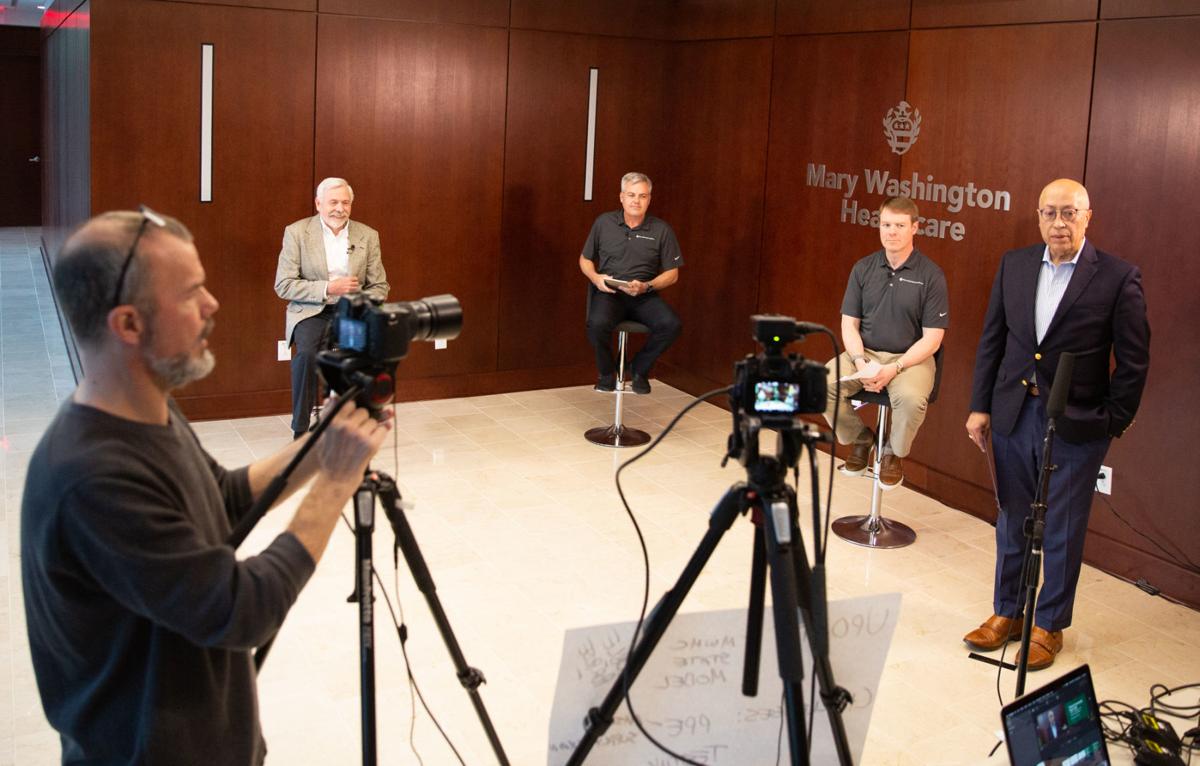 As some state and federal officials discuss how soon communities can get back to business, health experts in the Fredericksburg area remind people that actual numbers of COVID-19 patients may be five times higher than confirmed cases—and "the worst is probably still ahead of us," says Dr. Mike McDermott, president and CEO of Mary Washington Healthcare.
During a virtual town hall last week, McDermott and other MWHC officials thanked the community for taking the governor's stay-at-home order and practices such as social distancing, wearing masks and rigorous hand washing seriously. McDermott believes those measures have helped flatten the curve and reduce the number of sickened patients who need hospital care and access to lifesaving ventilators.
But according to projections, the local area—and state—are expecting even higher numbers in coming weeks.
There's "a peak still ahead of us," McDermott said, stressing that the crisis isn't over. "This is a marathon, it's not a sprint and so we have to treat it as such. We have a long road ahead of us but what we do know is what we are doing is working, so thank you to everybody for that."
In addition, COVID-19 research shows that for every confirmed case of the respiratory illness, there are another five people who actually have the disease, said Dr. Donald Stern, acting director of the Rappahannock Area Health District.
Each positive test case "indicates that the disease continues to spread," Stern said.
As of Sunday, 274 residents in Fredericksburg and the counties of Caroline, King George, Spotsylvania and Stafford had tested positive, which means there could be more than 1,300 people with the illness.
While federal officials maintain there are enough test kits nationwide—and local testing has increased—testing is still limited, Stern said. In addition, many people don't know they have the disease because they're not sick, and about 80 percent of those with symptoms have such mild cases, they don't meet the criteria for testing.
What makes containing the spread of the disease even more difficult is it's not known how long people are contagious if they don't show symptoms, McDermott said. Research has suggested that period is about a week, he said, and that it starts about five days after the person is exposed to someone else with the virus.
Stern has been working with Leo Lee, a math professor at the University of Mary Washington, to develop charts showing "the true number of new cases" locally, said health district spokesperson Allison Balmes–John.
She said the district wanted to share the projections with the community, "not to incite a sense of fear," but to encourage people to stay informed. She passed along the information Saturday, even as President Donald Trump consulted with businesses and church leaders, governors and national health experts about a phased-in approach to reopening the country.
Stern said it's important for people to know what the health district considers "the true incidence of COVID-19 in our community."
"Residents should use this knowledge as they make decisions about being around groups of people," he said. "The virus is more widespread than the reported numbers show, and it is important to follow public health guidance to protect yourself and others, especially those who are older and those with the underlying chronic medical conditions."
In the local health district, six people—four men and two women, ranging in age from mid-50s to 80s—have died from the disease. Of the 35 health districts in Virginia, the Rappahannock Area Health District ranks 14th in the number of fatalities, according to the Virginia Department of Health.
Henrico County has the highest number of deaths—71—probably as a result of six outbreaks in three long-term care facilities. There have been no such outbreaks in the local health district, according to the state.
The local health district ranks higher—sixth—in the number of people hospitalized for the disease. It shows that 68 people from the Fredericksburg area have been admitted for treatment. Because the state tracks the cases by where people live, not where they were hospitalized or died, some of the 68 patients probably sought medical care outside the Fredericksburg area.
The Fairfax Health District, which includes Fairfax county and city, lead the state in a number of categories. As of Sunday, it had the most confirmed cases (1,820); most people hospitalized (335) and the most people tested (8,589).
Another reason local health officials believe cases are still cresting is based on the numbers themselves. The first local case was confirmed March 8 and for the most part, confirmed cases went up by single digits for the next month.
But since April 10, cases have climbed by double digits between each 24-hour reporting period. To date, the highest increase—21 new cases—came between last Tuesday and Wednesday, followed by the second highest, of 20 cases, between Friday and Saturday.
A look at cases in Stafford, which has been a local hot spot of the illness, shows the dramatic rise. There were 60 confirmed cases on April 10 and 152 cases nine days later, on Sunday.
Elsewhere in the local health district, as of Sunday, there were 74 cases in Spotsylvania; 18 in King George; 17 in Fredericksburg and 13 in Caroline. There also were 43 cases in Culpeper County; 39 in Fauquier County; 20 in Orange County; and 10 in Westmoreland County.
Virginia reported 8,537 cases and 277 deaths.
Cathy Dyson: 540/374-5425