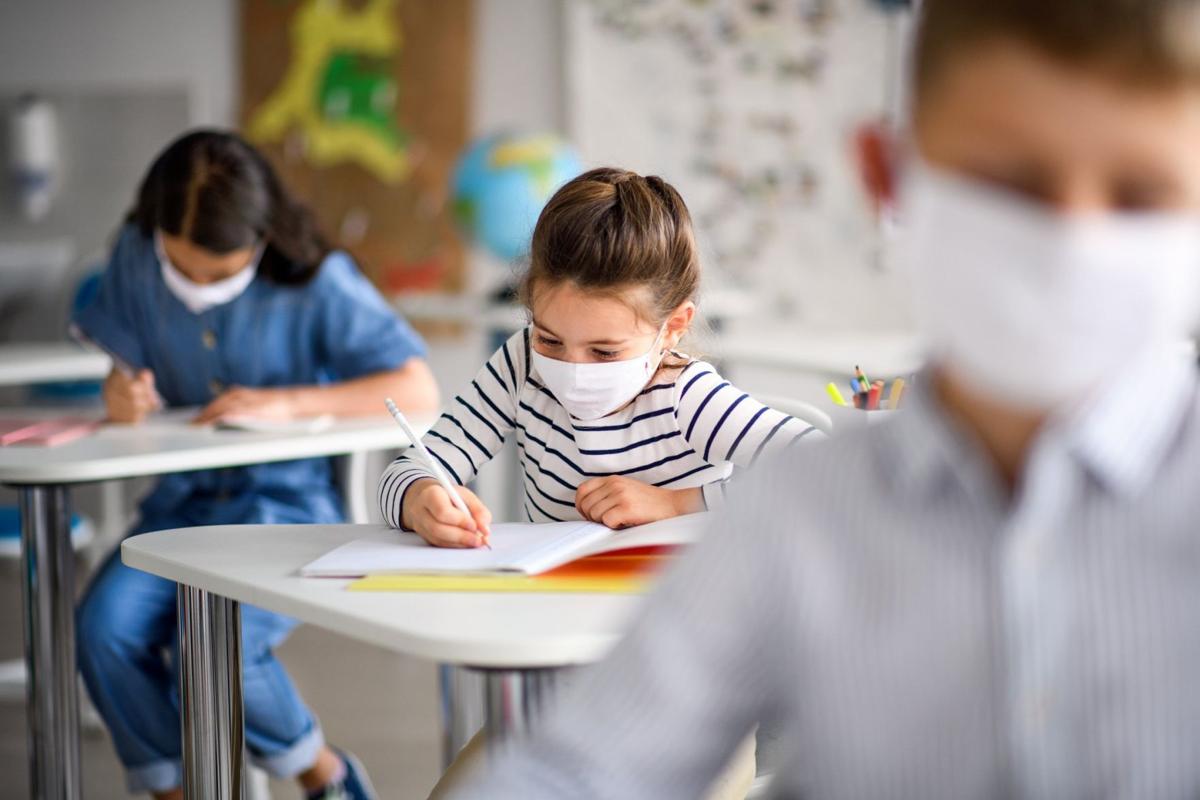 Following statewide guidance that left decisions about masking largely up to localities, Fredericksburg area school districts have begun to hash out policies for the upcoming school year.
The Spotsylvania School Board last week voted to allow parents to sign a form opting their students out of masking. Teachers and staff are also permitted to opt out via the form.
Spotsylvania's decision came the night before the CDC released new guidance recommending that fully vaccinated people wear masks indoors when in areas with "substantial" and "high" transmission of COVID-19, which includes nearly two-thirds of all U.S. counties, according to CNN.
This is a reversal of earlier guidance stating vaccinated people do not need to wear masks in most situations. It comes as a result of the prevalence of the highly-contagious Delta variant of coronavirus, which now represents 83 percent of COVID-19 cases, as compared to just 1 percent in May, according to the Centers for Disease Control and Prevention.
The Virginia Department of Health has not yet responded to this new guidance.
King George County Public Schools will not require students and staff to wear masks during the school day, but "strongly encourages students and staff who are not fully vaccinated to wear a mask until they are able to be fully vaccinated," according to a statement posted to the division's website July 23. King George is the only locality in the Rappahannock Area Health District that is not in the CDC's substantial" or high transmission categories.
"This recommendation is particularly applicable to our pre-school and elementary-aged students, since a vaccine is not yet available for this age group," the statement continues.
Stafford County Public Schools staff presented a recommendation for universal masking at Tuesday's School Board meeting. Administrator of Health Services Collette Hokana said there has been a "fairly remarkable climb" in new COVID-19 cases in the most recent week.
The board decided to wait a week to make a decision, to give the VDH time to update its guidance based on the new CDC guidance, which Hokana said could be "a week or two."
Stafford School Board Chairwoman Holly Hazard said she feels "uncomfortable making decisions that could potentially be overruled."
"I will be very honest, I don't believe school boards are the ones most equipped to make this decision," Hazard said.
There will be a special called meeting Wednesday, Aug. 4, on the issue. Classes are scheduled to begin in Stafford and King George Aug. 9.
The Caroline County School Board is expected to make a decision regarding masks on Monday, Aug. 2, which is also when the Fredericksburg School Board next meets. Fredericksburg begins classes Aug. 10, Caroline schools open Aug. 16.
School divisions have been waiting to see what guidance would replace State Health Commissioner Norman Oliver's July 1 public health order requiring that masks be worn in K-12 settings. That order expired July 25.
On July 21, the VDH and the Virginia Department of Education released interim guidance allowing pre-K–12 schools to make "locally-informed decisions on masking and prevention measures, as informed by CDC recommendations."
The VDH and VDOE guidance "strongly recommends" that elementary schools implement universal mask mandates until vaccination is available to children under age 12, and that middle and high schools "at a minimum" require students, staff and teachers who are unvaccinated to wear masks.
To date, none of the three COVID-19 vaccines available in the U.S. have been authorized for children under age 12.
The VDH and VDOE guidance also states that schools should be prepared to adjust mask policies as public health conditions evolve.
Under the guidance, students, teachers and staff who are identified as having been in close contact with someone who is positive for COVID-19 will have to quarantine for 14 days.
VDH defines a "close contact" as someone who has been within six feet of an infected person for a total of 15 minutes over a 24-hour period. However, in indoor K–12 school settings, students who were within three to six feet of an infected student are not considered close contacts if both students were wearing masks.
In a July 26 presentation to the Spotsylvania School Board, Alejandra Wilmer, director of health services, said that means students who wear masks and have been in close contact with an infected student will not have to quarantine. If a student isn't wearing a mask and tests positive, that student and all close contacts will have to quarantine for the recommended 14-day period.
The General Assembly has mandated that all school districts open for in-person learning five days a week.
Local school divisions are not providing their own virtual curriculum this year, but offered families who do not want to attend in person the opportunity to enroll in Virtual Virginia, the state's distance learning program. The enrollment period ended earlier this month.
Carol Flenard, deputy superintendent and chief academic officer for Spotsylvania schools, told the School Board that the administration hasn't yet figured out what kind of curriculum would be offered to students who have to quarantine. Classes are scheduled to begin in Spotsylvania Aug. 12.
Spotsylvania School Board Member Erin Grampp, who proposed the motion to allow parents to opt students out of the masking recommendation, said that absent an executive or public health order mandating masks, it is not the board's duty to make "medical decisions" for students and staff.
"None of [a school board's] duties include making medical decisions for other people's children," Grampp said. "I'm not qualified to make medical decisions for students or staff and I won't make that decision. The only one qualified to do that is the parent."
Grampp said the opt-out form is necessary for schools to know what the parent's wishes are.
Grampp's motion, which was approved by all board members with the exception of Chairwoman Dawn Shelley, states that the language of the opt-out form will be developed by administrators in conjunction with division attorneys.
King George's School Board voted in June to end the division's mask mandate with the expiration of Northam's executive order, and on July 23 informed the school community that masks would not be required.
Several Spotsylvania School Board members wanted to see a similar policy enacted in Spotsylvania, with no opt-out requirement.
In response to a question from board member Rabih Abuismail, School Board attorney Jennifer Parrish said that would "be inconsistent" with the VDH and VDOE recommendations.
Adele Uphaus–Conner:
540/735-1973
@flsadele