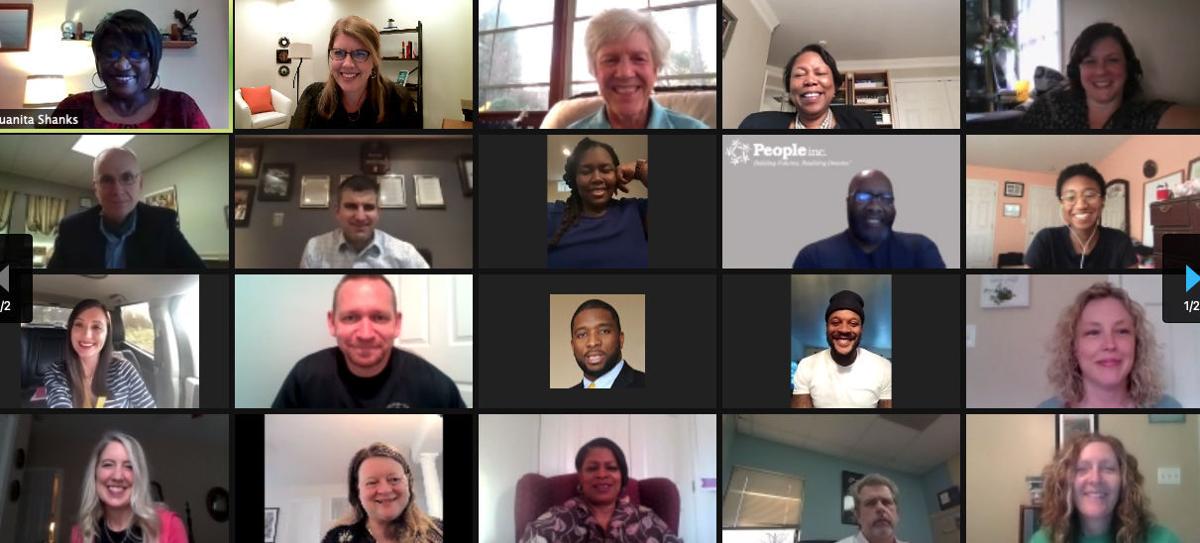 Area leaders hope to implement a plan this summer that will help recently released inmates and parolees successfully reenter society and avoid re-incarceration.
The Criminal Justice Reform task force for Planning District 16—which includes Fredericksburg and the counties of Stafford, Spotsylvania, Caroline and King George—was assembled in the fall and has been meeting monthly since November.
President Joe Biden on March 31 signed a proclamation declaring April "Second Chance Month" and calling for a focus on "prevention, reentry, and social support, rather than incarceration."
"After incarcerated individuals serve their time, they should have the opportunity to fully reintegrate into society. It benefits not just those individuals but all of society, and it is the best strategy to reduce recidivism," the president's proclamation reads.
This work has been the focus of the Criminal Justice Reform task force, which includes as members Stafford Supervisor Meg Bohmke, Fredericksburg Mayor Mary Katherine Greenlaw, Fredericksburg Commonwealth's Attorney LaBravia Jenkins, Spotsylvania Commonwealth's Attorney Travis Bird, Del. Josh Cole and representatives from Virginia State Police, the Spotsylvania Sheriff's Office, Germanna Community College, Rappahannock Regional Jail and local nonprofits, among others.
"We want to let people know that we have some leaders here in PD 16 who are behind criminal justice reform," said Juanita Shanks, founder and CEO of FailSafe-ERA, a nonprofit that assists the families of incarcerated individuals. "We're excited and we want the community to know, you have leaders who are out in front of this."
According to Biden's proclamation, more than 600,000 people return to their communities from federal, state or local prison every year.
Locally, there are "at least" 4,500 people out on parole and facing the possibility of reincarceration, Shanks said. Those numbers, along with a potential increase in the number of inmates returning to society due to recent state legislation, caused Shanks to assemble the task force.
Last spring, the General Assembly approved a COVID-19 early release plan to attempt to reduce jail and prison populations during the pandemic.
According to the Virginia Department of Corrections, 1,151 inmates were released from state facilities and 651 from local jails under the plan as of April 4.
In addition, the Earned Sentence Credit Program, which Gov. Ralph Northam signed into law this past fall and which goes into effect July 1, 2022, will allow inmates to cut their sentences by a third, provided they aren't convicted of a violent crime, follow prison rules and participate in counseling and education programs.
According to the Virginia DOC, an estimated 14,000 inmates could be released early under the legislation.
"Many of them are coming to our community," Shanks said. "We know that most individuals who are incarcerated will eventually be released back into our community unprepared. If we can get these guys and gals back into our community successfully, that's a win for everyone."
The task force is developing a model reentry program that it calls ARC—Aiding our Returning Citizens. If it's successful, Shanks said, the hope is to take the model statewide and even nationwide.
The task force has identified four main barriers to successful reentry—lack of affordable housing, lack of education, lack of workforce training and lack of treatment for mental health or substance misuse disorders—and has dedicated a committee to work on each.
Dave Cooper, executive director of the Brisben Center shelter in Fredericksburg, is a member of the task force's housing committee. He said the primary challenge for the committee is "overcoming the community's fear of folks who are reentering citizens."
"Community perception drives a lot of what the challenges are," Cooper said. "Once communities perceive that there is a former criminal in the community, they begin to develop this opposition, which makes it difficult for folks just trying to make their way."
The housing committee will raise public awareness of the need for transitional housing for returning citizens, Cooper said.
"Folks who are reentering from prison have a certain set of social skills and learned skills from being in that environment that need to be re-socialized into society," he said. "It really is awareness-raising and inspiring the public to engage in this process."
Jenkins said she wanted to work on the prevention and education committee because she is interested in reaching out to youth to prevent criminal behavior before it starts.
She is creating a connection between her office and the local Teen Enrichment Network and plans to host regular workshops about how youth interact with police.
"We want to reach as many young people as possible to give them the tools to progress in life without sliding into criminal behavior," Jenkins said. "[Young people] need to understand what's expected of them by the public at large. They need to be able to perceive how people are reacting to them and ... regulate [their] behavior based on that."
Jenkins said being on the task force has also helped her learn about the work of other area organizations in the area of criminal justice reform.
"It's great to have a regional perspective about what's going on," she said. "I'm really happy to be involved and happy to have been asked, and we'll just keep going until we see some positive change."
In the area of workforce development, Sgt. Lawrence DiBella with the Spotsylvania Sheriff's Office is developing a database that would run off the Sheriff's Office website and would match returning citizens with employers willing to hire those with a criminal record.
DiBella said it often happens that businesses that say they will hire prior offenders will turn around and fire them when the background check comes back.
"As a result of that, [the returning citizens] have a difficult time supporting their families and many of them revert back to recidivism, making a living through committing other crimes or larcenies—or from the mental health part of not being able to provide for their family, they end up going back to using," he said.
DiBella said it also doesn't work for businesses to put out a blanket statement about hiring former inmates.
"We want to give the control to the local businesses," he said, adding that many employers find that prior offenders can end up being the most loyal employees, because they appreciate having been given a second chance.
The database, which is being built by University of Mary Washington students, will let job seekers fill out a profile and that will include a list of their legal offenses.
Local businesses can register and mark what offenses they would not consider to be disqualifiers, and the database would match job seekers with employers.
DiBella said the initiative has support from Spotsylvania Sheriff Roger Harris, the county Economic Development office, probation and parole, the Commonwealth's Attorney, several county supervisors and the regional Chamber of Commerce.
He said the database is about five months away from completion and his hope is that if it's successful, it can be shared with other jurisdictions locally, statewide and nationally.
"Keeping these people from reoffending, off of community services—it's just an economic benefit in all facets," DiBella said. "Not to mention what it does to families and kids that live in a situation where parents can't go work and they're made fun of."
Shanks said the task force's goal is to run a pilot program to test all parts of the ARC model this summer and assess the success early next year.
Adele Uphaus–Conner:
540/735-1973
@flsadele