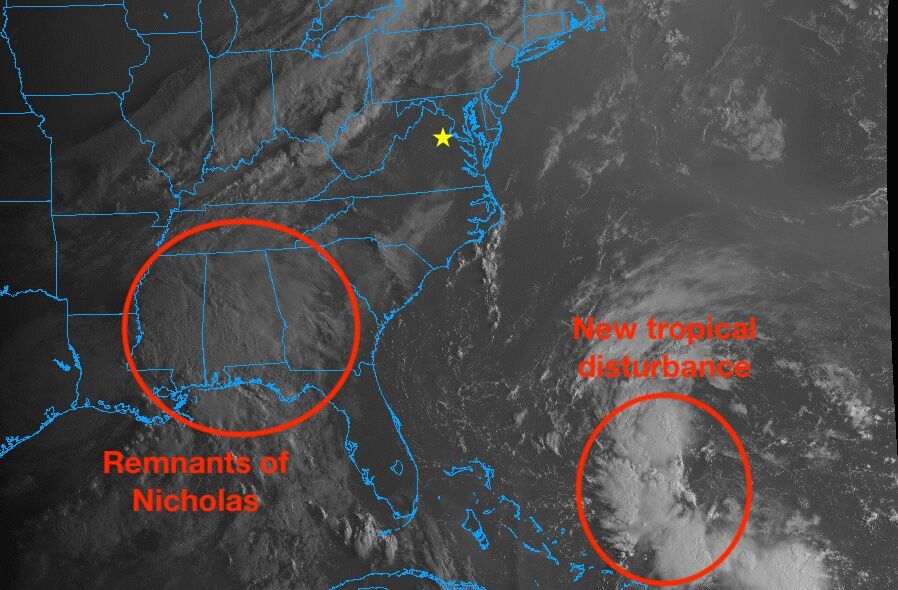 The heat will ease as clouds and showers move into the Fredericksburg area during the latter half of the work week.
Today—Wednesday—will feature one more afternoon with area thermometers touching the 90-degree mark. Skies will be mostly sunny, with the only chance of showers and storms located over the West Virginia mountains. Despite the heat and humidity at the surface in the Fredericksburg region, there is a pool of warmer than normal air overhead that will suppress thunderstorm development locally.
This convective "cap" will weaken this evening as that warm air aloft pushes off the East Coast. At the same time, a weakening cold front will creep across the Appalachians, stalling out overtop the Fredericksburg area by Thursday morning. That boundary, plus moisture pushing into the region from the northern sections of Nicholas's remnants (see graphic), will add up to cloudy skies and chances of showers and storms tomorrow.
Thus Thursday will be mostly cloudy and slightly cooler, with afternoon highs topping out in the mid-80s. Humidity will be in full force, with dew points breaching the 70-degree mark Thursday, a pretty sticky situation for September. But rainfall amounts don't look impressive, with totals through Saturday morning expected to be less than a quarter-inch in and around Fredericksburg. Areas along the Northern Neck closer to the Chesapeake Bay could see higher precipitation totals.
Meanwhile a tropical disturbance near the Bahamas (see graphic) will slowly strengthen as it moves northward. This disturbance will likely become a named storm, either "Odette" or "Paul,",depending upon whether it reaches tropical storm intensity before or after another disturbance now off the west coast of Africa. The forecast track of this disturbance keeps it just east of Cape Hatteras N.C., but it will likely affect Fredericksburg's weather via its showery outer bands on Friday.
The weekend weather? Stay tuned.