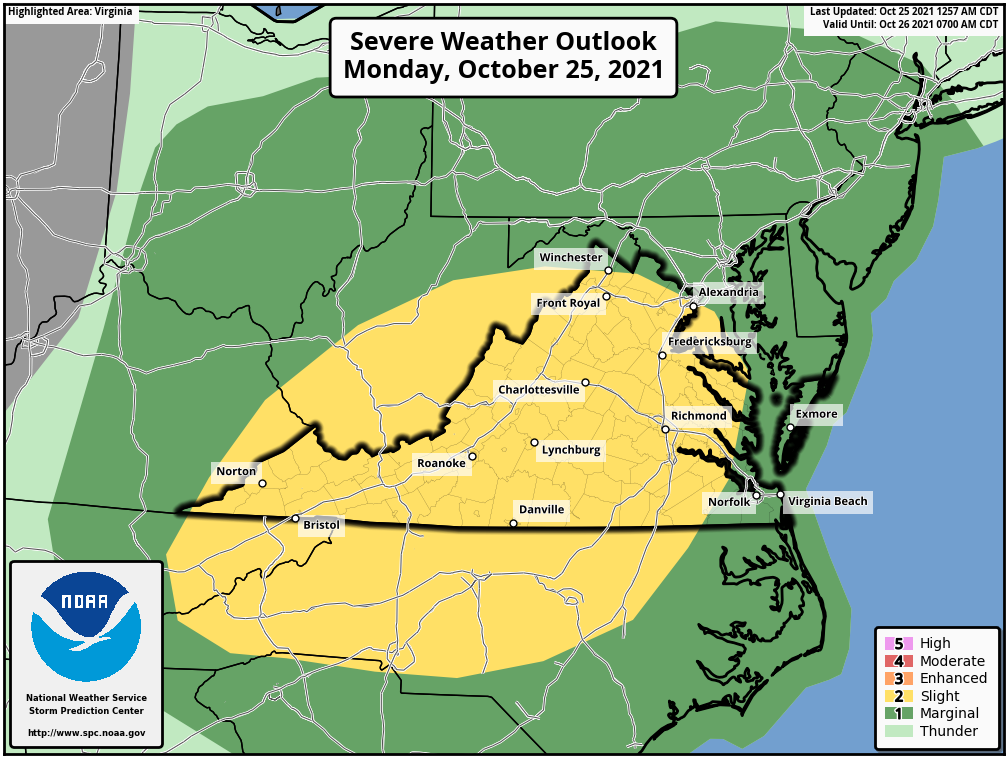 This week's weather will be more unsettled than last week's benign conditions in the Fredericksburg area.
Today—Monday—looks to be the warmest day of this week by far, with Fredericksburg area thermometers soaring into the upper 70s, possibly touching the 80-degree mark. However, this time of year what goes up that far temperature-wise must come down, sometimes with a bang. That'll be the case late this afternoon as a strong cold front nears the area.
Per the graphic, the Storm Prediction Center has Fredericksburg and vicinity under a Slight Risk (level 2 out of 5) for severe weather today. Gusty south winds will pump heat and moisture northward into the region while a vigorous upper level trough brings a pocket of cold air aloft across Virginia. With the addition of an approaching strong surface cold front, the conditions will be ripe for severe storms to form.
Those storms look to impact western sections of Stafford and Spotsylvania counties by 5 p.m., reaching the Interstate 95 corridor and eastward a couple of hours later. The raucous weather could last past midnight in many areas. Besides heavy rain, street flooding, and lightning, the main severe threat will be strong straight-line winds, although one or two tornadoes could form anywhere north of Interstate 64.
With much of this action occurring after dark (sunset today is at 6:19 p.m.) the need for at least two methods of receiving weather warnings is essential. Use of a NOAA weather radio is highly encouraged, as is staying tuned to local radio and TV stations. Smartphone apps can also be useful, as long as they are focused on the local Fredericksburg area. If a warning is issued for your location take shelter on the lowest level of a dwelling, away from windows and doors.
After the cold front passes through late tonight, chilly air will surge into Fredericksburg via northwest winds which will gust up to 25 mph on Tuesday. A strengthening low pressure center off the East Coast will keep skies mostly cloudy tomorrow, with temperatures topping out in the upper 60s during the afternoon. In fact, Monday's 70s may be a fond remembrance as autumn asserts its cooling influence across the region.