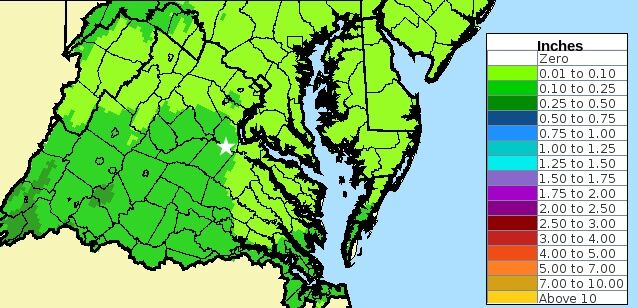 Sunshine and very warm temperatures continue through Thursday for the Fredericksburg area.
A few Fredericksburg area thermometers touched the 80-degree mark Tuesday. After a cool beginning in the upper 30s and low 40s today— Wednesday—will warm to the low 80 in most locales under sunny skies. A weak stationary front draped along the Interstate 95 corridor this morning won't do much during the daylight hours.
However, that "backdoor front" will slide south and west after sunset, moved along by high pressure building over New England. That will open the door for cool moist air from the Atlantic to push into the area overnight from the east. Thus yet another cold air damming wedge will set up across the region as that boundary settles over southwest Virginia by dawn Thursday. Fredericksburg's weather will still feature partly to mostly sunny skies with Thursday afternoon temperatures topping out in the low 70s.
Abundant sunshine will then become scarce locally for a few days. The next storm system approaching from the west will interact with the cool moist air of the wedge, keeping Fredericksburg cloudy and damp until late in the weekend. An extended period of light showers will arrive Thursday night, with expected rain totals through 8 a.m. Saturday shown on the graphic. Local rain gauges could see a bit more if any thunderstorms develop on Friday.