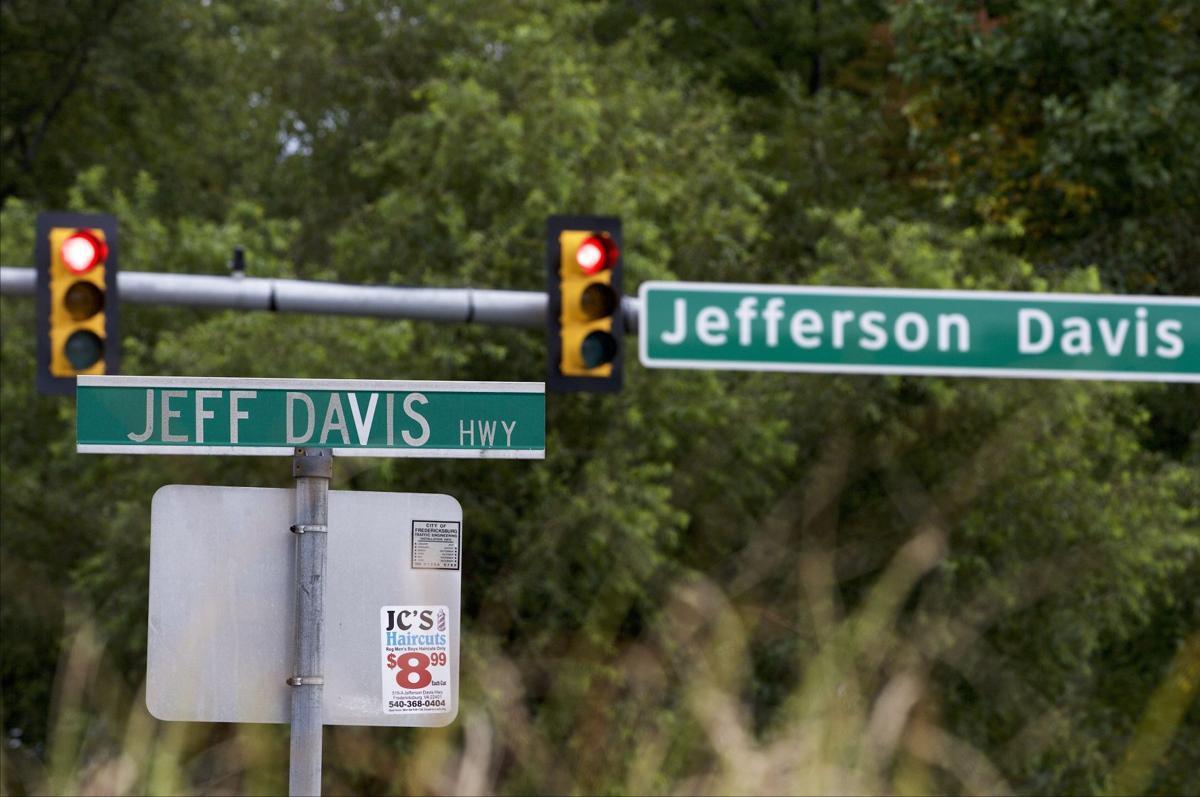 Fredericksburg City Council is planning to vote next month on a resolution that supports renaming the stretch of Jefferson Davis Highway that runs through the city.
At the council's meeting Tuesday night, Council member Kerry Devine said there has been a lot of discussion in the community about renaming the road and she and other council members have received emails about it.
"I wanted to let the public know that we hear them," she said.
Devine asked that the council vote on a resolution in support of changing the name from that of the president of the Confederacy at its July 14 meeting. She said the Fredericksburg Memorials Advisory Commission had voted unanimously Monday in favor of a name change, and that Del. Joshua Cole, who represents parts of both the city and Stafford County, is expected to present legislation about this when the General Assembly holds a special session in August.
"It would be more powerful if they knew they had the city's support already," said Devine, "and that we are excited about moving forward with this."
Council member Tim Duffy said it would be nice if Virginia changes the name, but Fredericksburg should be leaders for the region and then the state might follow its example.
Alexandria already renamed it stretch of Jefferson Davis Highway as Richmond Highway in 2018, but that had been a city road before it became part of the highway, Council member Matt Kelly pointed out. He said that he'd been told by the Virginia Department of Transportation that the state built most of the highway and named it, so it will be up to the Commonwealth Transportation Board to change it.
"The goal here is to get ahead of the issue," Devine said. "We don't have to wait for the General Assembly."
"If we take a vote on the resolution, it shows where we stand," said Council member Chuck Frye Jr. "I got excited when you brought this up. This has got to be the most progressive council in the state. First the MLK Bridge and the slave block, and now this. Everything that's happening in the world, we're already working on it."
Devine said her hope is that the resolution supports the state's efforts to change the name, but not a particular name. Kelly said he'd like to see one for this area that honors someone local who has made significant contributions here.
"It's important for people to understand that while big events occurred, what did our community do to move it forward and that they have a responsibility to move that forward. So I look forward to the conversation moving forward," he said.
The origins of Jefferson Davis Highway date back to the turn of the last century, when cars were gaining popularity and a system of roads known as auto trails were being developed. There was a proposal in 1912 to build the Lincoln Highway, which would stretch from coast to coast. Mrs. Alexander B. White, a member of the United Daughters of the Confederacy, came up with the idea of naming a southern, transcontinental route after Davis the next year.
Her dream was never formally realized, but there is a Jefferson Davis Highway running through Virginia and several other states. In Fredericksburg, it splits the University of Mary Washington's main campus from Eagle Village, where its newest dormitory is located.
The name, due to its associations with the Confederacy and slavery, has come under fire in several other localities in recent years. In 2016, UMW Assistant Professor of Sociology Eric Bonds and two students in his political sociology class asked City Council during one of its meetings to rename the highway because of Davis' role in the Civil War and the fact that he'd owned more than 100 slaves during his lifetime.
The request evolved out of his desire for the students to do a community involvement project that would help them develop democracy skills and not simply vote in an election and then tune out. The class overwhelming voted on this project, and researched Davis and the history of the naming of the highway after him.
They were among 16 people signed up to speak at the meeting, including some who asked City Council not to change the highway's name because it would "erase" a piece of the city's history. They also pointed out that Mary Washington, for whom UMW is named, owned slaves, as did her son, George Washington.
Kelly moved to establish a task force to study the renaming request, but his motion failed to get a second and died. Attitudes may have changed since then. There are now a number of petitions on change.org to rename Jefferson Davis Highway not only in Virginia but in other states as well.
In other business Tuesday, City Council unanimously approved a $94.3 million operating budget for fiscal year 2021.
City Manager Tim Baroody originally proposed a nearly $103.5 million budget, but cuts had to be made in light of a significant drop in revenue due to COVID-19 restrictions. Changes included removing a proposed 4 percent across-the-board pay increase for city employees, eliminating all nine new full-time positions and one part-time position, and reducing the city's portion of the school system's budget.
Only 75 percent of the funds will be appropriated at first due to the continued economic uncertainty caused by the pandemic and uncertainty about what cuts will be made to the state's budget when the General Assembly holds a special session in August. City Council has the option of amending the budget at any time based on new information or conditions.
"The only thing we know is we don't know enough, that there are still a lot of outstanding pieces in this," said Council member Matt Kelly said at Tuesday's meeting. "There's enough flexibility in here that we can make changes, but we're going to need to keep a tight eye on this budget as we move forward. As the information starts trickling in, hopefully by the end of the summer we'll have a much better handle on it."
City Council approved several modifications to the budget since it took the first of two votes on it June 9. They included a 3 percent reduction in their own salaries, as well cuts to travel and training expenses for some city staff. Council also voted to add $5,000 to funding for the SPCA. The savings, which totaled $33,447, went into the contingency fund.
The budget does not include an increase in the tax rate, something council members had agreed upon during a work session because they had no desire to raise the rate at a time when so many people are experiencing economic hardships. Fee increases for water and sewer rates and recycling were postponed until January.
City staff will present a capital improvement plan to City Council later this summer, once the pandemic's impact on revenue becomes clearer.