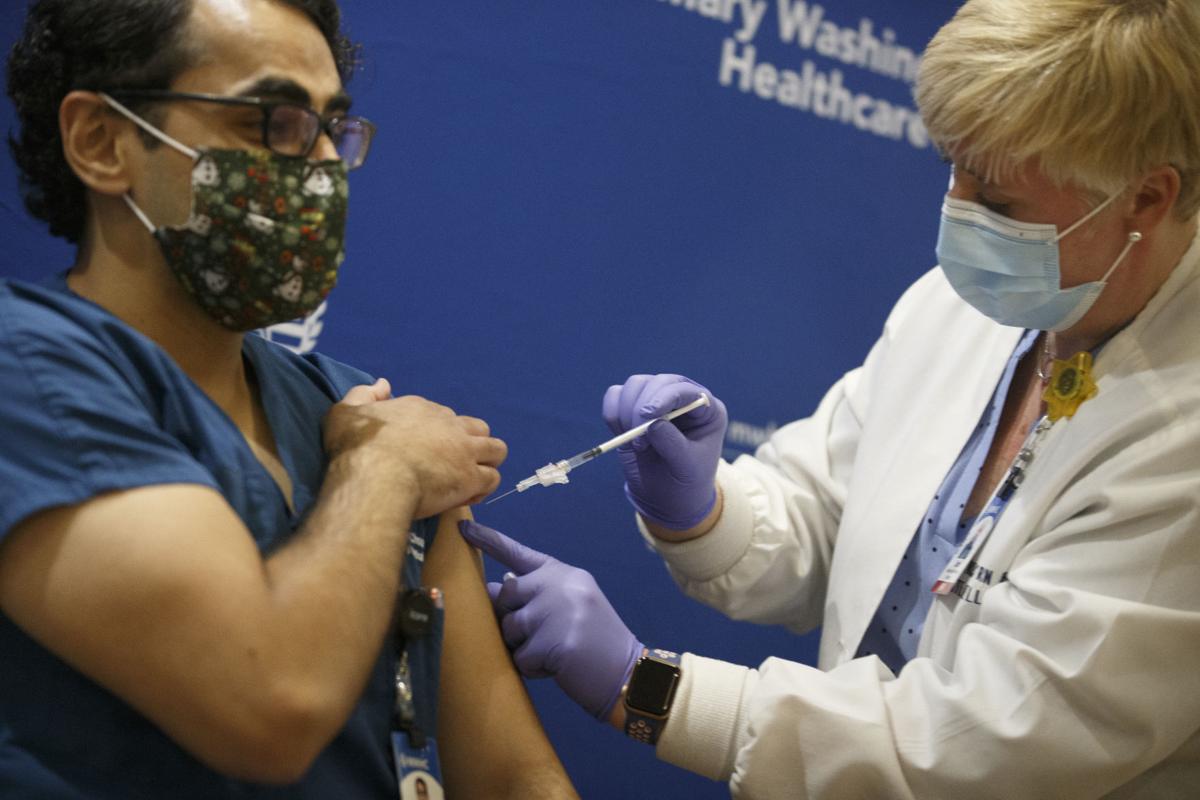 Local health care workers who want to be vaccinated for COVID-19 will get the point of the shots, starting the week of Jan. 4.
Officials with the Rappahannock Area Health District and Mary Washington Healthcare have been working on logistics for weeks and have rolled out a plan that includes turning the Fredericksburg Expo and Conference Center into Vaccination Central.
Ten public-health nurses and 15 clinical volunteers from the Rappahannock Medical Reserve Corps, who have had the first of the two-dose Moderna vaccine, will start giving shots in the arms at what's being called Point of Distribution clinics, or PODs.
Each vaccinator can inoculate about four people per hour—those receiving the vaccine need to be monitored for about 15 minutes for possible reactions—which means the 25 vaccinators potentially could roll through up to 800 people in an eight-hour shift, said Mary Chamberlin, public relations specialist with the district.
However, there are still a lot of unknowns, such as how many PODs will be scheduled based on how many doses the district can get each week, she said.
Here's what is known at this point: The clinics will not be open to the general public, according to the local health district. Those receiving vaccines will have to provide photo IDs and their offices will have to be on the district's list.
The first rounds are only for health care workers and emergency service providers who have not been vaccinated by the area's two hospital systems. Mary Washington Healthcare, which has two hospitals, three emergency rooms and more than 40 outpatient sites, is overseeing the vaccination of its health care providers, according to MWHC officials.
Likewise, Virginia HCA is vaccinating its affiliates, including those at Spotsylvania Regional Medical Center.
Every other health care worker—and there are an estimated 15,000 of them in the local district—who hasn't been inoculated by a health care system will be eligible for vaccination at the Expo Center. After the first dose, the workers will be scheduled for a second dose of Moderna vaccine four weeks later, according to the health district.
Local officials will follow the phased-in approach from the Virginia Department of Health and the Centers for Disease Control and Prevention. The plan is divided into tiers, and Tier 1A includes health care workers.
Tier 1A includes four subsets, with frontline hospital workers who have faced the most exposure to COVID-19 at the top. Mary Washington Healthcare started vaccinating workers Dec. 15 and has given the first dose to more than 900 to date, said Lisa Henry, marketing director.
Frontline workers are being joined in the first round by residents and staff of long-term care facilities, who are being vaccinated by CVS Health and Walgreen's pharmacies. Those vaccinators are expected in Virginia nursing homes and assisted living facilities, starting Monday.
Next in Tier 1A are people who interact with patients who are at higher risk for infection. They include emergency medical service providers and staff at urgent cares, correctional facilities and dialysis centers.
The next subset involves those whose duties in a clinical setting are critical to the ongoing operations at health systems, residential care facilities, private psychiatric facilities, rehabilitation hospitals and all other EMS personnel, according to the prioritization plan.
The final subset involves staff at primary care doctor's offices, dental practices, home health, hospice, ambulatory surgery centers, community service boards and federally funded health centers.
Health district officials ask those listed in the above categories to start preparing for the vaccinations by:
Designating a vaccination coordinator at each facility.
Polling the staff to see how many want to be vaccinated.
Emailing information to the health district. That includes the contact person's name, phone number and email address as well as the number of vaccines requested.
Once the health district receives the info, it will send out a spreadsheet for each office to fill out.
When vaccines are available, the health district will notify the point of contact in each facility and have the coordinator register in the Vaccine Administration Management System.
Health care agencies can send information to Kyle Phillip, the district's vaccination liaison, at kyle.phillip@vdh.virginia.gov. He also can be reached at 540/684-4732.
Joe Saitta, who's leading the local health district's effort, stressed that the agency is committed to providing a vaccine to every district resident who wants one. He's got a staff of 90 employees, 60 contractors and many volunteers who are trying to get the vaccine ready for a population of about 376,000 people.
"We ask for everyone's patience while we work to bring vaccinations to our public," he said.
Dr. Denise Bonds, acting director of the health district, anticipates the vaccine rollout will continue through June. After almost a year of responding to the pandemic, "there is certainly cause for excitement" about the vaccines, she said.
But until they're available to a large portion of the population, she stressed the ongoing need for measures to stop the spread of the highly contagious virus, including wearing a mask, practicing social distancing, frequent hand washing and not spending time with people outside the household.
Those next on the list to be vaccinated are essential workers followed by those at high risk of developing serious cases. Health officials expect more information about their vaccination schedule in coming weeks.
Cathy Dyson: 540/374-5425