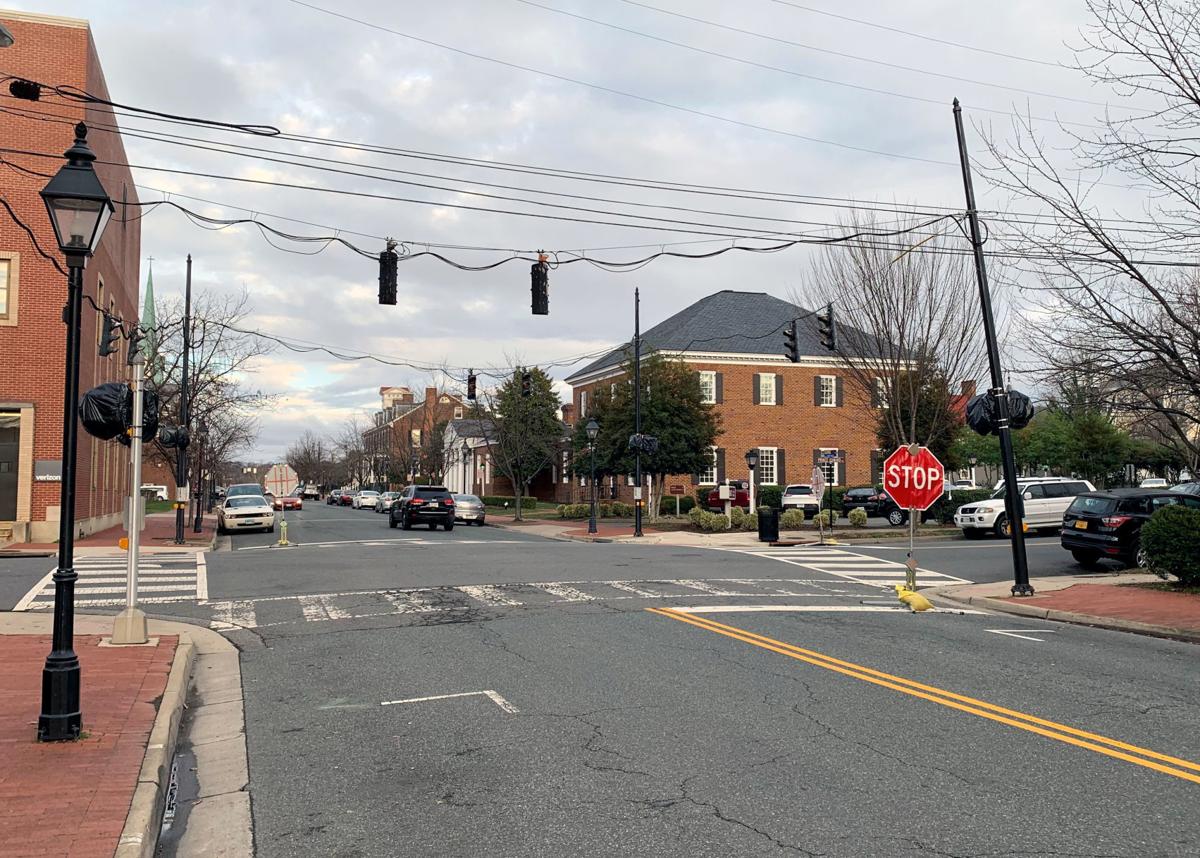 Wonder what's going on with the traffic signal near Hurkamp Park in downtown Fredericksburg?
A Public Works Department crew set the signals to flashing red on both the Prince Edward Street and the George Street approaches because the cable and equipment is old and needs to be rebuilt, replaced or decommissioned. Temporary stop signs have been placed at the intersection, as well, and the pedestrian crossing signals, which are much newer, have been covered.
The city is working with Kimley–Horn, a national planning and design consulting firm, to study whether the signalized intersection is still warranted under today's standards and traffic patterns, or if it can be replaced with another method of traffic control. Assistant City Manager Doug Fawcett said that if the traffic signal is still needed, it would be smarter to replace it with a new one than totally rebuild the old one.
"It's like an old car," he said. "If you put $1,500 in an old car, you still have an old car."
If a new one is installed, the pedestrian crossing signals could be integrated into it.
In the meantime, drivers are asked to use caution at the intersection and obey posted signs. The Public Works Department hopes to provide an update on the signals next month.
This is not the first time the department has recommended removing traffic signals and replacing them with stop signs. It hired A. Morton Thomas & Associates, a traffic engineering consulting firm, to look at the traffic signals downtown in 2017. Those lights either needed to be replaced at a cost of $150,000 to $250,000 per intersection, or removed. The firm found the traffic lights weren't needed based on standards, and City Council approved the changes, which were done in stages.
Work began in March 2017 at the intersections where Hanover Street crosses Littlepage Street and Kenmore Avenue; William Street crosses Littlepage Street; and where Princess Anne Street crosses Canal Street. The traffic lights where Fall Hill Avenue intersects with Washington Avenue and Germania Street weren't decommissioned until October 2017, to give drivers and pedestrians a chance to get used to the new traffic pattern near James Monroe High School.
"Almost all the feedback that I've received has been positive," Fawcett said. "We haven't experienced any increases in crashes. Even folks who expressed concern prior to the decommissionings—some said 'I'm apprehensive'—now think it's working well."
Public Works may consider studying old traffic lights at other intersections, he said.