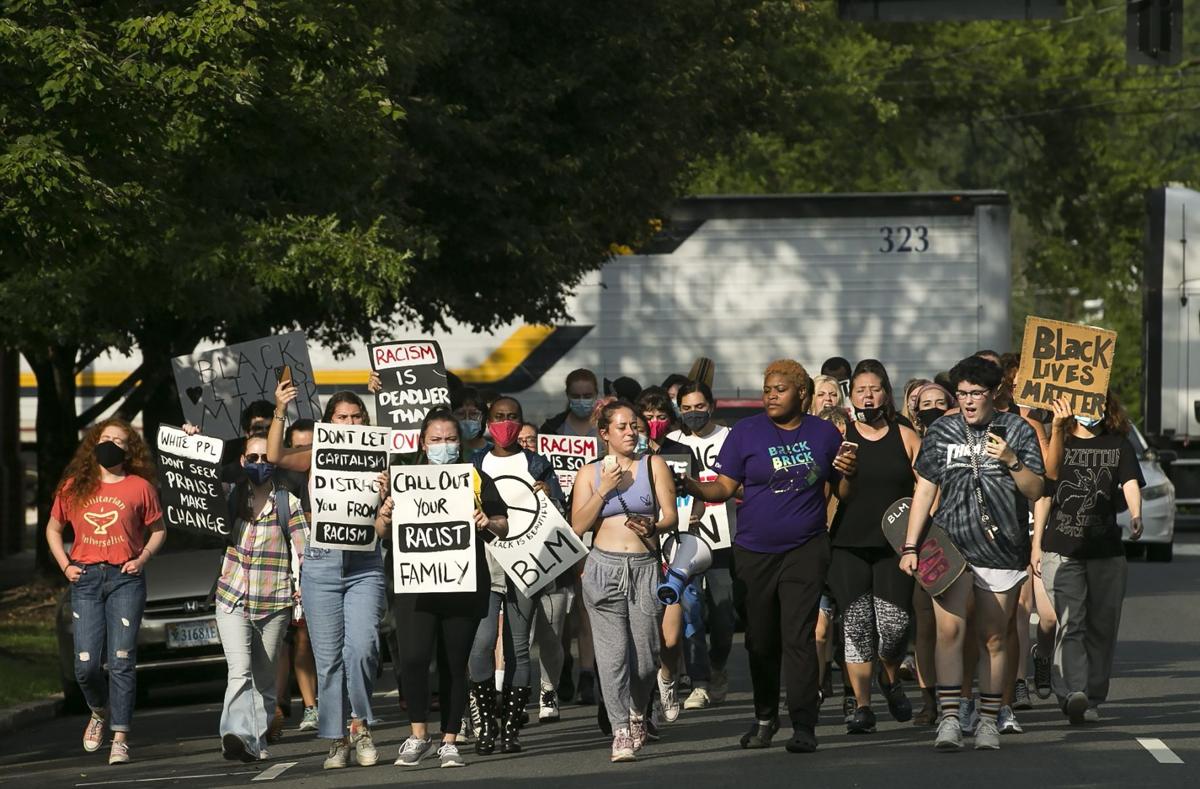 FXBG Free, a coalition of local groups seeking racial justice in Fredericksburg, has postponed all in-person gatherings after five of its organizers tested positive for COVID-19.
Those with confirmed cases of the virus—along with everyone in the organization who has been in contact with them—are self-isolating for a minimum of two weeks to recover and stop the spread of the virus. Member Ryan Vera Brown said the entire group is quarantining because they take safety seriously.
In announcing the positive cases on social media, FXBG Free reminded followers that masks and social distancing are "mandatory practices at our events and protests." However, the cover photo on its Facebook page shows a crowd of mostly young people, raising fists into the air or holding signs stating "Demand Change," "Amplify Black Voices" or "No Justice, No Peace."
Many of those pictured are masked, but there are pockets of people scattered throughout the crowd without any face coverings—or with their masks on their chins or around their necks.
FXBG Free is a grassroots group, made up "solely of individuals from the Fredericksburg area," according to a letter to The Free Lance–Star written last month by Kateria Eastman of Stafford County. Eastman said three organizations—the Melanin Cooperative, Leaders for Peace and Fredericksburg Activists, Allies and Change—came together to create the FXB Freedom Initiative.
Group members took to the streets of Fredericksburg after the death of George Floyd on May 25 to "peacefully protest police brutality across the nation," according to their Facebook page. They've held regular protests as part of the Black Lives Matter movement since then, some of which have produced complaints about traffic problems and blocked intersections.
One woman who called 911 in June because she said a protester had jumped onto her car—and frightened her young child—filed a misdemeanor charge, which was dismissed in court this week.
The group's goal is to focus on "anti-racist advocacy" and community service, such as a clean-up campaign along the banks of the Rappahannock River last month, to "achieve this change and progress right here in our city," according to Facebook. FXBG Free's list of demands includes accountability, and an external investigation, of the Fredericksburg Police Department for what it describes as "overzealous and excessive use of force" during protests May 31.
Local health officials haven't specifically addressed the protests in discussions about staying safe during a pandemic. But during a virtual town hall by Mary Washington Healthcare in late May, Dr. Christopher Newman, chief medical officer, described activities similar to large gatherings in the streets, such as singing in church or cheering from the sidelines of a sporting event. He said they were high-risk events because people "shed the virus" or expel respiratory droplets into the air, and that's the way the virus is transmitted from one person to another.
"Crowds are always a no-no," he said at the time.
The FXBG Free announcement urged followers to keep the faith.
"We want to assure everyone that the fight is not over in Fredericksburg, and we'll be working behind the scenes to ensure our demands are not swept under the rug," it stated. "We'll be back out on the streets soon."
Cathy Dyson: 540/374-5425
Get local news delivered to your inbox!
Subscribe to our Daily Headlines newsletter.