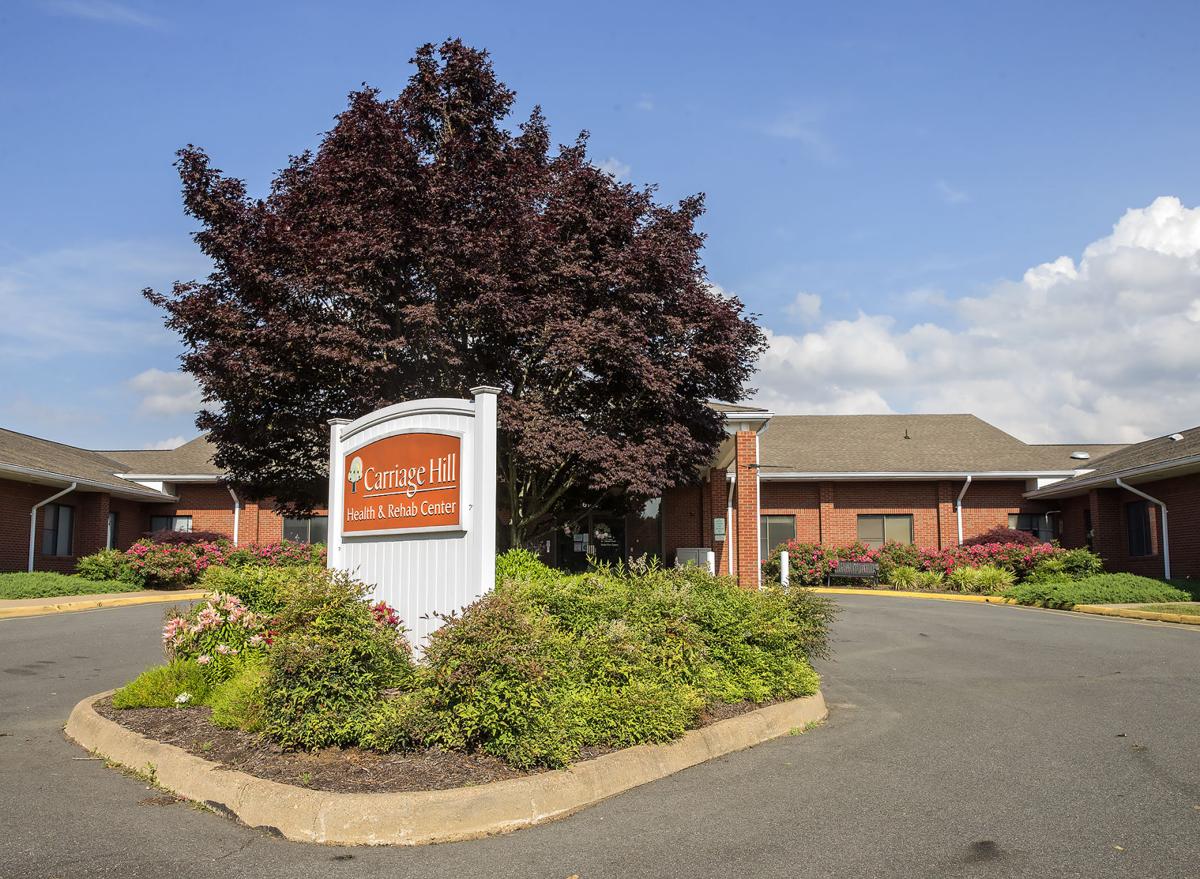 For the first time since spring and the prevalence of vaccines, there's a deadly COVID-19 outbreak in progress at a Fredericksburg area nursing home.
Carriage Hill Health & Rehab Center in Spotsylvania County is in the midst of an outbreak that started Nov. 4 and includes 17 cases among residents or staff and at least one death, according to the Virginia Department of Health. When there are fewer than five deaths or cases at a particular facility, the state doesn't list the specific number on its dashboard for "Outbreaks by Selected Exposure Settings."
Since the pandemic began, Carriage Hill has had the worst COVID-19 outbreak among the 21 long-term care facilities in the Rappahannock Area Health District, which includes Fredericksburg and the counties of Caroline, King George, Spotsylvania and Stafford. Two separate incidents, the most lethal one in summer 2020 and another in February 2021, resulted in the deaths of 21 elderly people and infections of 135 patients and staff.
On Friday, the death of a Black woman, age 80-plus, who lived at a Spotsylvania County facility—presumably Carriage Hill, since no other area RAHD facilities currently have virus outbreaks—marked the first COVID-19 outbreak fatality in local nursing homes or assisted-living facilities since April. There was one virus related death at a Stafford County facility last month, but it was not part of an outbreak, according to local health officials.
Early on in the pandemic, the state health department didn't identify where outbreaks happened in an effort to protect patient privacy. But when incidents in facilities started resulting in the deaths of hundreds of elderly people, state leaders were compelled to notify the public where they were taking place.
Through early November, almost 142,000 patients and staff at nursing homes nationwide had died from the virus, according to the Centers for Medicare and Medicaid Services. Estimates through March of this year—before the delta variant took hold—suggested that COVID had killed one of every 10 nursing home residents in the United States, according to the Kaiser Family Foundation.
Once vaccines came on the scene and Virginia's state of emergency was lifted in July, the state health department stopped providing weekly reports about outbreaks. Then in August, clusters of cases began again, but among a different age group as students returned to classes.
The majority of outbreaks in progress throughout Virginia involve day care centers and schools. While they're more common among the younger set, outbreaks certainly are more deadly to older people.
An outbreak at Dogwood Village nursing home in Orange County resulted in nine deaths and 68 people infected. That outbreak has closed; so has one at Spring Arbor of Fredericksburg, an assisted living facility in Spotsylvania that had five cases.
There's currently an outbreak at the Culpeper Health & Rehab Center nursing home, where 19 people have been infected.
Three regional facilities have had outbreaks that are pending closure: Cardinal Village assisted living in Spotsylvania, which had nine cases; Westmoreland Rehabilitation and Healthcare nursing home, which had less than five cases; and Carrington Place of Tappahannock, a nursing home in Essex County which had 27 cases and less than five deaths.
While COVID-19 has been particularly deadly in closed quarters such as long-term care facilities, where older patients already suffer from other health issues, local deaths this month show the delta variant continues to impact younger people.
Sixteen deaths have been reported in the local health district this month: 10 people in Spotsylvania, four in Stafford and one each in Caroline and King George.
Nine of those who died were in their 40s, 50s and 60s while seven were age 70 and older. Thirteen of the fatalities involved white people along with two Blacks and one Latino.
The November fatalities are among 370 residents of the Rappahannock Area Health District who've died from COVID-19 since the pandemic began. There have been 88 virus-related deaths in both Culpeper and Fauquier counties; 61 deaths in Orange County; and 37 deaths in Westmoreland County.
Cathy Dyson: 540/374-5425