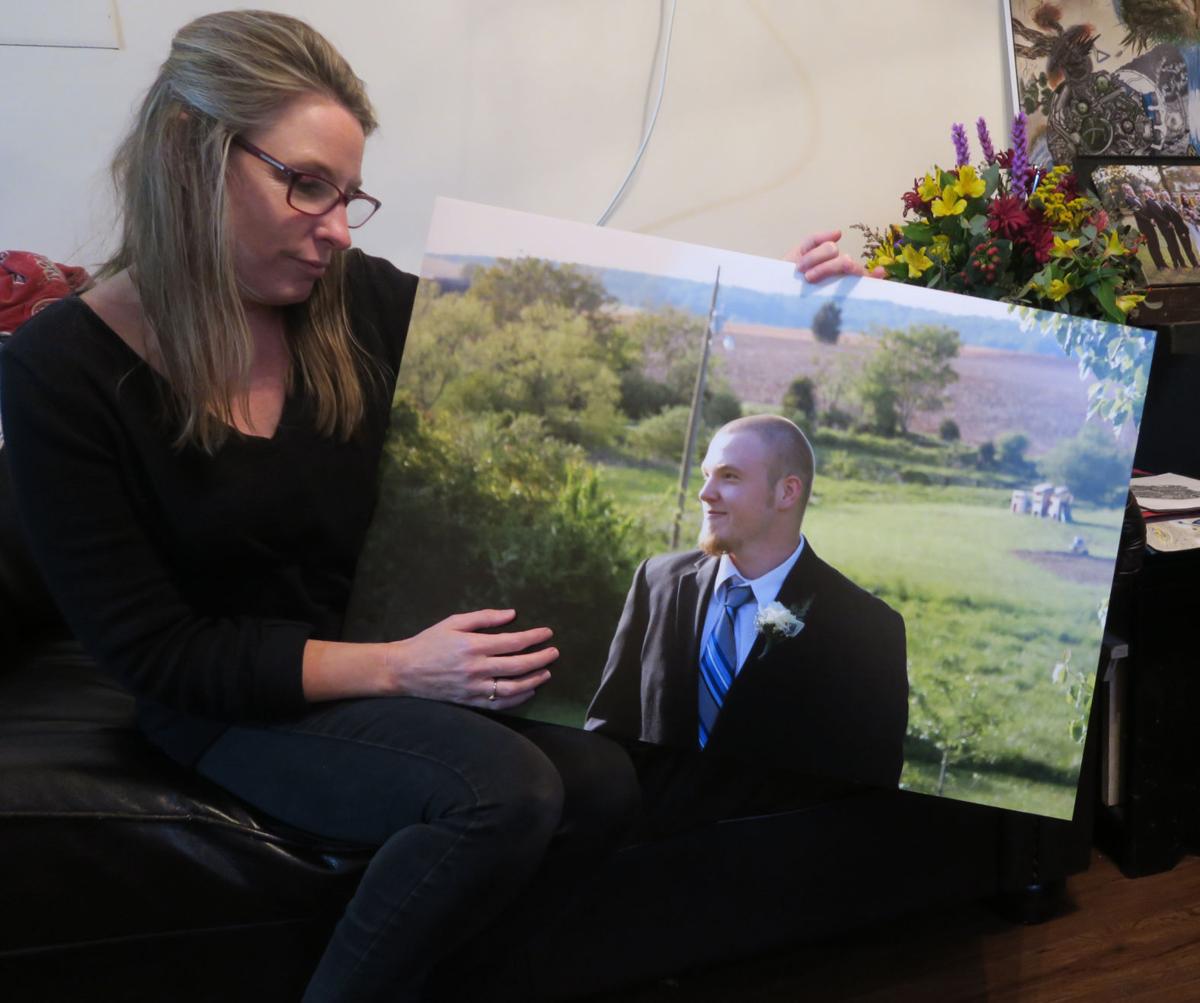 LEON—A pair of boyhood friends in their 20s recently died from heroin overdoses within days of each other in Culpeper—a county that officials describe as being at the epicenter of the region's persistent opioid scourge.
One young man, age 24, worked and had his own business, but had struggled with addiction before it took his life. He left behind a family struggling with the loss.
The other young man—23-year-old Joe Fleming, his friend since they went to youth group together—worked two jobs and had a family and friends who loved him, including his mother, who now wants to break the stigma of opioid addiction impacting families here and everywhere.
Dee Fleming intends to cast a light in a dark place.
"I feel a deep burden to talk about these kids," said the 47-year-old mother, wife and local librarian. "I feel like the more we talk about it and are open about it, the more somebody will say, 'Yeah, I'm struggling,' because I think there is such a shame attached to it. We just have to break that down and be willing to let this be a normal part of our conversations because it is a normal part of our lives."
Responding to drug overdoses is a daily occurrence for local law enforcement, and the problem appears to be hastening, according to authorities. Since Fleming died on Oct. 13 and his friend on Oct. 9, at least two more people in Culpeper have ingested fatal doses of heroin, authorities said.
One of them was a mother who overdosed in her home's bathroom with her two children outside the door, unable to reach her, according to Culpeper Police Capt. Tim Chilton with the Blue Ridge Narcotics & Gang Task Force.
"They ended up falling asleep on the couch in the living room after they fed themselves and couldn't get into the bathroom where mom was," he said.
When the children, both younger than 10, got up in the morning, their mother was dead behind the locked bathroom door. One of the kids ended up prying open an outdoor window to get to her before running to neighbors for help, Chilton said.
"We show up and those two kids were there in that kind of circumstance, but that is the kind of call that people need to hear, that this is happening, how hard-hitting this stuff is and how hard it is for us to respond to something like this—to deal not only with the death, but what these kids have seen and what's going to happen to the kids at this point. It's heart-wrenching," he said.
Devastated families
Dee Fleming was grieving the loss of her son's close friend and preparing for his wake later that very night when she got the call that Joe had also died from an overdose.
"I said what are you talking about? I didn't even understand what they were saying," she said.
Fleming knew her son was struggling with losing his friend. The last time she saw her son, the day before he died, he was really quiet, she recalled.
She had no idea her son used heroin. Joe Fleming was employed full-time on the night shift at Merchant's Grocery, worked a lot of overtime and on his two days off, worked in the kitchen at Buffalo Wild Wings, where co-workers were crushed to hear of his sudden death.
"These are just normal everyday people that this is happening to, who work hard, make a living and have friends. That's what blows my mind," said Dee.
When Joe died, she decided not to gloss over the cause of death, and she put it in his obituary that her beloved son died of an overdose.
"I just have to say it. Our beautiful, hilarious, wild and crazy, loving son," she posted on social media the day after he died. "Unfortunately, this is a tragedy that is repeating itself over and over again in Culpeper. This epidemic is senseless and is bringing in its wake broken hearts and devastated families."
The Fleming family moved to Culpeper in 2002 from Centreville. All four of their boys were home-schooled. During Joe's high school years, he was starting center for The Disciples Richmond-area based football league. Joe, the second oldest child, was also a talented artist who loved the outdoors.
Two weeks before Joe overdosed, the whole family celebrated the wedding of another son. Dee said that one last time together was a gift from the Lord before lamenting the sudden loss her son and his close friend.
"It's just heartbreaking to see these young men be robbed of the rest of their lives," she said. "You wonder why does someone get started on this stuff anyway? I don't have the answer, but we've been here and we don't want anyone else to experience this and how can I help? What can I do? If there is anyone else out there struggling with this, I'll talk to you, I'll love on you. If Joe's life can matter in one other person's life, then it's worth it. It has to be worth something."
Come As You Are
Moira Satre, another Culpeper County mom, works to make the life of her son Bobby meaningful after losing him to a heroin overdose in 2015, at age 31. She left a career in nursing to help run the Come As You Are coalition for anyone struggling with their own or a loved one's drug abuse.
Since forming in early 2016, the nonprofit has raised thousands of dollars for recovery programs and services including recently partnering with a foundation to open the McShin Recovery Center near the Warrenton jail.
"It's a huge thing for our organization because we will be able to provide programs a lot faster," said Satre. "We need to create these partnerships and work together on the opioid problem," which she called huge and multi-layered. "It will take the whole community coming together to make it healthier."
The Come As You Are website at cayacoalition.org lists various other addiction resources and the group supports initiatives like teletherapy services now available as a pilot program through the Fauquier Free Clinic. The coalition worked with Fauquier Public Schools to develop materials for students about drug abuse and other mental health issues. Satre advocates for such education as early as fourth grade.
The local mom still experiences dark days since losing her son, but her work with Come As You Are has been therapeutic because she is helping others. Satre also finds strength and comfort at support meetings, interacting with others who know what is to lose a loved one to addiction.
"You never get over it," Satre said. "It's been two-and-a-half-years and it's difficult. I still think about him every day, and there are different levels of pain. My faith has helped me. Don't be ashamed," she added, "because this happens to all kinds of families."
Living the Dream
It happened to Ed and Gloria Long, also of Culpeper County. Their 24-year-old son, Ben, addicted to heroin, took his own life in 2015 after losing hope for recovery.
His parents started the Living the Dream Foundation, following his death, as a partner of Rappahannock–Rapidan Community Services, the regional government organization providing substance abuse and mental health services for the area, including the 30-day in-patient treatment center at Boxwood.
The Long's foundation, so named because Ben always used to say, "I'm living the dream," has hosted numerous events, training programs and awareness walks shining a light on depression, drug abuse and suicide. It has hosted training on how to use Narcan to reverse the effects of an overdose and awarded scholarships to high school seniors pursuing mental health careers, according to Ed Long.
"We started our foundation the day after Ben died," he said. "We could not let another family go through what we did. I can't say it gets better, but somehow helping to educate others does lessen the pain inside for just a little while."
Lack of treatment options was ultimately what killed Ben, his father believes.
"In this country, no one should die alone and hopeless for treatment for addiction," said Ed Long. "Government wastes so much money for the special interest of the week while we are losing an entire generation to this epidemic."
Two-and-a-half years removed from losing Ben, the pain remains, said his father.
"Right now, I can't see how it can ever get any easier," said Ed Long. "Everyone has to find their own way of coping with their loss. Ours is staying busy."
silence WON'T HELP
Virginia State Police Special Agent Tom Murphy, supervisor for the Blue Ridge task force, said area-wide law enforcement is certainly reporting an increase in overdoses. As of early November, in the six counties it covers—Fauquier, Greene, Orange, Rappahannock, Culpeper and Madison—there had been 182 reported opioid overdoses, including 28 deaths, he said.
Murphy said Culpeper is absolutely the epicenter for the region's heroin activity because of its geographical location.
"It's a challenge like no other because it's taxing for resources of all kinds, manpower intensive and financial, too and these people need treatments. Putting handcuffs on them and taking them to jail is not the complete thing that needs to occur. It needs to be more than just that because we've seen it too often where they get out of jail and go right back to it. That's the allure of the drug," he said.
Users can spend 30 days, six months or even a year in rehab, and go back to the heroin. Many go to rehab multiple times before they can kick the addiction, and many die before they can succeed at recovery, and many more die "accidentally" when using deadly strains.
That's why Dee Fleming is speaking out, and reaching out to be one voice to save one life. She recently launched a Facebook page, Culpeper Overdose Awareness, with listings about available resources and programs, including an upcoming talk Nov. 28 at Fauquier High School by former NBA star Chris Herren about how he lost everything to addiction, but made his way back.
She invited anyone to interact with her at the site. There are no easy answers to addiction, said Fleming.
"If it takes me being uncomfortable and just putting it out there that my son was doing drugs—if that will save one person then it's worth it," she said.
"This is a very complicated, complex problem with no easy answers, but I do know that no solutions will come from silence."