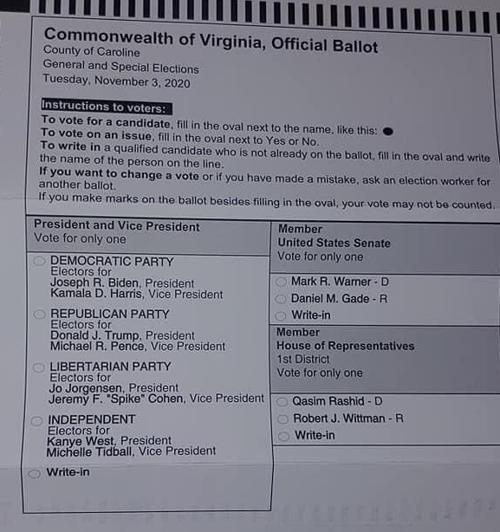 When Renia Mercer went into the Caroline County General Registrar's Office, she knew exactly who she was voting for.
But Mercer departed perplexed as to why Kanye West's name was listed as a presidential candidate for Caroline voters despite the Virginia Supreme Court decision Sept. 17 denying his appeal to be listed on the state's ballot.
"For myself, it didn't bother me because I knew what I wanted to do," said Mercer, who voted for former Vice President Joe Biden. "But I was thinking about so many younger people or even older people that never voted before. I felt it was confusing."
West, a billionaire rapper and fashion designer, launched a presidential bid in July with running mate Michelle Tidball. He's on the ballot in 12 states.
Caroline is the only locality in the Fredericksburg area that printed its ballots before West was initially ordered off by a judge on Sept. 3.
Virginia Attorney General Mark Herring sought emergency court action to block West from appearing on the state's ballot.
After West's appeal was denied, Herring, a Democrat, wrote on Twitter: "This case could have thrown the election into complete chaos and disenfranchised thousands of Virginians."
Caroline General Registrar Kathryn McVay said West appears on all 26,000 ballots she ordered for the county.
McVay said she didn't have time to order or reprint new ballots because testing had to be performed on the voting machines by Sept. 8 and actual ballots were needed to do so. Early voting began in Virginia on Sept. 18 and ended Oct. 31.
City of Fredericksburg Registrar Marc Hoffman said he's heard of West being on ballots in some spots in Virginia, but calls by a reporter to other localities in the area turned up no additional instances.
McVay said she's fielded several complaints about West's presence on the ballot. She said she took direction from the Virginia Department of Elections on addressing the matter. A notice was posted for early voters that West is disqualified.
"When we mailed out the ballots, we put a notice inside and there also will be a notice inside each privacy screen and a notice at the precincts [on Tuesday]," McVay said.
There have been 7,682 early votes cast in Caroline, which makes up 39 percent of all registered voters.
McVay said votes for West won't be counted at the state level, but votes in other races or the amendments on those ballots will be counted.
Mercer, who has volunteered to drive people to the polls, said she's concerned a young voter will fill in West's name because of his popularity. She said an older first-time voter might recognize his name and get confused.
"I've heard people say that no one makes up their mind when they get to the polls and they know who they're voting for," Mercer said. "In a perfect world, that's true. But we know we don't live in a perfect world."
Taft Coghill Jr: 540/374-5526