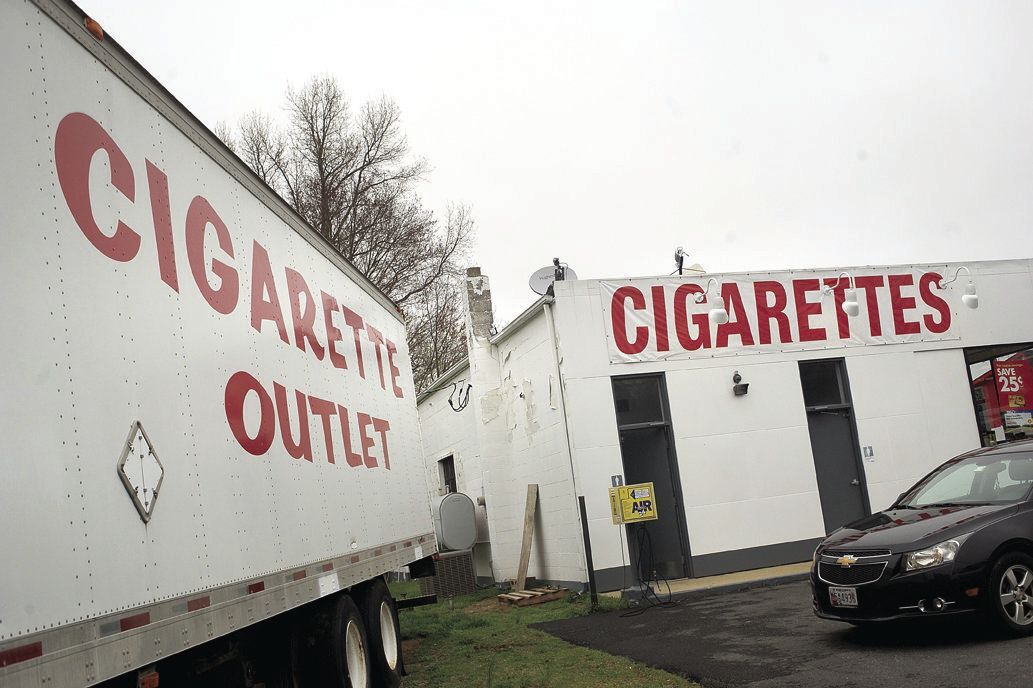 For years, King George County officials have wondered how many packs of cigarettes have been sold within their borders, particularly from the many tobacco outlets that dot the landscape on U.S. 301 north of Dahlgren.
The county's new cigarette tax—which started July 1 and is 40 cents per pack—indicates that number is in the millions.
As part of the new tax, stamps bearing the county name must be attached to each pack of cigarettes sold. In the past three months, those stamps have generated $781,279 of income, Commissioner of Revenue Judy Hart told the Board of Supervisors on Tuesday.
That's enough stamps for 1.95 million packs of cigarettes—or 39 million individual smokes. Hart expects the revenue to grow as two more stores that sell cigarettes are opening in coming months, making 12 distributors and 28 stores in the county that offer tobacco products.
Almost 40 percent of the total sales of cigarettes were at King George Sheetz stores, Hart said.
All the businesses selling cigarettes had 60 days after the tax began to sell all their stock that didn't have the county's stamps, Hart said. After that time passed, she and other county employees, including a sheriff's deputy, visited places selling smokes.
Every store but one still had packs on the shelves without the proper stamps, Hart said.
"We've given them instructions to take them off, you cannot sell them," she said. "You've either got to send them back to the distributor and have them put stamps on them or we can sell them the stamps. We've had three stores to purchase stamps from us and put them on. The rest of them have sent them back."
Stores can face fines or have unstamped cigarettes seized under Virginia law.
When supervisors thanked her for the update, she said she'd return when the tax generated a million dollars.
"We're gonna hold you to that," said Supervisor Chair Annie Cupka.
While Supervisor Jeff Bueche said the total revenue "sounds great," he reminded fellow members that the county anticipated making about $1 million each quarter in cigarette tax revenue for an annual total of $4 million.
"I know we just started, but we're falling a little short in the overall budget for that," Bueche said. "That's concerning to me."
Six years ago, King George County earned the dubious distinction of being one of the top two counties in Virginia for smuggling cigarettes out of state, according to retired Sheriff Steve Dempsey. At the time, the state had the second-lowest excise tax in the nation.
People would pay $40 to $45 per carton of premium cigarettes in Virginia then cross the Potomac River bridge into Maryland and head north, where they could get $120 to $150 per carton in New York, according to the Virginia State Crime Commission on Trafficking Tobacco and Organized Crime.
King George officials asked the General Assembly repeatedly for its chance to tax cigarette sales—not just to get a piece of the nicotine pie but to help pay for extra deputies needed. Tobacco outlets tend to have more break-ins than other markets or convenience stores, Dempsey said in 2015.
In addition, cigarette smuggling stings performed by Alcohol, Tobacco, Firearms and Explosive units from Virginia to New York revealed the rings had ties to organized crime as well as terror cells in the Middle East.
The General Assembly granted counties the ability to implement their own taxes on cigarettes in 2019. And in recent years, Virginia has raised its state tax on cigarettes to 60 cents per pack but it's still the seventh lowest in the country.
Even with the price hike, King George's tax and the $6 toll to cross the Gov. Harry Nice Memorial/Sen. Thomas Middleton Bridge, cigarettes are still a bargain on the Virginia side of the Potomac River.
Maryland's tax on cigarettes is $3.75 per pack, according to the Campaign for Tobacco-Free Kids. That's the fifth-highest rate in the United States.
Cathy Dyson: 540/374-5425