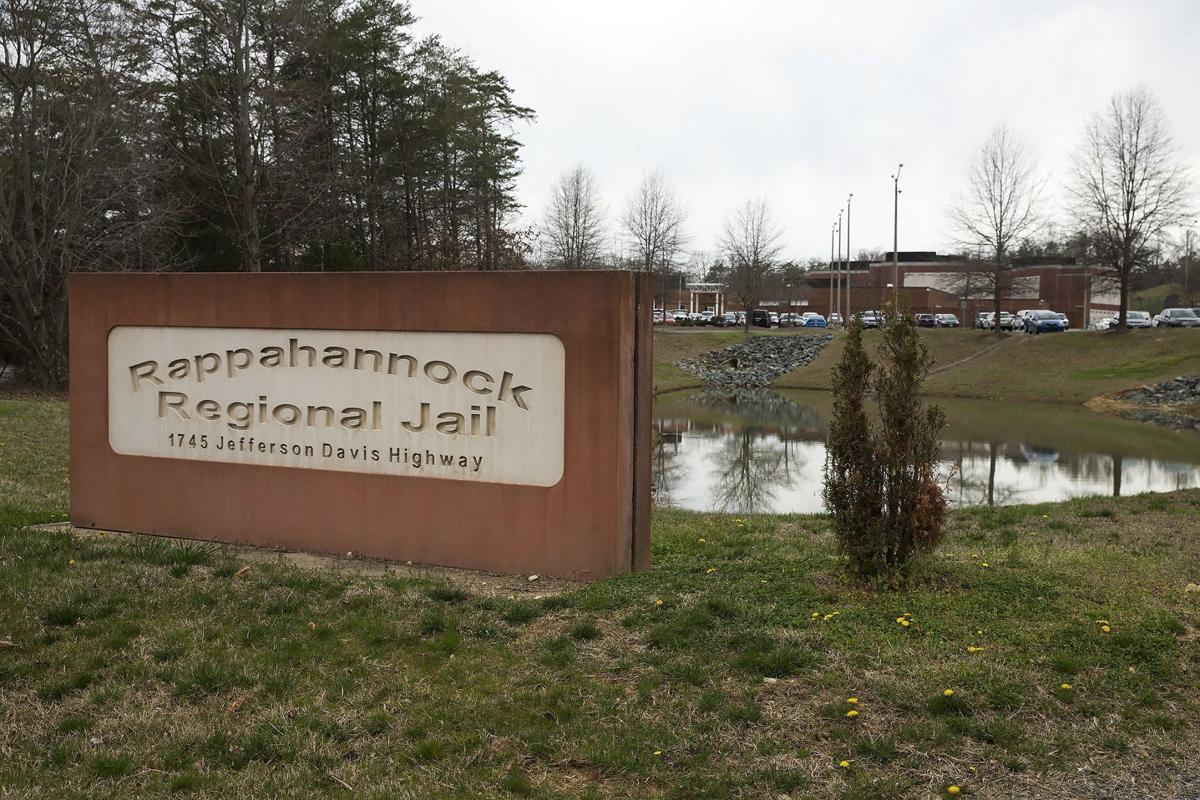 One inmate and one corrections officer at the Rappahannock Regional Jail tested positive for COVID-19 and inmates are under lockdown more frequently due to the pandemic, jail superintendent Kevin Hudson said this week.
Hudson said the corrections officer was exposed to the virus by a family member and placed on quarantine. The officer had no contact with the inmates, he said.
Hudson did not provide information about how the inmate was exposed to the virus.
He said this week that one unit at the jail—which serves Fredericksburg and King George, Spotsylvania and Stafford counties—has been placed in medical isolation "as a precaution."
The Free Lance–Star has received multiple calls and emails from relatives of inmates at the jail who claim they are being placed under "constant lockdown" and are confined to cells, which can have up to three prisoners, with little opportunity for showers or recreation.
Hudson said in an email this week that, "There are more lockdowns than usual given the circumstances around COVID-19. Inmates are receiving recreation as much as possible given those circumstances."
He said in an October email that inmates sleep in bunks or "sleeping apparatuses with the addition of mattresses."
Hudson said anyone entering the jail is immediately masked and is screened by the medical department to identify risk of exposure to COVID-19, but there is no regular schedule for testing inmates or staff for the virus.
"It is based on risk and consults with the health department," he said.
Hudson said inmates each receive two cloth masks that they can have laundered with their clothes. Inmates are required to wear masks "outside of their cells," he said.
The population of the jail as of Thursday was 1,347. There is a "backlog" of inmates awaiting transfer to Virginia Department of Corrections facilities, Hudson said.
The DOC stopped accepting individuals sentenced for prison time in the spring and "just recently" began accepting those with a sentence time of one year or more, he said.
"It is a slow process due to the pandemic and cannot be expedited," he said. "We have been working tirelessly with the local courts, judges, Commonwealth's Attorneys, and defense attorneys to maintain a schedule to keep the dockets moving.
"It is extremely difficult to navigate, but all those involved have been patient and phenomenal in working together during the pandemic."
In April, the Virginia General Assembly approved a budget amendment authorizing the Department of Corrections to consider early release for inmates with less than one year left to serve while Gov. Ralph Northam's COVID-19 emergency declaration is in effect.
Inmates convicted of a Class 1 felony or a sexually violent crime are not eligible for the program. To be considered, inmates must have a low or medium risk of recidivism, no active detainers, a good time earning level of 1 or 2 and an approved home plan.
Inmates' medical conditions will also be considered, according to the plan.
DOC Director Harold Clarke is responsible for approving all early releases. Department spokesperson Lisa Kinney said Thursday in an email that approximately 10,000 inmates have been screened for early release and 1,272 have been approved.
Kinney did not have information about how many inmates have been released early under the program from the Rappahannock Regional Jail. Hudson also could not provide numbers or an estimate.
"The DOC numbers are so convoluted with local releases ... I can't give you an honest number," Hudson said.
Stafford Commonwealth's Attorney Eric Olsen said COVID has been a factor in the release of "25 to 30" people from the regional jail since the spring.
He estimated about 15 other inmates were released to the Community Corrections Alternative Program, a sentencing option for those convicted of nonviolent crimes that emphasizes re-entry and transitional services, according to the Virginia DOC website.
Olsen said his office receives a number of post-trial motions from defense counsel requesting that a sentence be reduced or modified due to fears of contracting COVID-19, but less than 25 percent of those are granted.
Olsen said more defendants are being released on bond than before the pandemic.
"Early on, we released a lot of individuals that were pending trial on probation violations and drug charges and nonviolent offenses," he said. "I took the initiative to make sure that a number of them got released. There was a significant decrease in the number of people in jail that were in pre-trial detention."
King George County Commonwealth's Attorney Keri Gusmann said the number of defendants being detained without bond has decreased since the pandemic.
She also said there have been fewer arrests in the county since the pandemic.
"Less arrests = less defendants = less folks need releasing," Gusmann wrote in an email Friday.
She said her office has agreed to "only a few" modified sentences.
"Because the jail was able to release the defendants with a short sentence remaining, the vast majority of motions we received were for defendants with years remaining on their sentences," she said.
Gusmann said her office does not have statistics of how many jail inmates arrested in King George have been released early under Virginia's COVID-19 early release amendment. She said the jail "should" have those numbers.
Juanita Shanks, president and CEO of Failsafe Era, a local nonprofit that assists families affected by incarceration, said she thinks there were efforts to release inmates from the regional jail due to COVID early on, but she believes those efforts have since been relaxed and the jail is now too crowded.
"They were very gung- ho about it, but they've slacked up on it now," she said. "Thirteen-hundred [inmates] in there is a lot. That's not good. The jail is only but so big.
"You have correction officers bringing [the virus] in and that's not good. The people they're arresting, they are bringing the virus in and that's not good. At some point, there is going to be an outbreak."
Shanks said she'd like to see a change in how and why people are arrested and what crimes they are incarcerated for, especially now that COVID-19 is a risk.
"Does every crime need to be incarcerated?" she said. "For example, some drinking and driving charges—to me, those people need treatment. Or if somebody doesn't pay their child support, make them work somewhere and then take their wages. Don't incarcerate them. This, to me, is not making any sense."
Staff Writer James Scott Baron contributed to this report.
Adele Uphaus–Conner:
540/735-1973
@flsadele