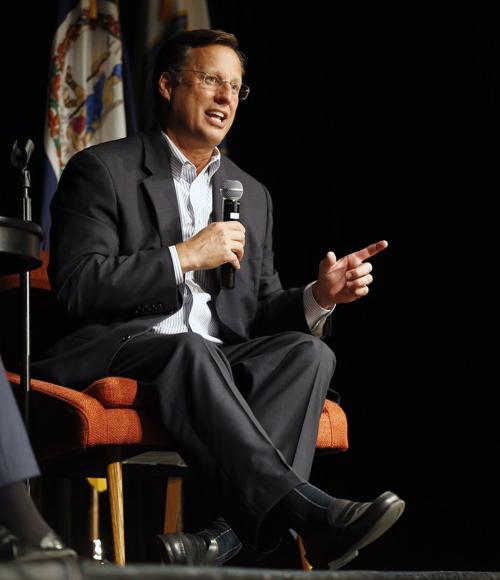 Republican Congressman Dave Brat expressed support Wednesday for embattled U.S. Attorney General Jeff Sessions, saying Sessions "acted in the highest ethical manner" by recusing himself from the investigation into whether President Donald Trump's campaign colluded with Russia.
He did not mention Trump's recent criticism of Sessions' decision, instead blaming Democrats and "their allies in the mainstream media" for trying to stir the pot.
"One thing is for sure: when A.G. Sessions erred on the side of caution by recusing himself, he never could have foreseen the 24/7 full-throated obsession over Russia by the mainstream media," stated Brat, whose 7th District includes all or parts of Culpeper, Orange and Spotsylvania counties. "The media's attacks have only escalated since Trump's inauguration. Fake news dominates."
He closed the statement by encouraging Sessions to "stay the course," echoing other Republicans who have defended the attorney general in recent days. A spokesman for U.S. Rep. Rob Wittman, a Republican whose 1st District includes much of the Fredericksburg region, declined to comment on the controversy.  
Trump told The New York Times last Wednesday that he would have not appointed Sessions had he known the attorney general would recuse himself from the Russia investigation, calling the decision "very unfair to the president." He also unleashed a Twitter barrage this week in which he accused Sessions of taking a "VERY weak position" on alleged "crimes" by Hillary Clinton.
Asked Tuesday whether he would fire Sessions, Trump said: "Time will tell."
In his lengthy statement, Brat said Trump is frustrated with those who have called for his impeachment since day one. Those critics, he said, "refuse to honor the outcome of the election."
Brat also took aim at Deputy Attorney General Rod Rosenstein, who he said "rushed" to appoint former FBI Director Robert Mueller to oversee the investigation when "there remains no publicly-available evidence of any crimes committed."
"Not only that, but Rosenstein gave Robert Mueller broad investigative authority through the inclusion of a catch-all phrase when authorizing the scope of the investigation," stated Brat, who went on to question Mueller's appointment of people with "clear political bias."
Meanwhile, Brat said Sessions is "dutifully following the president's orders" and "deserves our praise for having the guts and the backbone to fight for this great country."
"The goal of Democrats and their allies in the mainstream media is to divide two of the principal conservative populist leaders in the nation, and at this time we must all remain united," Brat stated. "Our words, policies, and messaging must meet the highest ethical standard as we all try to drain the swamp together."
University of Mary Washington political science professor Stephen Farnsworth said it is unusual that a congressman would have to defend an attorney general from the same party, but added: "There's nothing usual about the Donald Trump presidency."
Farnsworth said Brat's statement is a reminder of Sessions' popularity with conservative Republicans. "And firing him, if it comes to that, might make Trump some enemies among people who now count themselves as his friends."
Jeff Branscome: 540/374-5402
​