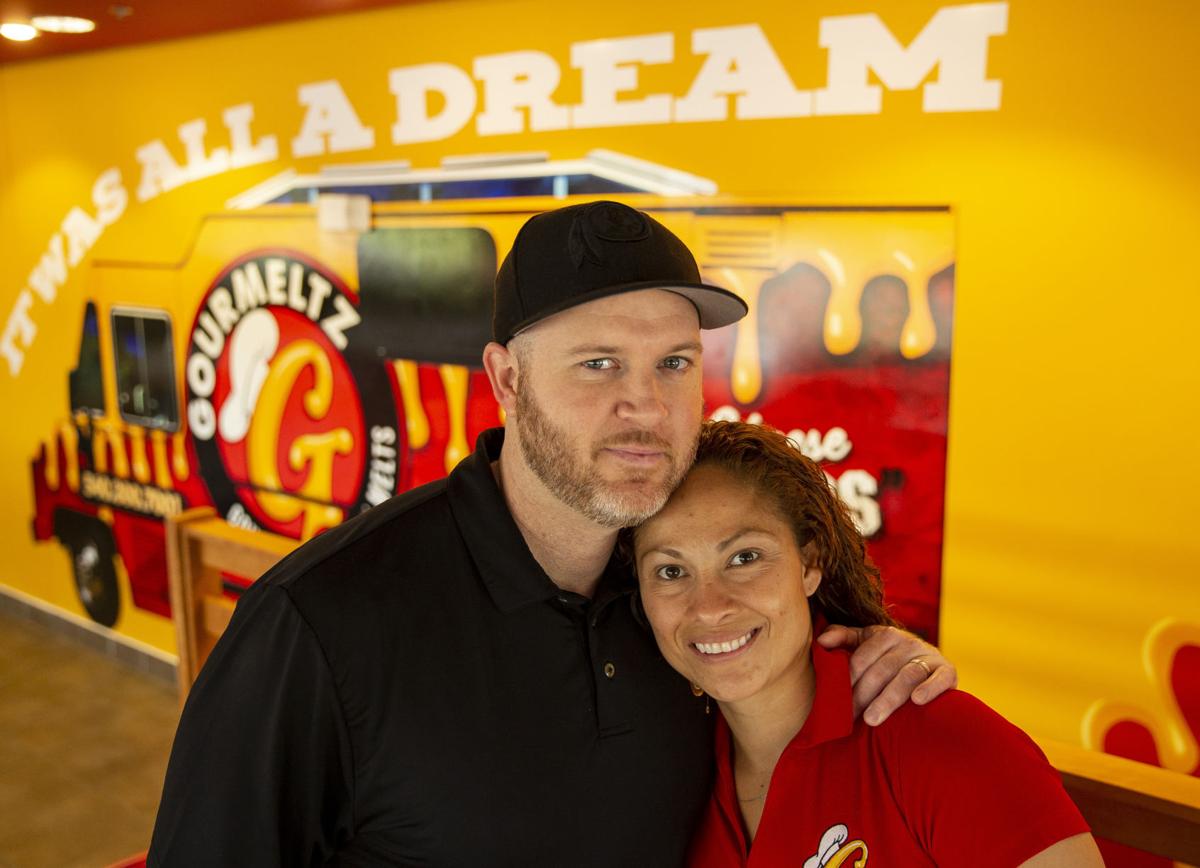 A Spotsylvania County restaurant is operating without a license after health inspectors suspended its food service permit because the owner won't comply with the governor's orders regarding the pandemic.
Matt Strickland, owner of Gourmeltz in Cosner's Corner, told customers in a YouTube video on Friday, the day after he was told to "close down immediately," that he would do no such thing.
"I haven't complied, and I will continue not to comply," he said in the recording, made while sitting in his vehicle. "I'm not in the military anymore, and I'm not gonna do something just because you tell me to do it. It needs to make sense and it needs to not infringe on my constitutional rights, and it needs to be lawful."
Rappahannock Area Health District officials, who investigated the business again Wednesday, said they're working with other state agencies to determine the next step. Possibilities include filing an injunction or seeking a Class 1 misdemeanor charge, according to health district spokesperson Allison Balmes–John.
The action marks the first time the local health district has suspended a restaurant's permit for violating Gov. Ralph Northam's orders regarding business operations during the pandemic. Executive Order 72 says restaurants have to close by midnight and not serve alcohol after 10 p.m.; that social distancing must be maintained; and that customers cannot sit at bars.
Strickland, an Army veteran, said he asked the health inspector why customers could sit at tables and interact with the wait staff, but could not sit at a bar and talk with the bartender. He said the official's lack of explanation underscored his point.
"Some of these regulations and mandates are not proven to do anything to keep people safe, and some of them make zero sense," he told The Free Lance–Star.
Health officials told Strickland on Wednesday he could be fined or arrested for his failure to comply, and he said if that happened, he would go back to operating as soon as he got out of jail.
"I went overseas and fought for almost 10 years, and I can do it right here," he said.
Health officials first went to the restaurant after receiving more than 50 complaints since mid-December about the lack of face masks on employees, customers at the bar and no social-distancing measures, according to the health district.
Officials first emailed the business about the matter, then visited on Jan. 15 after more complaints were filed, Balmes–John said. The inspection showed the same violations the complaints had addressed—as well as a lack of signs posted about COVID-19—and officials told the owner that he wasn't in compliance with the governor's order.
He said he wouldn't comply.
Almost two weeks later, health officials returned to the restaurant. Because of the numerous complaints, observations during the Jan. 15 inspection and Strickland's unwillingness to comply, they suspended his food-service permit, Balmes–John said.
In his video, Strickland again took issue with the matter of customers being allowed at tables, but not at the bar. Balmes–John said in an email to the newspaper that bar patrons are likely to have their masks off for extended periods of time and that while seated, they "may expel contagious respiratory droplets and/or aerosols across an area that is used for food service and preparation."
If that area was contaminated, it probably wouldn't be disinfected before the next customer came along, she said. In addition, bartenders are within 6 feet of customers for longer periods of time than staff waiting on tables, Balmes–John added.
In telling customers about his plight, Strickland said the inside of his restaurant—known for his unusual creations with melted cheese—is "going back to America," a place where people can make their own decisions about where to sit and what to wear on their faces. He also said he hoped those who "believe this pandemic is as real as they say" won't be mad.
"I'm not saying COVID is not real," he said. "I acknowledge that it is, but I do think that it's way overblown."
Cathy Dyson: 540/374-5425