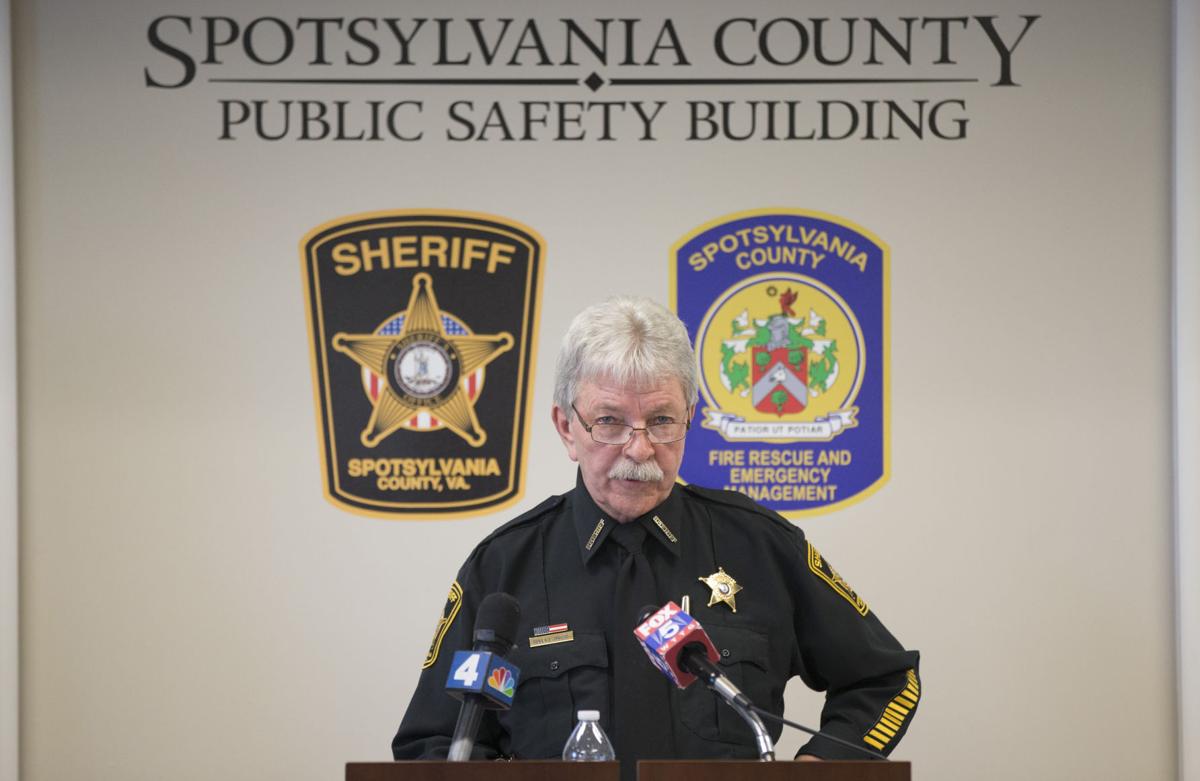 Spotsylvania County Sheriff Roger Harris recently laid out some "hard, cold facts" to the Board of Supervisors, saying he "doesn't have the manpower" to deal with an illegal narcotics problem.
Harris gave a presentation to the board at its Feb. 9 meeting, laying out what he believes is a crime problem that will continue to grow unless the office has more resources.
He said that while his department is doing better than many surrounding localities battling the opioid problem, he said "we're doing a whole lot with not all of the tools that we need to combat this issue."
He told the board that his office had 20 detectives in 2010, the same number he has now, while the population and narcotics problem has spiked.
In 2010, the detective unit handled 1,089 total cases, according to the sheriff. In 2020, the unit worked 1,495 cases.
Harris also pointed out that in 2016, a year after the state stopped prosecuting self-reported drug overdoses, there were 97 opioid-related overdoses in the county, with 26 deaths. In 2020, there were 204 opioid-related overdoses in the county, with 34 deaths.
Although illegal drug cases continue to increase, the sheriff said he reduced his narcotics detectives from five to three in order to handle "an unbelievable increase" in child victim cases in the county.
The Sheriff's Office has relied on two grants to handle drug cases. Both of the grants are ending.
One grant helps pay for Narcan, a remedy for opioid overdoses. All sheriff's deputies now carry Narcan, including school resource officers.
In 2016, the sheriff's office used 37 doses of Narcan to help revive people who overdosed on opioids. In 2020, deputies used 110 doses. According to Sheriff's Maj. Troy Skebo, Narcan has not been used in any county schools.
Harris attributed the high 2020 use of Narcan to impacts from the pandemic.
The other grant has helped cover more than 1,000 hours of overtime to help deal with illegal drugs and gangs during an 18 month period, which will end in June.
He said the overtime work has resulted in 118 arrests and the confiscation of more than 3,700 grams of illegal drugs, a haul that includes methamphetamines, cocaine, heroin, MDA, mollies, PCP, Fentynal, mushroom chocolate bars and marijuana.
"The root of the problem is the money and drugs," Harris said.
While the sheriff focused on opioids as the most serious issue, he also highlighted a problem with gang activity and prostitution.
"We're located halfway between Richmond and D.C.," he said, noting the Interstate 95 interchange in the Massaponax area is the entry point for criminals.
"That exit comes off 95 at what we call our hotel district," the sheriff said, an area he called "a major problem" for the Sheriff's Office, businesses and residents along that stretch of U.S. 1.
"I'm not gonna sugar coat it," the sheriff told the board. "Those hotels and motels are the biggest source of drugs and gangs that come into Spotsylvania County. … We work those hotels and motels every day. It would take a lot of cops to stop drugs and prostitution [there]."
Harris highlighted another problem area for the same crimes. Acknowledging his comments would "not be popular," the sheriff identified those areas as apartments, primarily those with Section 8 housing, a federal program that helps those with low incomes pay rent.
He told the board they've already had drug and prostitution problems at a relatively new apartment complex near the Sheriff's Office.
Harris did not ask the board to take any action, but he said he needs more deputies and detectives to handle the growth in population and crime, adding that request might come later.
Supervisor Gary Skinner said the presentation caught him and other supervisors off guard.
"I was a little surprised by it," he said.
Skinner said he would like to have learned about the situation before the sheriff brought it to the board, but he wants to help deal with the problem.
"If he needs more people, so be it," he said.
Scott Shenk: 540/374-5436