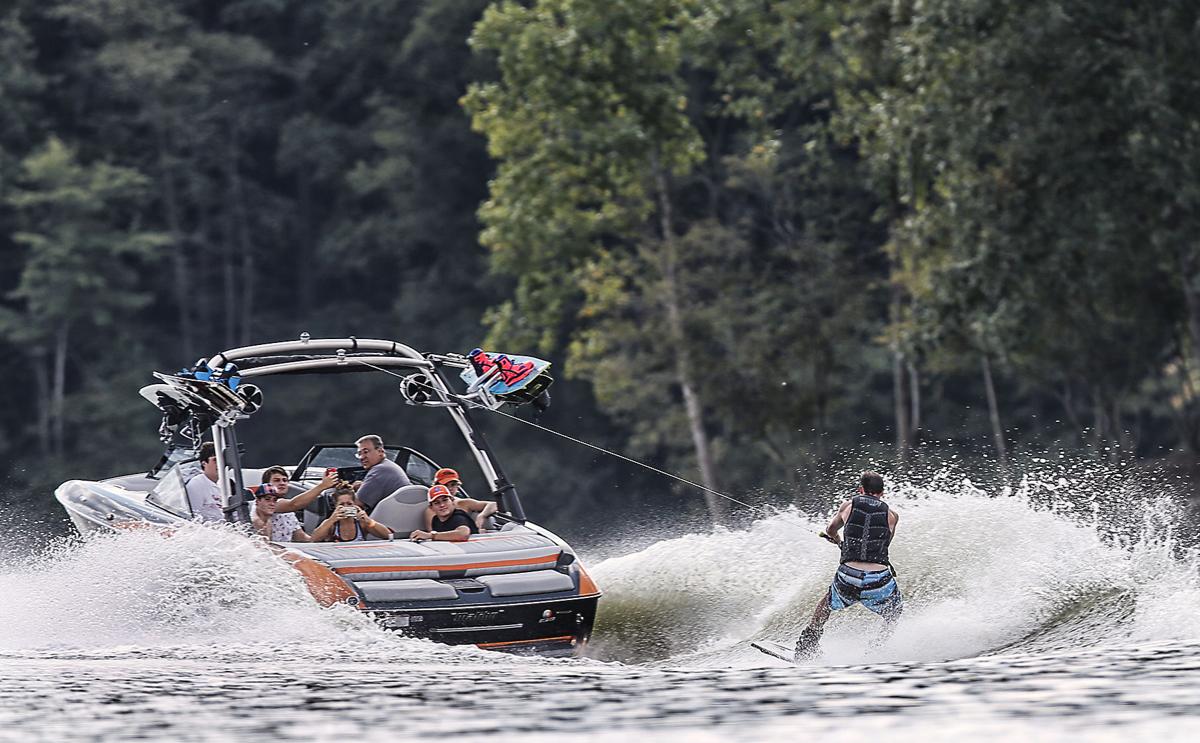 Thirteen-year-old Cassidy Gutter took up surfing a couple years ago—only she rides waves on a manmade lake in Spotsylvania and Louisa counties.
Her family's 2016 Malibu Wakesetter boat is designed to create wakes for surfing and wakeboarding, allowing Cassidy to surf on Lake Anna rather than the nearest ocean hours away.
Her family lives in the Prince William County town of Haymarket, but comes to Lake Anna most weekends during the summer.
"It's so good for family time," Cassidy said.
Earlier this month, she and her 11-year-old brother, Gabe, competed in a small wakeboarding and wakesurfing competition on the 13,000-acre lake.
But her parents say a proposed restriction on boats with "wake-enhancing capabilities" may lead them to spend their tax dollars elsewhere. The Spotsylvania Board of Supervisors recently approved a resolution asking the State Department of Game and Inland Fisheries to prohibit the boats from producing wakes within 200 feet of the county's shorelines, piers, docks and boathouses on Lake Anna.
The resolution also seeks to prohibit water skiing—and other watersports in which someone is towed by a boat— within 100 feet of shore.
Currently, it is against state law for any boat to produce a wake within 50 feet of docks, piers, boathouses and swimmers. Nationally, other states have grappled with bans on wake-enhancing devices in response to concerns about shoreline erosion and other issues.
Spotsylvania's resolution states that boats now have "innovative designs" to produce larger wakes, causing safety concerns on Lake Anna. It cites reports of small boats overturning because of the wakes, waves crashing onto occupied docks, and damage to riprap and seawalls.
The Louisa Board of Supervisors considered a similar resolution in July, but did not pass it.
The Board of Game and Inland Fisheries will give the public several opportunities to comment before making a decision on Spotsylvania's proposed restriction, a spokesman said. The process could take from eight months to as long as two years.
The county's recent public hearing on the proposal drew 23 supporters and 18 opponents.
Many longtime property owners on Lake Anna support the restriction, saying wakesurfing has robbed them of the ability to enjoy certain parts of the lake.
Wakesurfers say the county is unfairly singling out their sport, which they say is a tourism draw. They contend the restriction would increase the likelihood of accidents by forcing all boaters to the center of the lake.
"You're basically going into the subdivision and telling people you don't want the kids to play on the grass; you want them to play on the middle of the road," Wally Hayden told supervisors.
Leigh Loader, who lives in Kelly's Landing in Mineral, said her family can't boat on weekends because the wakesurfers hit the water in the morning and stay there until after dark. If her family tries to dock their boat, she told supervisors, the wakesurfers come through and "bounce us around."
"If the wakesurfers could come up with a suggestion on what to do and how to be considerate of the people that live there, it would be a different story," said Loader, who said she's concerned for the safety of her grandchildren and others. "They are not caring about us. They are only thinking of their own concerns."
Sheriff's deputy William Schroeder Jr., who patrols Lake Anna, also spoke in support of the restriction at the public hearing, saying he's seen wakes repeatedly knock children off their paddleboards.
Schroeder grew emotional as he mentioned the death of his partner, Deputy Dean Ridings, who was fatally injured in 2010 after a large wake hit his boat. It's unknown whether the wake was caused by a boat with wake-enhancing technology.
"I was driving that boat," Schroeder said. "I live with it. I dealt with that wake. I struggle with it all the time. But that was my brother, that was my partner.
"For these people to come in here and feel everybody has to accept them and what they're doing is wrong. The lake should be shared by everybody."
But wakesurfing proponents note that all boats create wakes and question how the restriction would be enforced. And they say there is no proof that wakesurfing alone erodes shorelines.
Statewide, the Virginia Department of Game and Inland Fisheries received reports of 77 boating incidents in 2015, including seven nonfatal incidents on Lake Anna. The most common incidents included collisions with boats or fixed objects, capsizing and people falling overboard.
The report did not say whether any of the accidents were caused by large wakes. But a DGIF spokesman did confirm that none of the seven incidents on Lake Anna was caused by another boat's wake.
Spotsylvania Supervisor Timothy McLaughlin, who cast the only vote against the resolution, complained that the board received no factual data to back up any of the claims.
"Right now, it's just a lot of opinion . . . because we've got no factual documentation or analysis provided to the board," he said.
Supervisor Greg Benton said the board should take the advice of Deputy Schroeder. "We lost a deputy because of a large wake . . . and I don't want to see anybody else lose a life," Benton said.
Local politics aside, Cassidy said she's less likely to get hurt wakesurfing than wakeboarding because it's done at a much slower speed.
Surfers start by grabbing a rope attached to a boat. They drop the rope after the boat pulls them onto the edge of a wake, which they surf at speeds of about 10 mph. Wakeboarders hang on to the rope and reach speeds of 15 to 25 mph.
Cassidy said she likes carving wakes and trying other new tricks.
Her mom, Danielle Gutter, said the family is interested in buying property on Lake Anna—so long as the state doesn't pass Spotsylvania's proposal.
"It would just take away from so much of the tourism," she said.
Jeff Branscome: 540/374-5402