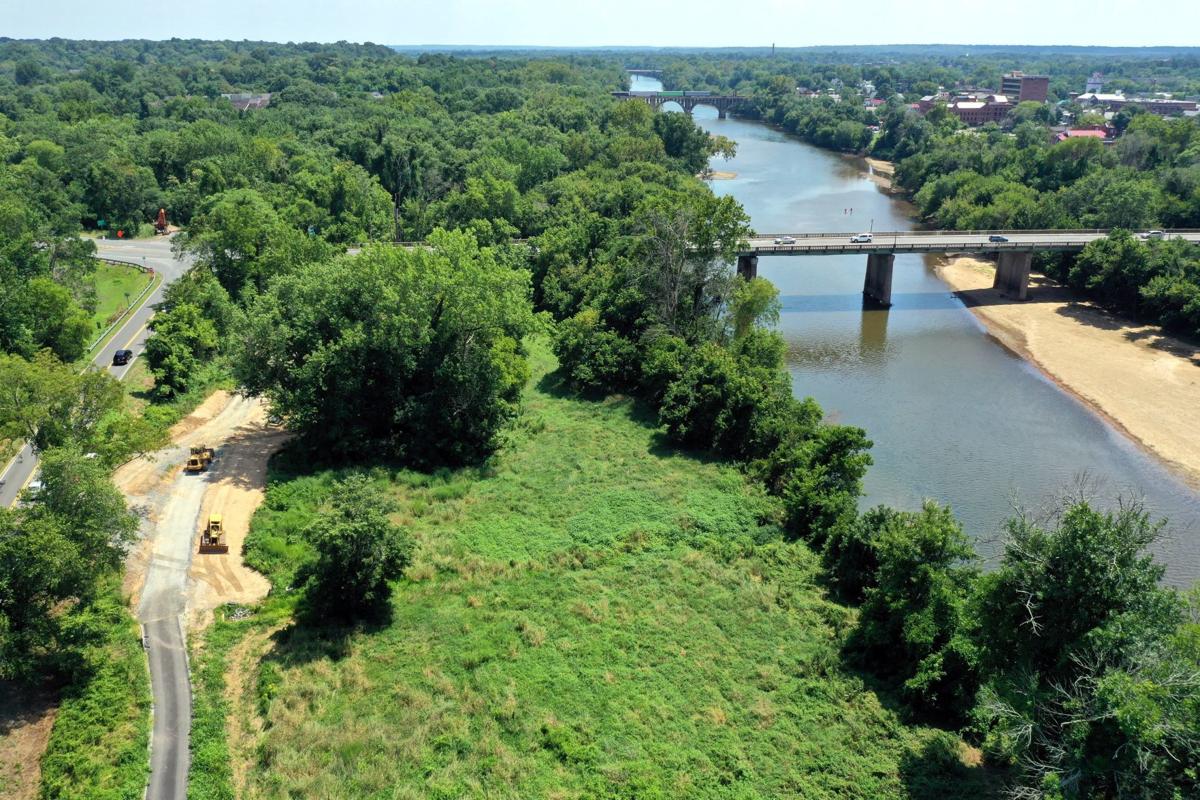 Three locations within Stafford's growing pedestrian mobility network are targeted for expansion.
Combined, the new extensions will total only about 1.1 miles.
That may not sound like much, but what the new sidewalks and trails will do is finally connect some of the county's "sidewalks to nowhere."
More importantly, the new additions will also provide residents safer passage along some of Stafford's busiest thoroughfares: Staffordboro Boulevard, Salisbury Drive and at the Belmont–Ferry Farm Trail.
At Staffordboro Boulevard, county officials say a proposed 1,200-foot stretch of concrete sidewalk will connect to existing sidewalk that runs along nearly half of the Virginia Department of Transportation's Park and Ride commuter lot at that location.
"Right there by the water tank, there's no existing sidewalk along the road frontage, so our plan is to install sidewalk there and extend it all the way down Staffordboro Boulevard, where it will connect up with the existing sidewalk there at Pike's Place," said Alexander Owsiak, Stafford's transportation program manager. "It will fill in a missing sidewalk segment."
To build the new walkways, county officials have asked for more federal funding through the Federal Highway Administrations' Transportation Alternatives Set-Aside Program.
County officials submitted applications for the federal funding Oct. 1 and said the county will be notified in the summer as to which of the three proposed extension projects were selected, as well as how much each project will receive.
Two other projects county officials hope to receive funding for include a 900-foot section of sidewalk at Salisbury Drive, as well as a 3,700-foot asphalt pedestrian and bicycle extension to the Belmont Ferry–Farm Trail. The width of that multi-model stretch would be 10 feet.
The Salisbury Drive extension would run between Garrisonville Road and the VDOT Park and Ride lot at Mine Road and Greenspring Drive. A pedestrian signal and a crosswalk would be included in that upgrade, installed at the Greenspring Drive intersection.
For the Belmont Ferry–Farm Trail extension, Owsiak said the extension will run from the Chatham Bridge, the current terminus of the trail, along the east side of Kings Highway, to the existing bicycle and pedestrian lanes at Cool Springs Road. A pedestrian signal and a crosswalk will be installed across the highway at that location to allow safe pedestrian access to Cool Springs Road from the trail.
Owsiak said the earliest the funds would be available for the new projects is October 2020.
"Once we have design further along before we go to acquire any property, we'll have another public meeting showing our design and getting public comment again," said Owsiak.
The first public hearing on the proposed projects was held in conjunction with the county supervisors' meeting Nov. 6. Owsiak anticipates the next public hearing will occur in summer 2021, after identifying and working with design professionals.
"I would think we'd have it far enough along we could have something to display to the public by that summer," he added.
Some parcels of land will have to be acquired to complete the new projects, but Owsiak said the county hopes to place portions of the extensions into easements to limit any disruptions for private property owners.
"We're only talking a couple of parcels, most of them are owned by HOA developments," said Owsiak. "I feel they'd be inclined to work with us to acquire the property, since it would be a benefit for their community as well."
The federally funded transportation alternatives program is managed locally by VDOT. The program allows for a variety of smaller-scale, nontraditional transportation projects, such as trails and other improvements that benefit for pedestrians and bicycles.
The program also allows a maximum of 80 percent reimbursement for eligible projects.
Without reimbursement, the total cost of the latest three proposed pedestrian projects combined would be $4.64 million, or $800 per foot to install the additional 5,800 feet of asphalt and concrete. After reimbursement, the county's total cost for the projects is expected to be $928,240, or just $160 per foot.
In June, the county released its Bicycle and Pedestrian Facilities Plan, which identified locations in the county to "meet growing demand, to provide viable and safe alternatives to automobile transportation, to expand recreational opportunities, and to identify strategies and resources for providing these facilities."
Owsiak said the county is committed to making Stafford more bicycle and pedestrian friendly in the long term as an alternative to putting more vehicles on the county's consistently jammed roadways.
"We're looking at other multi-modal forms of transportation, rather than just single users in their cars driving around town," said Owsiak.
James Scott Baron: 540/374-5438
Get local news delivered to your inbox!
Subscribe to our Daily Headlines newsletter.