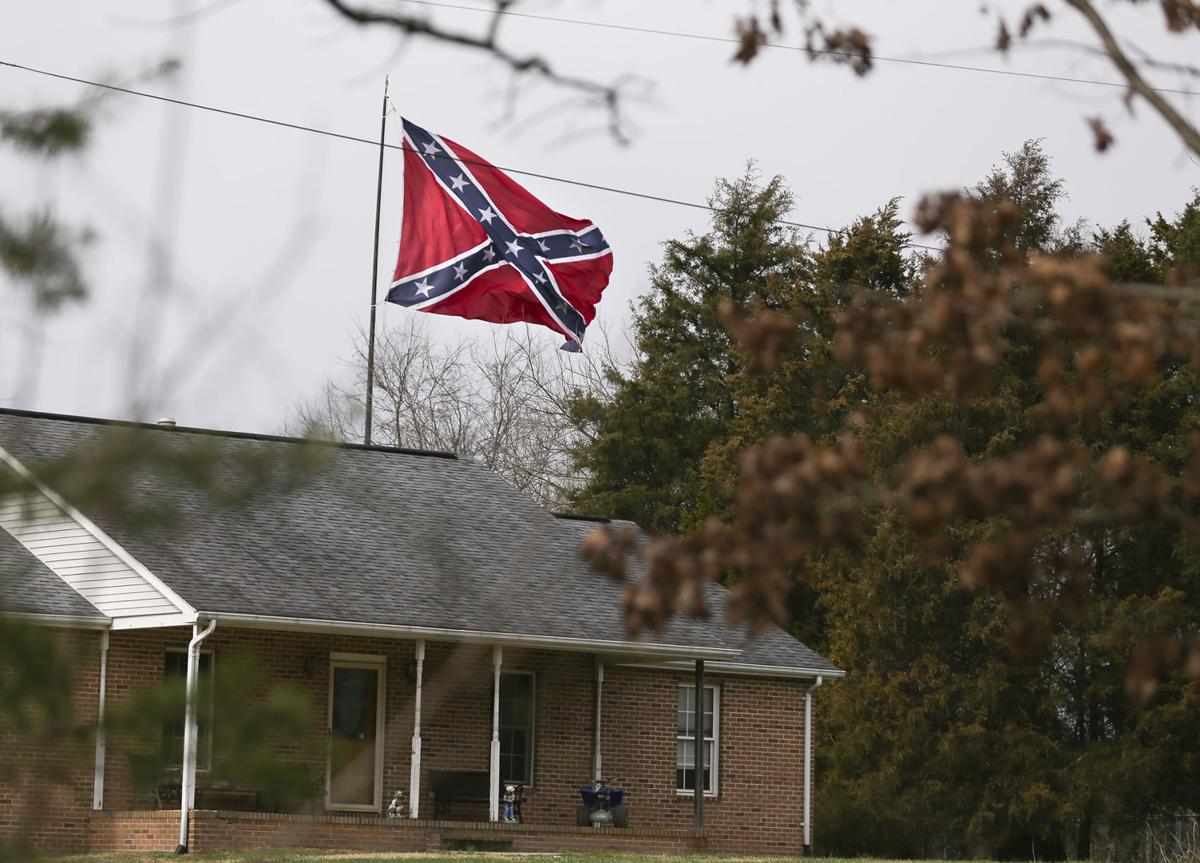 Future flagpoles and monuments located within Stafford County will now be regulated by height limits, depending on where you live, or where your business is located.
The focus on height restrictions began six months ago, following the May 25 death of George Floyd during a police arrest in Minneapolis. Following that incident, local attention and rage was directed toward an oversized Confederate battle flag that flew in Stafford County for six years from an 80-foot flagpole along Interstate 95.
"We believe today that that flag represents racism," Melvin Allen of Stafford said during a July 7 Board of Supervisors meeting. "It's a racist symbol. If we look at what's going on in America today … that flag that sits on someone's land, that flies across America's highway, we believe that is a racist sign."
That controversial flag came down late last month to make way for road improvements along I–95. Immediately after its removal, the Virginia Flaggers, who rented the lot on Beagle Road where the flagpole once stood, posted on its Facebook page that members "removed the flag today with the promise that it will be a temporary removal and that flag has been placed in safekeeping for the rededication and raising at its new location, to be announced in the coming months."
Although the Virginia Flaggers' new location could ultimately be somewhere in Stafford, the banner will not be as visible—or as prominent—as it once was.
On Tuesday, supervisors voted 5–2 to remove flagpoles and monuments from the list of structures found in county ordinances that are exempt from height limitations.
Tuesday's vote now limits the heights of new flagpoles and monuments in the county, based on the zoning of the property where they are located.
"We are not allowed to regulate the content of anybody's flags. We don't have those rights," said Supervisor Meg Bohmke. "This is going to bring it in line with our zoning districts, and I feel it's a zoning change that we're doing here, and I feel that it's a good zoning change."
According to the ordinance, the list of exemptions that flagpoles once belonged to includes "spires, belfries, cupolas, antennas, communication towers, silos, barns, water towers, ventilators, chimneys, or other appurtenances usually required to be placed above the roof level and not intended for human occupancy."
As a result of the supervisors' decision Tuesday, monuments or flagpoles shall not exceed 35 feet on residential or agriculture parcels, while flagpoles on commercial and industrial parcels are limited to 45 feet in height. Although the new changes do not impact flags or monuments already established within the county, future requests to exceed those limitations by no more than 10 feet now require a special exception via county approval.
Several nearby counties already regulate the height of flagpoles and monuments. Spotsylvania County has no restrictions in residential zones, but limits commercial zone heights to 25 feet. Prince William County has a countywide 40 foot flagpole limit.
"In looking through Supreme Court decisions this morning prior to my work, the courts have said that it is legitimate for communities to come up with reasonable limitations on monuments and structures in their community," said Supervisor Tom Coen.
On Tuesday, Supervisor Cindy Shelton said she was opposing the measure because the new ordinance will not prevent similar controversial flags from flying in the county.
"Someone can raise a flag at all these heights that we have ... and they can put anything that they want on it," said Shelton. "They could take down all the trees and then be right next to [Interstate] 95 and still have it. I don't like it when we create ordinances to pretend to solve a problem that we're not solving."
But Supervisor Crystal Vanuch, who also voted against the new ordinance, had a different view on voting against the new height restrictions. Vanuch said reducing the height of flagpoles in the county might impact delivering broadband service to rural residents.
"I'm very worried that one of the unintended consequences of doing this … would be to limit an individual in the rural parts of the community from being able to bring out broadband to their home by utilizing a flagpole," said Vanuch.
Although once an extremely hot topic in the community, only three county residents took part in the public hearing prior to Tuesday's vote.
Stafford resident Gary Holland, who has been a longtime outspoken critic of the I–95 Confederate flag, urged supervisors to pass the ordinance. Holland said he's fine with residents flying any type of flag they want on their own property, but added that the new height restrictions will ultimately help curb future instances of divisiveness in the county.
"I do oppose the flying of any flag so high that people are seeing it from the interstate … especially a flag that's divisive," said Holland. "I believe if this ordinance isn't put into place, that's what we'll see here in Stafford County in the future, and we'll have more division and more conflict within our community."
James Scott Baron:
540/374-5438
Get local news delivered to your inbox!
Subscribe to our Daily Headlines newsletter.