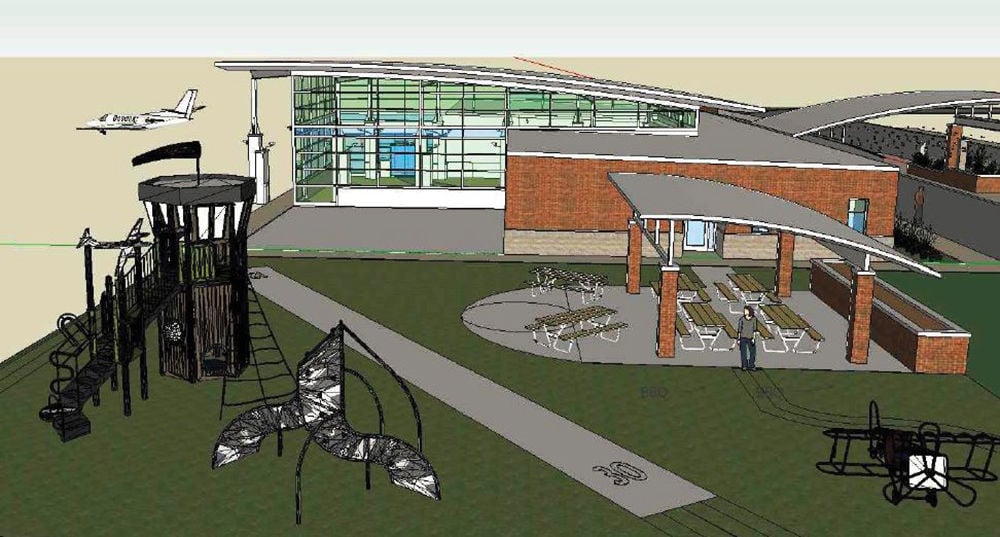 Children exhibit a natural curiosity about airplanes. Many will stop in their tracks as soon as they hear the buzz of a plane overhead.
It won't be long before Stafford County residents and visitors can explore that interest in airplanes at an aviation-themed playground coming to Stafford Regional Airport.
Virginia Paving completed the miniature runway and taxiway paths last Friday morning. Children will soon be able to ride pedal planes down the runway, or take their own bikes and trikes for a spin.
The finished product will look like a miniature airport. In addition to the tiny runway, there will be a picnic pavilion and play equipment that includes a control tower with scopes to look at the planes and technology that will allow the children to hear actual pilot radio transmissions.
The engines propelling the creation of the playground forward are two nonprofits: EAA Chapter 1099 and Rappahannock Aviation Outreach. The organizations have been working tirelessly since 2015 to get the approvals and funding necessary to make the playground a reality.
Stephanie Johnson, president of Rappahannock Aviation Outreach, said the organization held several fundraising events over the past couple of years, including the Stafford Runway Runaway 5k runs and the Wings & Swing benefit dances. These efforts led to enough funding to move forward with construction of the picnic pavilion, runway and fencing.
Once the paths and picnic shelter are complete, the next step will be installation of the play equipment. Johnson said the groups plan to raise money for the play structures through a campaign involving bricks that will line the path to the play area. Donors can purchase bricks and have their names inscribed on them.
"It is a nice way to contribute to the community," Johnson said.
The final phase of the project will be putting up educational signs. Johnson said these are an integral part of the park, since the goal of the playground is to introduce youth to the aviation and aerospace industry.
"Aviation is looking at an upcoming pilot shortage—not as many people are engaged," she explained.
Johnson said airport playgrounds are becoming popular. The inspiration came from an aviation-themed playground in Greenville, S.C., which draws visitors from all over.
People used to visit airports often—just to watch the airplanes come and go, Johnson explained. However, 9/11 and the security measures put in place in the aftermath made that impossible.
"Over the years, people have stopped coming to airports," Johnson said. "We are trying to turn that around."
The completion date for the project is dependent on funding. However, visitors will likely be able to use the runway and picnic pavilion by the end of the year.
"Now that we are breaking ground, I think we will start building enthusiasm and the project will go faster," Johnson said.
Amanda Vicinanzo: 540/735-1975
@Avicinanzo