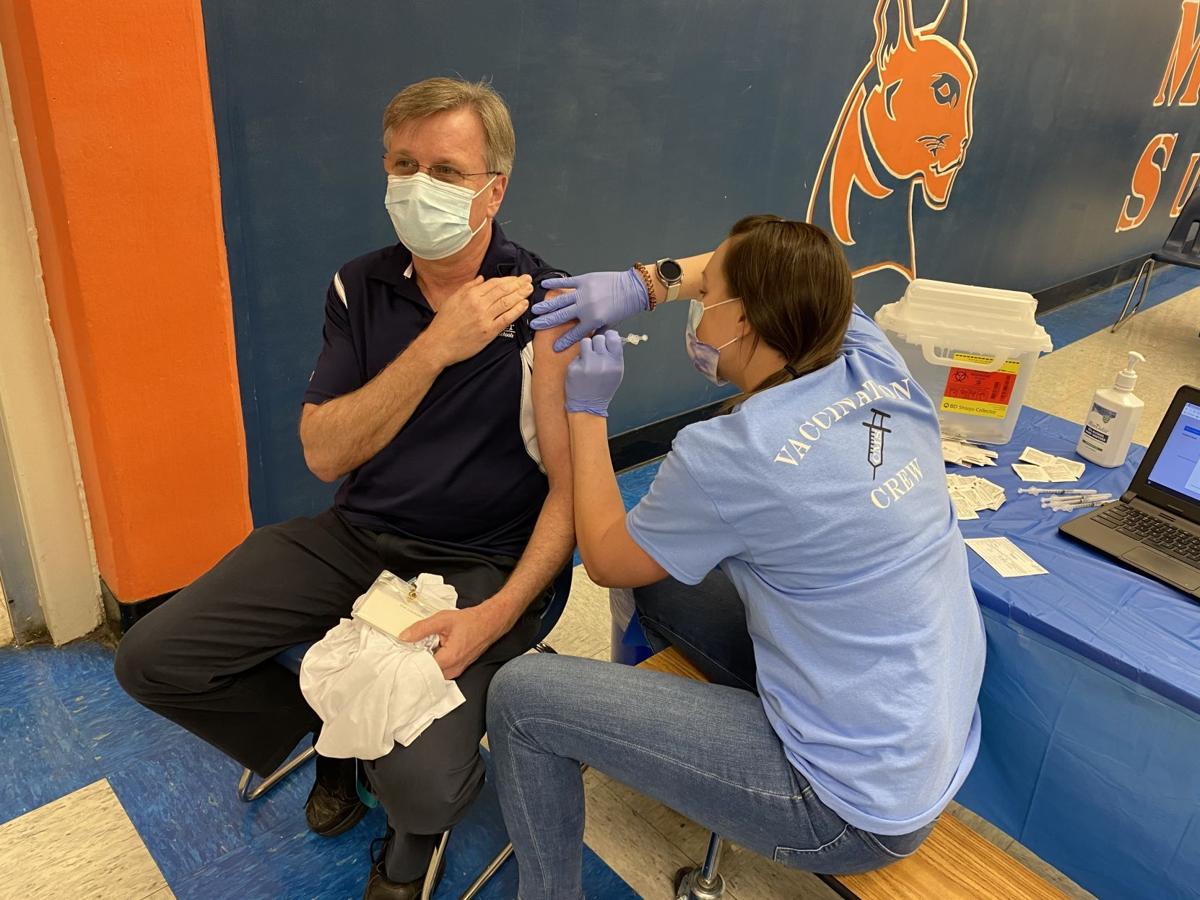 Health districts across the Fredericksburg region are ready for the news Gov. Ralph Northam announced Thursday: Anyone in Virginia age 16 and older who wants a COVID-19 vaccine will be eligible for it starting April 18.
That's almost two weeks ahead of President Joe Biden's goal of having the general public eligible for shots by May 1.
"We're on the cusp of open eligibility. It is really just days away and that's a great thing for our community," Dr. Mike McDermott, CEO of Mary Washington Hospital, said during an "Ask the Mayor" session recorded this week with Fredericksburg Mayor Mary Katherine Greenlaw. "It's the best health decision that you can make for yourself, and so I encourage everybody to get vaccinated as quickly as possible."
Northam was visiting a vaccination clinic in Prince William County when he made the announcement. He said nearly every Virginian in the highest risk groups who has pre-registered has been vaccinated, and those who remain on the list will get appointment invitations within the next two weeks.
"The COVID-19 vaccine is the light at the end of the tunnel—and that light is getting brighter every day," Northam said.
More than one of every three adults in Virginia has gotten at least one shot, and one in five has been fully vaccinated, according to state data. Those same trends are true in the Rappahannock Area Health District, which includes Fredericksburg and the counties of Caroline, King George, Spotsylvania and Stafford.
Health district officials throughout the region, from the Rappahannock-Rapidan Health District that covers Culpeper, Fauquier and Orange counties to the Three Rivers Health District in the Northern Neck and Middle Peninsula, said they're ready to expand vaccine eligibility to the general public by the governor's target date.
They're also encouraging all those interested in getting vaccinated to register with the centralized state system at vaccinate.virginia.gov or over the phone through Virginia's COVID-19 call center at 877/829-4682, daily from 8 a.m. to 8 p.m.
Assistance is available in English, Spanish and more than 100 other languages. Videoconferencing in American Sign Language also is available at vaccinate.virginia.gov
As eligibility shifts to younger people, health officials will continue to prioritize groups in the first tier who haven't been vaccinated, said April Achter, population health coordinator for the Rappahannock–Rapidan Health District.
Like those in other areas, Achter said her health district "will also continue to focus on reaching our vulnerable populations, targeted outreach and maintaining our current vaccination clinics with our community partners."
Some of that outreach has focused on essential workers who may not have realized they were eligible for vaccination, said Mary Chamberlin, public relations specialist with the Rappahannock Area Health District. She sent out reminders this week to those who work in cleaning and janitorial services, letting them know they're part of Tier 1b and remain a priority for vaccination.
Likewise, anyone age 65 and older can call the Rappahannock Area Health District to schedule an appointment. Its call center is open 8 a.m. to 4:30 p.m. on weekdays. The number is 540//899-4797, press 0.
Across Virginia, 21 of the state's 35 local health districts have been vaccinating workers in Tier 1c, the last phase before eligibility is opened to everyone. Beginning April 4, districts that have vaccinated all their 1c workers can begin sending appointment invitations to members of the general public who have registered, according to a press release from the governor's office.
The timing doesn't mean that health districts won't continue vaccinating people in earlier groups, said Lisa Laurier, population health manager with the Three Rivers Health District.
"We will be vaccinating all groups," she said.
Pastor Leonard Lacey of the United Faith Christian Ministry in Stafford County sees the expansion of vaccine to the general public as yet another hopeful sign. He's noticed a shift in attitudes as more vaccines have become available.
"We're finding excitement now," Lacey said, among congregations and communities of color, especially as more Blacks and Latinos have been vaccinated and shared their stories with others. "A month ago, there was a reluctance, but that has changed over to enthusiasm now. People are seeking and wanting it done."
Lacey said the increase in vaccines coincides with a collaborative effort by his church, local businesses, Stafford County government and the Fredericksburg Regional Food Bank to offer a regional food pantry for those in need. It's open to all residents of the Rappahannock Area Health District, as well as those from Locust Grove in Orange County.
The giveaway happens each Thursday from 7 to 8:30 p.m. with registration starting at 6 p.m. The pantry is at the church annex, 60 Susa Drive, Unit 117 in Stafford.
"It's just an exciting time for our community, seeing the vaccine coming and being able to give them good food," Lacey said. "The community has really rallied to provide something wholesome. It just feels like spring is in the air, a sense of unity and joy is coming."
Cathy Dyson: 540/374-5425