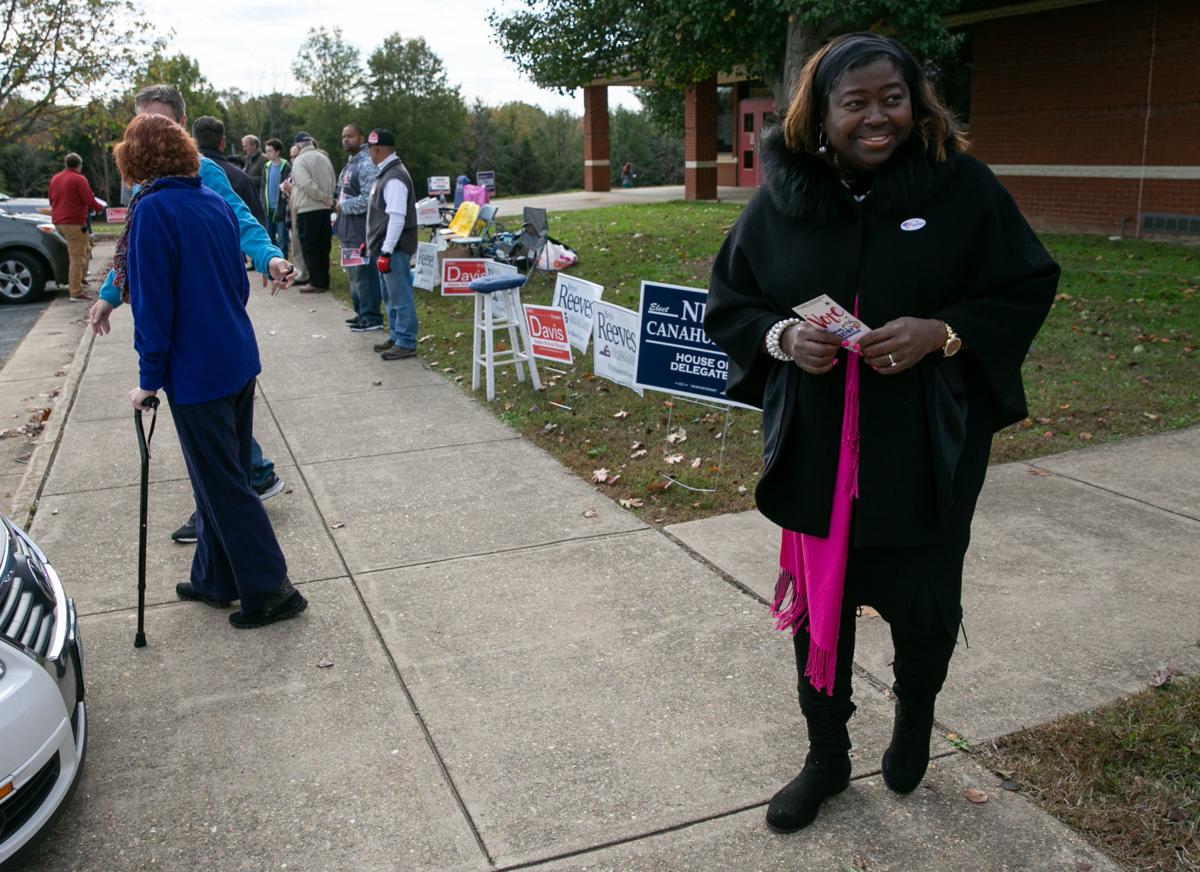 A pair of winners in Tuesday's election described their experiences as surreal.
That might be a common feeling in Virginia after an election that brought key shifts on local and state levels, which some believe could also be mirrored on the national level.
The obvious change in Tuesday's elections came with the flipping of control in Virginia's General Assembly to Democrats. The results are seen by some as a referendum on the Trump presidency, even while Republicans in Kentucky and Mississippi performed well, and Republican incumbents in other districts in the Fredericksburg region easily won re-election.
Tuesday's elections also seem to indicate changing demographics, something highlighted by women and African Americans winning seats in statewide and local races.
The 28th District Senate race was a key victory for Democrats, with Joshua Cole defeating Republican Paul Milde.
He is the first Democrat to win the 28th District seat since 1982.
Cole also is African American. And he wasn't alone in the winner's circle, as several other African Americans won local seats in Stafford and Spotsylvania counties.
In Spotsylvania, a pair of African American women won seats on two boards traditionally represented by white men.
Deborah Frazier beat incumbent Salem District Supervisor Paul Trampe. Frazier, a principal at Chancellor Middle School, became the first African American to win a seat on the board.
Like Cole, Frazier described the win as "surreal."
There was a similar shift for the Spotsylvania County School Board.
In a race for one seat on that board, Lorita Daniels beat two male candidates in a three-way race to represent the Salem District.
Daniels will be the second African American on the School Board, joining Board Chairman Baron Braswell, who represents the Battlefield District. She said county board members need to accurately reflect the people they represent.
"Our community is changing and it's time for our boards to change, too," Daniels said.
In another School Board race, Rob Abuismail beat incumbent James Meyer for the Courtland District seat. The 22-year-old Abuismail is the youngest person ever elected to office in Spotsylvania, according to the county registrar.
Abuismail was born to Lebanese–American parents in Lebanon and came to Spotsylvania when he was 6.
He said his age and his background will help him be more representative of the students and teachers in Spotsylvania County.
"This was a victory for the young generation," Abuismail said. "To [the students who volunteered for his campaign] I'm their friend, their older brother, their older cousin. They have someone on the board now they can relate to."
Braswell has been the only African American on the board for the six years he has served as the Battlefield representative. He is the second African American to be elected to a leadership position on the board, he said, following Lee Broughton, who served on the board between 1995 and 2006. 
"I'm excited that both of the boards will be a bit more diverse," he said. "I think both boards can benefit from increased diversity in terms of ethnicity and gender. Sometimes having different perspectives at the table can help solve problems."
Braswell said both Daniels and Frazier ran campaigns that transcended race, which is something he has also tried to do.
"I think people viewed them as talented candidates who just happened to be African American," he said. "They are people of color who transcend race, and I hope that through my work, I have also exemplified that kind of candidate."
A similar scenario played out for Stafford's Board of Supervisors.
Unofficial results showed Tinesha Allen upset longtime Griffis–Widewater Supervisor Jack Cavalier by 18 votes, becoming the first African American woman ever elected to Stafford's Board of Supervisors.
"It's great to make history," she said. "It helps make younger kids know anything is possible."
Allen will be the fourth woman on the seven- member board, joining Crystal Vanuch, who won the Rock Hill District seat Tuesday, Falmouth Supervisor Meg Bohmke and Aquia District Supervisor Cindy Shelton.
"We are a very dynamic society—a lot of things are changing—and I've always been a big proponent of change," Bohmke said. "I think it's going to be very exciting to have four women on the Board of Supervisors. I remember when I served with Laura Sellers a few years ago and there were only two of us ... and we're like wow, how just two women changed the dynamics. Women are not any better than men, but we look at things a little bit differently."
Outgoing Rock Hill Supervisor Wendy Maurer, who did not seek re-election, said new faces often offer new approaches to issues.
"What I think that they will bring is a fresh perspective, and so, instead of, 'we've always done it that way,' they may question why we are doing it that way," she said.
Stephen Farnsworth, professor of political science and director of the Center for Leadership and Media Studies at the University of Mary Washington, said Tuesday's results follow trends in recent years.
There has been a "steady progression" in which elected officials are "starting to look like the people that represent them more than ever before," he said. "Virginia is moving rapidly to greater diversity among elected officials."
Many Democrats have taken the Trump presidency "personally," pushing them to run for office on all levels, Farnsworth explained, adding that the same is true of Republicans and independents.
The poll numbers also indicate more interest in this year's elections.
Across the state, about 40 percent of voters cast ballots in Tuesday's elections, compared with 29 percent in 2015, according to the Virginia Board of Elections.
Farnsworth noted that Republicans must improve their standing in suburban areas to reverse the losses they've experienced over the past three years.
Reporters James Scott Baron and Cathy Dyson and contributed to this report.
Scott Shenk: 540/374-5436
Get local news delivered to your inbox!
Subscribe to our Daily Headlines newsletter.