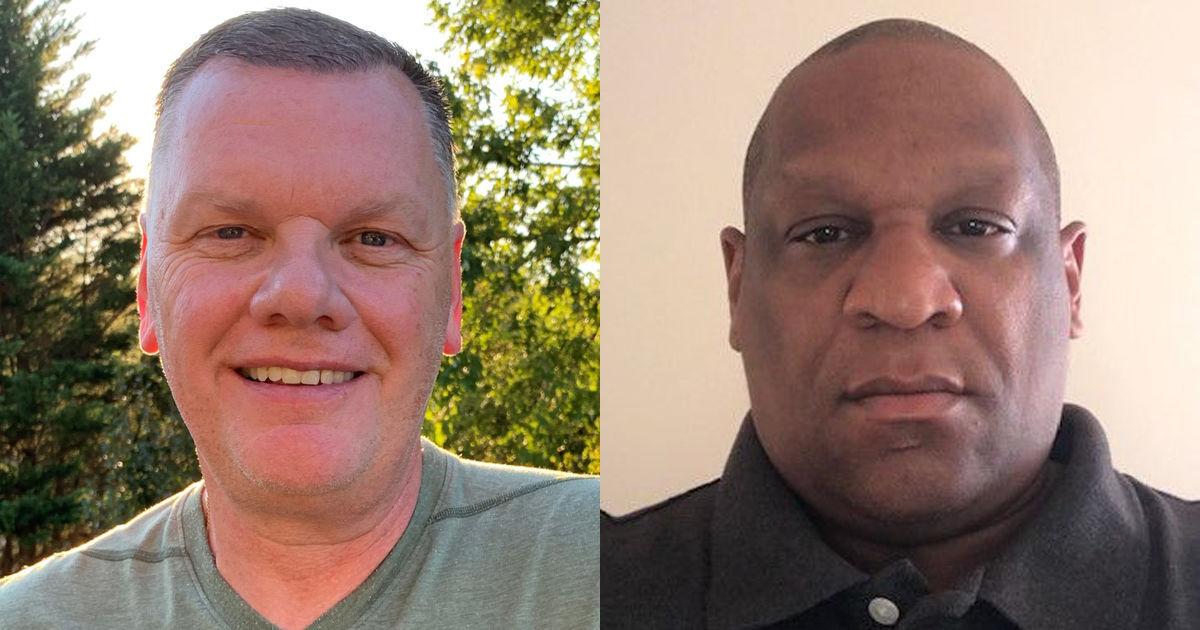 Two career law enforcement officers are seeking the same seat in Stafford County's Hartwood district supervisor race Nov. 2.
Republican Darrell English, a county deputy, and Democrat Keith Jones, a retired Secret Service agent, each hope to succeed outgoing Supervisor Gary Snellings.
Longtime Stafford County Sheriff's Deputy Darrell English is seeking the Hartwood District seat on the county Board of Supervisors. 
English, who has served on the county's Planning Commission for the last eight years, said he retired after 42 years with the Stafford Sheriff's Office in 2017, but returned the following year to assist in county court matters, where he still remains on the job part-time.
"I want to keep the hometown flair of Stafford County," said English. "I want to keep the momentum moving as far as being conservative in Stafford County."
Jones, who moved to Stafford more than 15 years ago and now is an investigator for Capital One, said his duties and responsibilities with the Secret Service took him to major cities across the U.S. and abroad, and gave him a unique perspective on politicians both on the job and behind the scenes.
Keith Jones is a retired Secret Service agent who is running for the Hartwood District seat on the Stafford Board of Supervisors.
"I saw things that I liked and things that I don't like," said Jones. "The reason I'm running is because I think we need to improve our political situation, the way we treat each other and the way we behave."
If elected, English said he will work with fellow supervisors to meet the needs of all county residents.
"I'm not just a supervisor for Hartwood, I'm a supervisor for everybody in the county," said English. "We serve everybody, and it's just like my badge with the Sheriff's Office. It says Stafford County. It doesn't say Hartwood."
Jones said he recognizes each county supervisor comes from a different background, and each looks at issues from a different point of view, but he believes he can work harmoniously with all of them, as he did with fellow soldiers during his experiences in the military.
"You're put in a group of different people from around the country and you have to learn to work together to accomplish the mission," said Jones. "It's the same way here."
English believes one of the biggest issues facing Hartwood residents is traffic and congestion. He supports feeder roads to ease some of that traffic and a bypass for motorists around the U.S. 17 corridor beginning near Fauquier County to divert out-of-state travelers away from the southern Stafford region and back onto Interstate 95.
"Most of the traffic on [U.S.] 17 is coming out of Warrenton, Pennsylvania, places like that," said English. "Maybe [a bypass] around [U.S.] Route 29 and hit [State] Route 3 to maybe help with some traffic."
Jones, who lives along the same busy corridor, also favors a bypass or an east–west connector road to help channel traffic away from the Hartwood district.
"We're going to have to fix that," said Jones. "More roads have to be accessible to [Interstate] 95 other than [U.S.] 17."
Each candidate has other thoughts on how to ease traffic throughout the county, and English said existing technology is already available that's not being used to its fullest potential.
"We can work with VDOT to get the lights in sync when we have an incident to keep the traffic moving a little faster than what it's doing now," he said.
In addition to a bypass, Jones also favors exploring alternative ways to move commuters and lower the number of vehicles on local roadways, including extending Metro service to the Stafford region. He said local businesses can also help by finding ways to help get their employees to work using commuter vans or rail.
On growth, both candidates favor keeping new construction within the urban services area and preserving rural land within the Hartwood district.
"When supervisors downzoned, I think that helped some, but you've got these by-right subdivisions you have no control over," said English. "I'm trying my best to slow the growth down."
Both candidates also favor finding options for affordable housing for residents who want to live and work in Stafford.
Jones said he's willing to listen to the experts to make affordable housing a reality for people like his own children, who recently graduated from college and found Stafford a difficult place to rent an apartment.
"There's no way they can afford it. Even if they were roommates, they still can't afford it," said Jones. "There has to be an answer, and I'm willing to listen."
English said he fully understands the important issues that face Hartwood residents every day.
"I've always been involved with the community," said English. "I know what the people want, because I'm out here every day talking to people."
Jones believes he's the right candidate for the job based on his experience and work around the globe as a federal agent, where he helped provide security for four U.S. presidents, as well as other high-ranking dignitaries.
"When you are exposed to different cultures, different people, that gives you a better perspective to work with different people," said Jones. "I think I'm the better candidate because of my life experience."
James Scott Baron: 540/374-5438