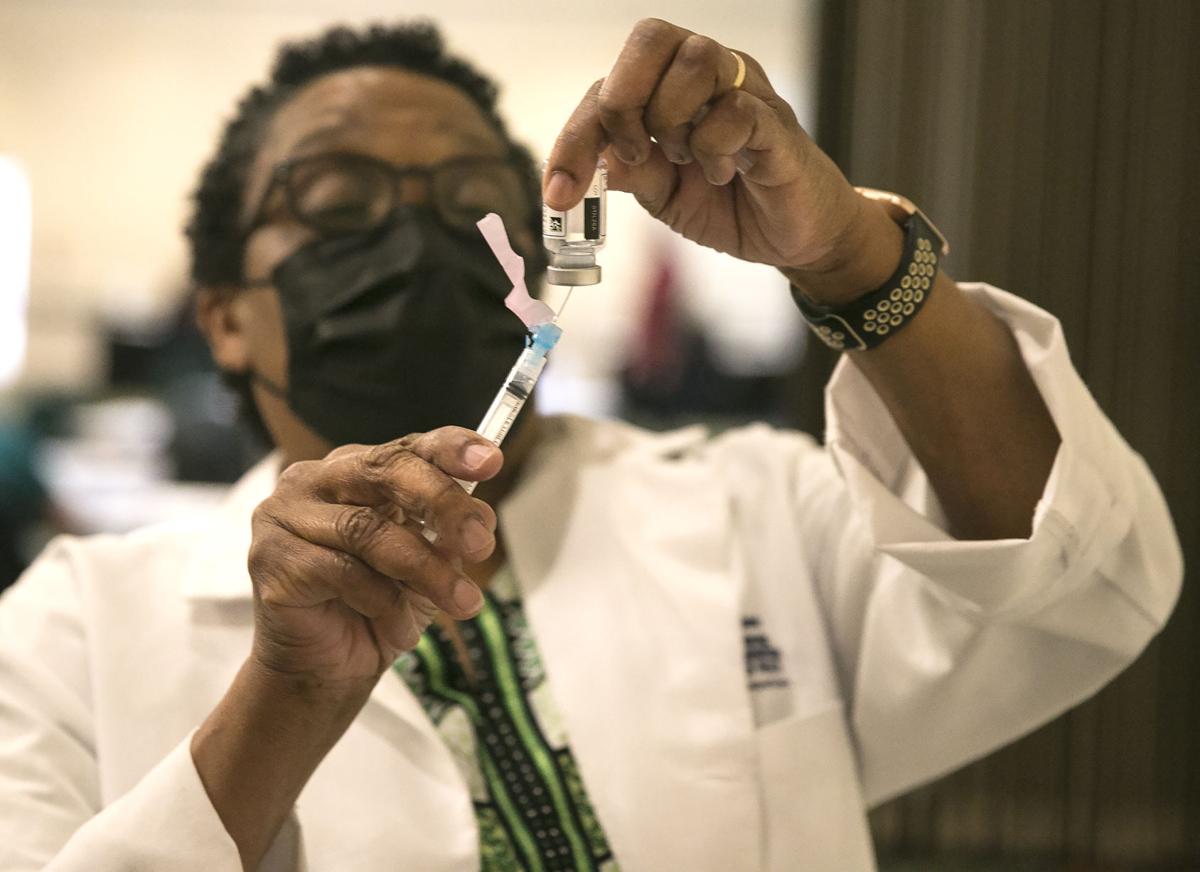 Virginia is moving those 65 and older higher up the line for COVID-19 vaccines.
Gov. Ralph Northam announced Thursday that those between the ages of 65 and 74, as well as young people with underlying conditions that put them at-risk for serious infections, will be moved up to tier 1b. They will be eligible for vaccinations at the same time as others already in that tier, which includes residents 75 and older, certain essential workers and those in correctional facilities, homeless shelters and migrant camps.
"This means about half of Virginia is eligible to receive the vaccine," the governor said, noting that 8.5 million people live in the state. "That's a major logistical effort, and it is not going to happen overnight. Everyone will need to be patient, and it's going to happen as fast as it can be done."
While the move probably gladdened a lot of older residents who are anxiously waiting their turn, it caught local health officials by surprise. Joe Saitta, the incident commander charged with rolling out the vaccine in the Rappahannock Area Health District, said state officials hadn't notified local health districts about the change.
That means they're not ready with the needed registration links or other necessary paperwork.
"As you can imagine, this afternoon shifted things a bit," said Allison Balmes–John, spokesperson for the district, adding it was "a huge change to our current plans."
She said that the local health district plans to have more information and links available at its website, vdh.virginia.gov/rappahannock, by close of business Friday. In addition, The Free Lance–Star will publish updated information Sunday on how people can register for the vaccine.
Becky and Chuck Boyer of King George County "were thrilled" to learn they could get the vaccine sooner. She's 70, he's 74, and the two emailed the newspaper less than 90 minutes after the governor spoke, wondering how they could sign up.
"We have been blessed to stay healthy through all of this, but have been anxiously awaiting the vaccine," she said, adding how surprised she was that those between the ages of 65 and 74, who often are included in the most at-risk group, initially were pushed farther back in line.
"We want to be able to spend time around our grandchildren," she said. "We have lost almost 20 percent of the youngest's life."
Those in the senior set certainly seem eager to get the vaccine, even if all those working on the front lines have not expressed the same level of enthusiasm. Local health officials said that during calls with their counterparts to the north, they'd been told between 40–50 percent of hospital workers were getting vaccinated, Balmes–John said last week. She suspected the rates were higher locally.
News about the vaccine rollout is evolving daily. Mary Washington Healthcare got a shout-out by Northam on Thursday as one of several hospital systems statewide helping vaccinate members of the public.
Mary Washington Healthcare has set up a vaccination clinic at the Fick Conference Center on its Fredericksburg campus. It has been vaccinating health care workers and will move to tier 1b, perhaps as soon as this weekend.
Likewise, public health officials are working to bring vaccination clinics to each locality in the Rappahannock Area Health District, which includes Fredericksburg and the counties of Caroline, King George, Spotsylvania and Stafford. They'll start with King George next week—more details will be announced later—and move on from there, Saitta said.
The Brisben Center homeless shelter in Fredericksburg announced Thursday that residents, staff and essential volunteers will begin receiving vaccines on Tuesday.
"Congregate facilities, including emergency shelters, are especially vulnerable to a COVID outbreak," stated a press release from the Brisben Center. "People who are homeless are several times more likely than the general population to have health conditions that exacerbate the virus's ill effects should they contract it."
Northam said the state is able to expand the pool of those eligible for the vaccine as a result of a "new attitude among federal partners." He said Virginia is following federal guidelines that urged states to immediately start vaccinating those who had been lower down on the priority list, such as those between 65 and 74 and younger people with comorbid conditions.
The federal government also loosened up another $3 billion in funding "to help make all of this happen," Northam said. "That is good news. This is what we've been saying, that a better federal partnership and support will help all the states get things done faster."
Dr. Danny Avula, who began leading the state rollout a week ago, said Virginia also is working on establishing mass-vaccination centers which could accommodate several thousand people and be open six or seven days per week. The state also plans to involve private providers and pharmacies, but those details are still being worked out.
Northam also said he was working with education officials to unveil plans on how schools could safely bring back more students once more staff members receive vaccinations.
Virginia is administering 15,000 to 17,000 vaccines daily and hopes soon to reach 25,000 a day, then double that number, Northam said.
Cathy Dyson: 540/374-5425