Video courtesy of Bailie Hayden
Drivers got a shock Wednesday afternoon when a group of big hogs scattered onto Interstate 95 in Thornburg, leading a pair of crash scenes, miles of southbound backups and injured swine.
The incident started just before 1 p.m., about two miles south of the Thornburg exit, and soon there were reports of "pigs running around the interstate," according to Kelly Hannon, Virginia Department of Transportation spokeswoman, who was monitoring the situation and tweeting updates.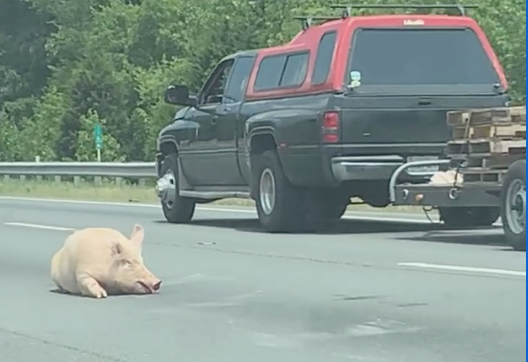 The Virginia State Police said the hogs were being hauled in a trailer hitched to a Ford F-250. The owner was charged with failing to properly secure the animals.
All but one of the hogs were placed back in the trailer at the scene closest to the Thornburg exit. One more hog was found to the south along I-95 just across the county line in Caroline.
The state police did not say how the hogs ended up in the roadway, but said the investigation continues.
Diana Madison was on northbound I-95 heading home to Orange County from Virginia Beach when she pulled up to the strange scene, where she saw a towel covering an animal and thought someone's dog might have been hit. The incident happened in the southbound lanes, but impacted traffic in each direction.
"Then it turned its face and I saw it and said, 'What the hell? You don't expect to see a pig,'" she said. "After I saw the first one, I didn't know if it was a wild hog or if somebody's pet got lose."
Madison also saw more hogs, four in all. And they weren't little potbellied pigs, but instead the kind of hulking swine that turn up at fairs.
Madison said about 10 people, including several motorists who had pulled over to help as well as Animal Control deputies, were giving aid to the hogs.
Some people were with the hog on the ground, which looked to be covered with a wet towel. Others had put a leash around one of the hogs to keep it from running onto the interstate. Another hog looked seriously injured and couldn't get up, she said, while a fourth had what she described as road rash.
From the back seat, her 2-year-old daughter, Bella, said: "Poor piggy, piggy crying."
Madison did not see any damaged vehicles, at least from the northbound side of the interstate where she was.
The incident led to lane and shoulder closures at two spots south of the Thornburg exit.
While police tried to clear the scenes, traffic backups extended at least two miles.
Both locations were re-opened at 1:40 p.m.
Scott Shenk: 540/374-5436
Get local news delivered to your inbox!
Subscribe to our Daily Headlines newsletter.