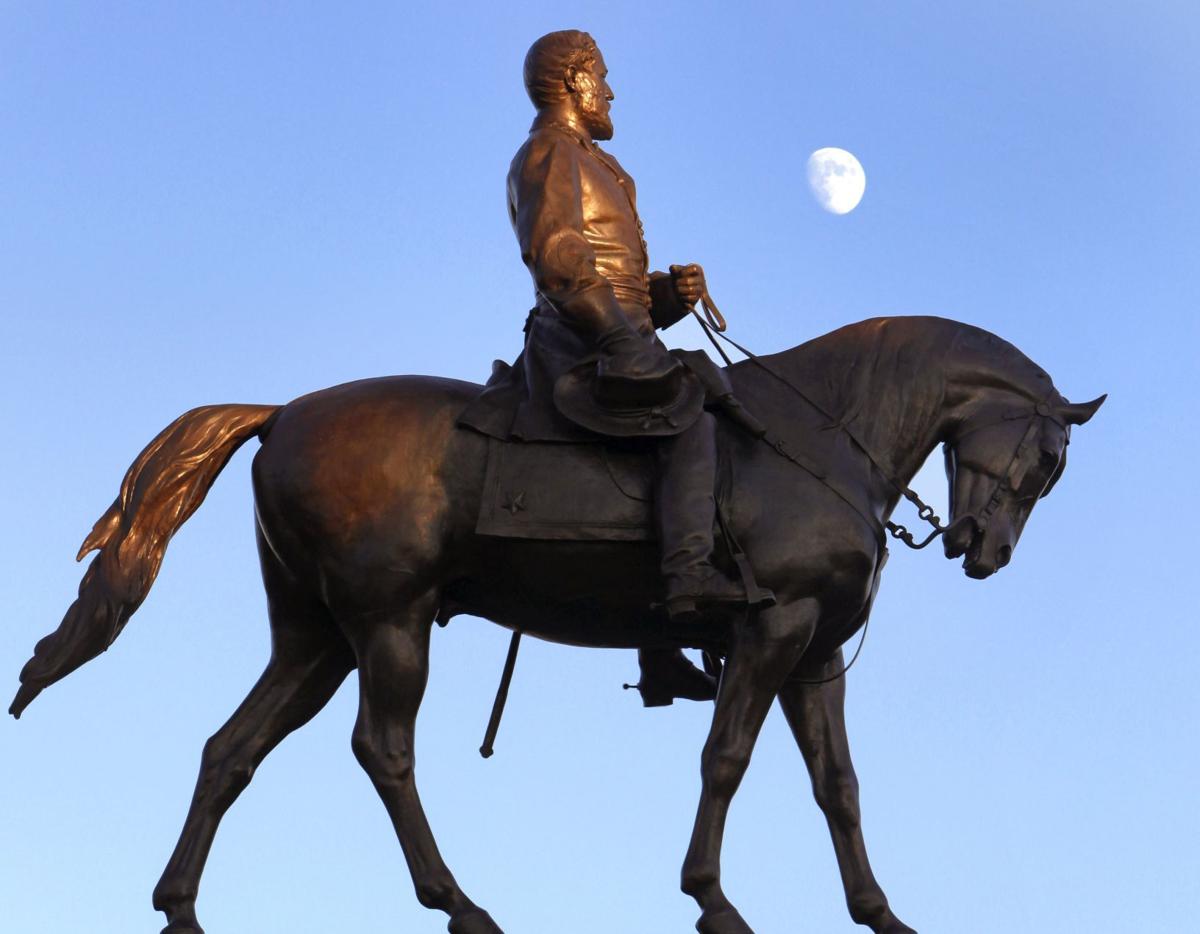 There's a gallery at the visitor center at Stratford Hall with this quote from Confederate Gen. Robert E. Lee, who was encouraging a Confederate widow to release her hatred of the North after the Civil War had ended.
"Abandon your animosities and make your sons Americans."
The Virginia native is said to have urged Americans to unify, look to the future and pushed for progress.
So what would he think of the state of America today? Families and localities are debating the meaning of hundreds of Confederate statues as either educational icons of Southern culture or monuments to white supremacy; President Trump compared statues of Confederates with those of the Founding Fathers; and a debate over the statue of Lee himself in Charlottesville sparked a rally of neo-Nazis and white supremacists, resulting in injuries and the death of one counter-protester and two state troopers.
That's a lot to ask about the internal workings of the mind of someone who died in 1870.
"We should probably stick to what he actually said," said Barton Myers, associate professor of history at Washington and Lee University, where Lee was president when it was known as Washington College.
But as to the existence of Confederate monuments in the first place, there's no question.
"I don't think we need to guess at what Lee thought. He told us," said John Hennessy, chief historian at Fredericksburg and Spotsylvania National Military Park, sharing a quote that's been widely circulated over the past week.
In an 1869 letter, Lee declines an invitation from the Gettysburg Battlefield Association, which was planning to build "enduring memorials of granite" at the battlefield.
"I think it wiser moreover not to keep open the sores of war, but to follow the examples of those nations who endeavored to obliterate the marks of civil strife and to commit to oblivion the feelings it engendered," he wrote.
By extrapolating on statements such as this one and another where Lee discouraged the construction of a statue of Andrew Jackson, Myers said it's likely that Lee would be surprised by the sheer number of monuments across the United States, especially to the Confederacy.
In a 2016 report, the Southern Poverty Law Center catalogued 1,500 Confederate place names and symbols in public spaces, including 718 monuments and statues. Another 2,600 markers, battlefields, museums, cemeteries and other places or symbols were excluded because they were largely historical in nature.
The state with the most monuments? Virginia, with 96 at the time of the report.
Of course, many key battles were fought in Virginia, including Fredericksburg, Chancellorsville, the Wilderness and Spotsylvania Courthouse in the Fredericksburg area and Brandy Station and Cedar Mountain in Culpeper.
The SPLC's map shows many public Lee-specific monuments in this region. There's General Lee Avenue in Culpeper, Robert E. Lee Elementary School and Lee Hill Elementary School in Spotsylvania County, and the Lee Hill Community Center in Fredericksburg.
Across the U.S., many places were named and monuments were erected around the 50th and 100th anniversaries of the Civil War, according to the report. These same time periods saw enactment of Jim Crow laws and the resurgence of the Ku Klux Klan from the 1900s to 1920s, and the civil rights movement in the early 1950s and 1960s.
Most monuments were in keeping with the "Lost Cause" narrative about the Civil War, emphasizing Lee's victories as a general and downplayed his defeats and ownership of slaves.
In a 1856 letter to his wife, Lee wrote that slavery is "a moral & political evil." But Lee also wrote in the same letter that God would be the one responsible for emancipation and blacks were better off in the U.S. than Africa.
A former Lee slave told the National Anti-Slavery Standard in 1866 that he had been captured after trying to escape in 1859. He said Lee directed the overseer to whip him and two relatives who had fled.
That painful episode, and worse acts, were not unusual in the antebellum South.
"We must teach the story, so we know never again should this kind of thing occur or happen," Myers said. "We have to be forthright and honest and address these issues and have a 360-degree look at the issues and viewpoints."
Part of that is studying and better understanding the nature of the Confederacy, he said, and not shying away from America's history with race.
"The Confederacy as political entity was founded on the idea of protecting slavery because it was the critical economic driver of the South," Myers said.
Take what Alexander Stephens, vice president of the Confederacy, said in his Cornerstone Speech in 1861: "Our new government is founded upon … the great truth that the negro is not equal to the white man; that slavery subordination to the superior race is his natural and normal condition."
Stratford Hall in Westmoreland County was Lee's birthplace in 1807, and it was home to four generations of the Lee family. It is now a not-for-profit organization intent on historic preservation and education.
"Like many, if not most, of the towering figures of America's formative years, Robert E. Lee was not without complication and contradiction, and he was imperfect," John Bacon, president of Stratford Hall, said in a statement last week.
"It seems plausible that he would have found the weekend events in Charlottesville, perpetrated by external forces of hatred, abhorrent, as is most certainly the position of this institution," Bacon said. "And there is no honest or rational basis upon which to appropriate his name and story as symbols of modern-day terror and intolerance."
A great-great-grandson of Lee last week condemned the violence in Charlottesville, and said the statues may be more appropriate in museums or in historical context.
"Eventually, someone is going to have to make a decision, and if that's the local lawmaker, so be it," Robert E. Lee V of Washington, D.C., told CNN. "But we have to be able to have that conversation without all of the hatred and the violence. And if they choose to take those statues down, fine."
Bacon said the role of Stratford Hall is neither to defend nor advocate, but to educate.
"The history of Stratford affords a unique and compelling opportunity for this process of education—for learning," he said. "From learning comes understanding, and dialogue. From understanding and dialogue come listening, and respect. And respect is the foundation of community."