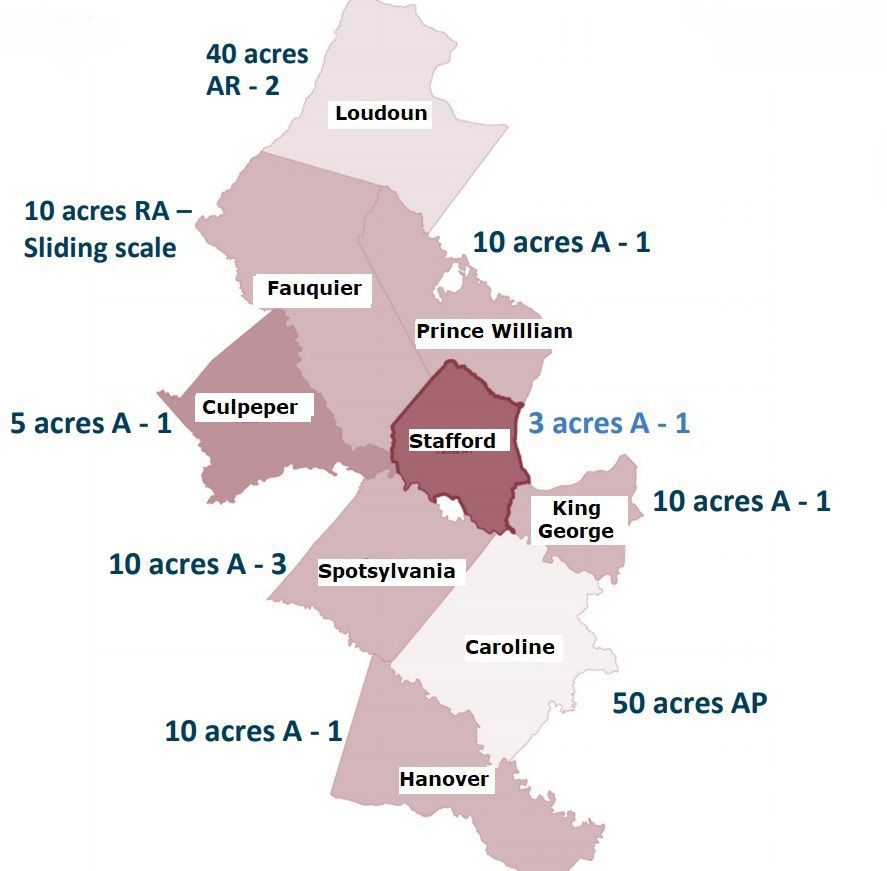 Stafford County supervisors are considering downzoning nearly 90,000 acres of agricultural property in the county to help curb rural growth.
On Feb. 4, supervisors directed county staff to draft a proposed ordinance for the county's Planning Commission, changing the density in A-1 agricultural parcels from one home per three acres to one home per 10 acres.
"If we expect to make Stafford not Fairfax, then we need to do this right now, and we need to do it quick," said Supervisor Mark Dudenhefer. "The fact that it's taken us two years to get to this point, to me, is upsetting."
Supervisors voted 5–2 in favor of the endeavor, with Supervisors Cindy Shelton and Tom Coen voting against it.
Coen, who represents the mostly rural George Washington District, said he voted no because he is concerned that property values for many of his farming constituents will sharply decline, devastating many of them financially.
"These are the people who have been paying for all the amenities in North Stafford for years," said Coen. "It really is an attack on the rural residents of the county."
Chad Young runs a farm off McCarty Road in Stafford and is the vice president of the Stafford County Farm Bureau, an organization that represents farmers on legislative and agricultural issues.
Young said he would support a county plan to preserve land, but he is not in favor of a plan that could potentially devalue the land he owns.
"What [supervisors] don't understand is the land that we own is our 401K," said Young. "When they want to downzone, it devalues the land, in my opinion."
Mike Silver, of Silver Ridge Farm in southern Stafford, said he appreciates supervisors recognizing the need for something to be done to control growth, but he's hoping the county's elected officials will arrive at a happy medium.
"We're doing this for a living and for our family," said Silver. "If you go from three to 10 [acres], that's going to decrease the value of the property."
Silver, whose farm specializes in corn, soybeans, raising cattle and selling frozen beef, said both his grandfather and his father each worked his land before him.
"I'm not looking to sell the land," Silver said, "But if I'm diagnosed with cancer tomorrow, maybe we would have to liquidate."
County officials say property values should remain unchanged until the next round of property assessments in 2022.
"Our research suggests there will be some change in land value, but we don't know where that's going to fall," said Commissioner of the Revenue Scott Mayausky. "If land values fall, we're going to address that in 2021. Whatever sales occur before that date will dictate the value in the future."
"This will not have any impact on any existing three-acre lots," said Jeff Harvey, Stafford County planning and zoning director. "It will impact those who own more than six acres of property who might want to subdivide to create residential lots."
In May, county supervisors will conduct a joint meeting with the county's Planning Commission to discuss the downzoning proposal, which will include a public hearing for citizens to voice their opinions regarding the measure.
There are 89,707 acres of land in the county zoned A-1. That makes up roughly 54 percent of total land in the county. A-1 zoning is traditionally reserved for single-family homes, parks, playgrounds, community centers, golf courses and agricultural and forestry use.
Downzoning rezones land to a less dense development use. The practice is typically done to limit sprawl. Some Stafford officials believe a downzoning would concentrate growth into areas of the county where water, sewer and electrical services already exist, a goal of the Healthy Growth Initiative. But the county has fallen short on targeting new construction in those areas.
The county's comprehensive plan recommends 50 percent of residential growth occur in targeted growth areas, where dense, urban development is encouraged. The plan calls for 30 percent suburban development in the urban services area where public utilities are also available, and 20 percent in rural areas.
The county hasn't met those goals.
Since 2017, only 8.2 percent of the county's approved residential units were in targeted growth areas—29.6 percent were in rural areas.
Rich Ward, a commercial builder in the area, said growth should be directed to the targeted growth areas in the county, but current policies do not give builders a clear path to build there.
"We do have a comprehensive plan which tells us where growth should go, so all we want are a set of rules that we can play by," said Ward.
Nearby counties all have lower-density agricultural zoning than Stafford's three-acre minimum. It ranges from five acres in Culpeper County to 50 acres in Caroline County. Land zoned A-3 in Spotsylvania County requires a 10-acre minimum lot size.
"We are the most liberal when it comes to allowing more homes to be built," said Dudenhefer. "[Downzoning] is the only simple method we have to start reshaping the county to our comprehensive plan."
Dudenhefer also said restricting growth to where county utilities already exist will put less stress on Stafford's infrastructure.
"The more we build in the urban services area, the less lane miles, the less water pipes, the less sewer pipes, the less schools way out, where kids have to commute more on a bus, the less fire stations way out in the middle of nowhere that we have to build," said Dudenhefer.
James Scott Baron: 540/374-5438