Nursing homes in Virginia are cracking in the aftermath of a staffing crisis left unaddressed far before they became the epicenter of the stat…
A massive, colorful mural honoring Richmond tennis legend Arthur Ashe near the segregated courts where the young Grand Slam champ learned to p…
The Virginia Supreme Court on Thursday rejected without comment a rehearing bid from the plaintiffs who opposed the removal of the Robert E. L…
Vice President Kamala Harris drove home the stakes in Virginia's tense governor's race in a rousing speech Thursday night, proclaiming that el…
Virginia Gov. Ralph Northam was on hand Thursday at Cane Creek Centre in Ringgold to celebrate the $300 million, 325,000 square-foot, state-of…
When voters decide on a new lieutenant governor Nov. 2 they won't just be picking a personality to preside over the state Senate.
The entire 356 acres of the property including more than 3 miles of lake frontage will be offered in the auction.
A proposal submitted by the Jefferson School African American Heritage Center could transform Charlottesville's statue — and collective memory…
Virginia Tech LB Dax Hollifield addresses fan base's growing frustration with the team.
As of Wednesday, the health department identified 44 cases with at least 26 hospitalizations and one death in the  hepatitis A outbreak at thr…
The conference realignment wave that began this summer among Power Five conferences has crashed into Group of Five leagues, with James Madison…
Mary Sue Terry, the first — and until Nov. 2, the only — woman elected statewide in Virginia has had seven careers.
The 2-1 appeals court decision means it would fall to the state Supreme Court to consider any appeal. But it's unclear one will be requested s…
Virginia's redistricting commission, continuing to split along partisan lines ahead of its Monday deadline, appears close to failure on fashio…
A Chesterfield County man has been charged with the murder of his son, Eliel Adon Weaver, who was under the age of 5 and whose remains were fo…
RADFORD, Va. (AP) — Authorities in Virginia are trying to determine who left three decapitated, tailless deer carcasses along a road and in a …
Former President Barack Obama will campaign with Democrat Terry McAuliffe Saturday afternoon at Virginia Commonwealth University in the waning…
There have been nearly 1,000 kids hospitalized with COVID, most occurring this summer, leading the VDH to create a new dashboard. 
Virginia is partnering with local governments and private operators for an investment of up to $2 billion to expand high-speed internet access…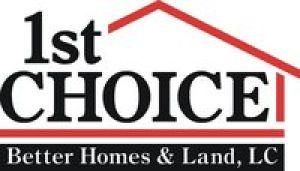 1st Choice Better Homes & Land LC
Berkshire Hathaway HomeServices Select Realty
Dominion Energy's CEO sent an email to company employees Monday morning saying the company's political action committee had failed to properly…
A Black contractor who sued Tesla alleging racial discrimination and harassment was recently awarded a whopping $130 million in punitive damag…
The Virginia Beach SPCA received 45 dogs Saturday that were surrendered from an animal hoarding situation on the Eastern Shore. In a Facebook …
When Democrat Terry McAuliffe took office, the "dealmaker-in-chief" made enthusiastic use of a deal-closing fund at the disposal of Virginia g…
Former Gov. Terry McAuliffe raised $12.6 million in September, maintaining a financial edge on Republican Glenn Youngkin, who brought in $7 mi…
Big-league political influencer Dominion Energy donated $200,000 to a secretive PAC attacking GOP gubernatorial candidate Glenn Youngkin, a ne…
Students found getting to their seats less hazardous Saturday.