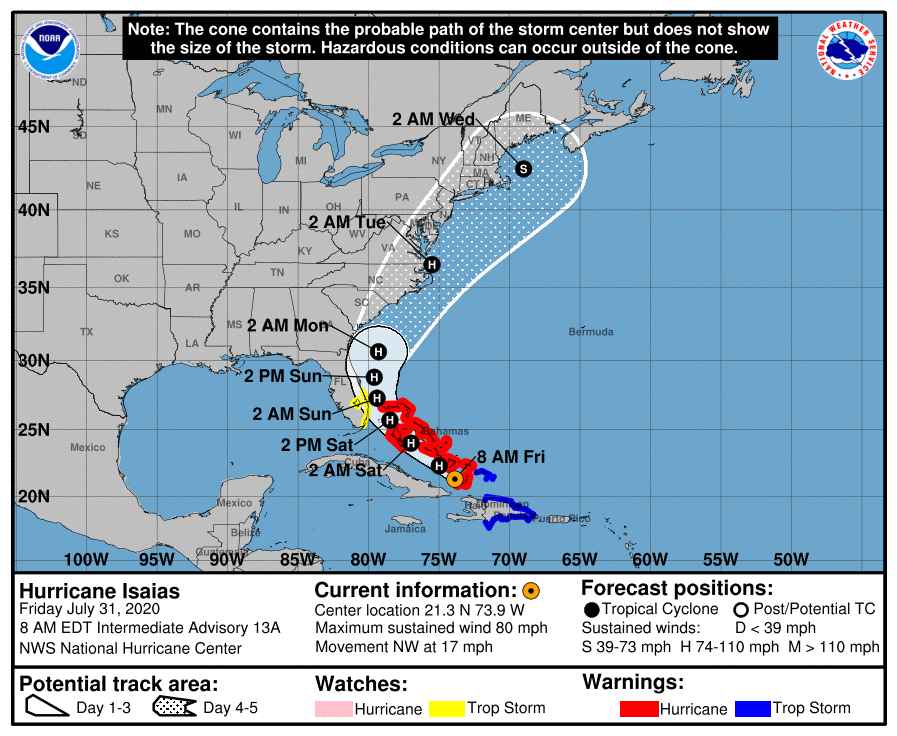 Midday update
The soaking rain is long gone and breezes are dying down across Virginia now that Tropical Storm Isaias is speeding away toward the Northeast.
Pennsylvania, New Jersey and New York are now taking the brunt of the flash flooding and tornado threat, but a tropical storm warning continues for the Chesapeake Bay area.
At 11 a.m., the center of Isaias was located 70 miles southwest of Philadelphia, moving north-northeast at 35 mph according to the National Hurricane Center.
Hurricane Isaias made landfall near Ocean Isle Beach, N.C. at 11:10 p.m. Monday with 85 mph sustained winds, then weakened to a tropical storm after coming ashore.
Some lighter winds, coastal flooding and slightly higher river levels linger across our region today, but most of the weather hazards have ended.
The James River is not expected to approach flood stage in Richmond. The Westham gauge is forecast to rise from its current stage of 5 feet to 6.8 feet by Wednesday morning.
For the rest of the day, expect temperatures to warm into the mid-to-upper 80s under mostly sunny skies. More showers and storms could pop up with the heat of the day, but they will not be as widespread and heavy as the rain we saw this morning.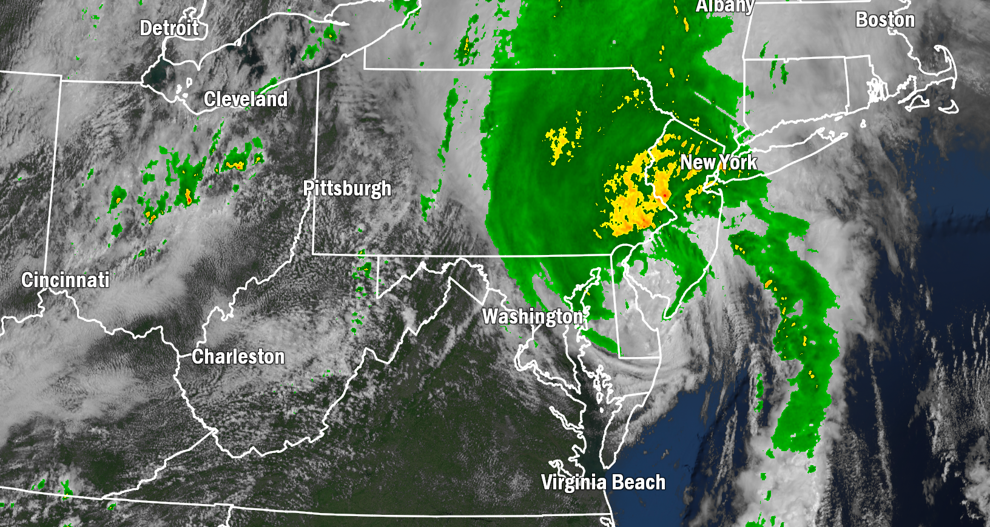 From Monday afternoon to Tuesday morning, 3 to 5 inches of rain fell across the Richmond metro area. Up to 6 inches fell near Williamsburg.
The peak gust at Richmond International Airport was 51 mph at 7:22 a.m. A gust to 77 mph was reported at Third Island at the mouth of the Chesapeake Bay. Norfolk peaked at 61 mph.
Power outages are now declining as the storm passes. Dominion Energy reports approximately 301,000 customers without power in its service area as of 11:45 a.m., down from 372,000 at 8:45 a.m. The bulk of the outages are across southeastern Virginia where winds were strongest this morning.
In the Richmond metro and Tri-Cities area, the latest outage number is at 10,935. That's down from 28,127 customers out at 9 a.m.
Isaias prompted numerous tornado warnings and at least five reports throughout the Tidewater region earlier this morning. Details about their path and strength are not yet available, but check for updates in the coming days.
Preliminary reports via the National Weather Service in Wakefield.
Gloucester County: trees down and houses damaged in the Abingdon area at 4:55 a.m.
Lancaster County: the emergency manager reported significant structural damage across eastern portions of the county around 5:42 a.m. along with two injuries. Doppler radar detected airborne debris near Kilmarnock.
James City County: numerous trees down near Two Rivers Country Club west of Williamsburg at 4:14 a.m.
Southampton County: major damage to structures and trees along U.S. Highway 58 in Courtland at 2:56 a.m.
Suffolk: roofs damaged and trees and power lines brought down in the downtown area around 3:15 a.m.